Tag: Indonesia
R.I.P. Marco Archer Cardoso Moreira (Brazil), Ang Kiem Soei (The Netherlands), Daniel Enemuo (Nigeria), Namaona Denis (Malawi), Tran Thi Bich Hanh (Vietnam) and Rani Andriani (Indonesia.) Despite pleas from governmental leaders and world-wide criticism, the four men and two women were executed just after midnight in Indonesia. There are 58 more convicted drug offenders on Indonesia's death row.
For background, see my earlier post today here, this from yesterday, this post from a few days ago and this one from over a year ago.
It seems not much has changed in Indonesia. The five who were executed on Nusakambangan Island, in Central Java, were taken from their cells in the dead of night and driven to a remote spot several miles away where they were shot in pairs. Media and families were of those killed were not allowed to be present. Reactions from the governments in the home countries of those killed was swift: [More....]
(10 comments, 687 words in story) There's More :: Permalink :: Comments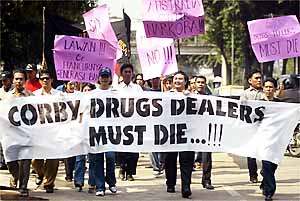 Indonesia does not deserve your tourist dollars. Many Indonesians support their barbaric laws against drug traffickers. This is how many on Bali reacted to Schapelle Corby's arrest for 4.4 kilos of marijuana. This weekend, six drug traffickers, including five foreigners, will be killed by firing squads in Indonesia. Indonesia's President has rejected requests from leading officials of Brazil, the Netherlands and Australia not to kill their citizens.
Death is neither quick or painless when you are tied to a wooden cross and shot. The same fate awaits Bali Nine Australians Andrew Chan and Myuran Sukumaran.(Indonesia claims the executioners now walk right over to those they just shot and shoot them again behind the ear to make sure they are dead.)
There are beautiful beaches all over the world. There is no reason to give your tourist dollars to a country that executes drug traffickers. [More...]
(19 comments, 828 words in story) There's More :: Permalink :: Comments
Indonesia will kick off its execution binge of 20 drug traffickers with the first six this weekend. Five are from foreign countries.
Attorney General HM Prasetyo confirmed on Thursday that five people — four men and a woman — would face the firing squad on Nusakambangan Island, Central Java, while one woman would face the firing squad in Boyolali, Central Java.

"We have prepared everything; the firing squad, clergymen and doctors. The executions will be done simultaneously, not one by one," he said.
The Netherlands, Brazil and the European Union have asked Indonesia to call off the killings. It says it won't. Amnesty International issued this protest. [More...]
(4 comments, 300 words in story) There's More :: Permalink :: Comments
When British matron Lindsay Sandiford was sentenced to death in Bali last week, I said my sympathies weren't all with her because it appeared after she got busted, she worked with police to set up four innocent people up to take the fall as her suppliers in the syndicate, by claiming they orchestrated her smuggle. She knew if charged, they be facing the same penalty: death. And she did it anyway. Luckily for the others, the cops seem to have figured out she wasn't telling the truth.
The reasons I doubted her story are here.
Three of the four were sentenced before her to relatively light terms -- 5 years, 4 years and 1 year -- all for possession of minor amounts of drugs they had in their homes at the time of arrest. They were cleared of being involved in Lindsay's smuggling deal. [More...]
(685 words in story) There's More :: Permalink :: Comments