Today was the big day for Prince Charles, to be known hereafter as King Charles, III.
What struck you from the procession video? For me, it was how they placed Harry on the sidelines, with the frou-frou topping of the hat of the person in front of him in his face.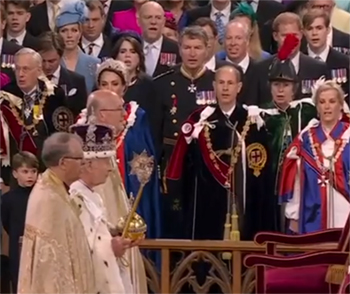 I also wondered if the woman behind Princess Kate might be a crasher. Aside from the expression on her face, she seems to be the only woman in the room not wearing a hat.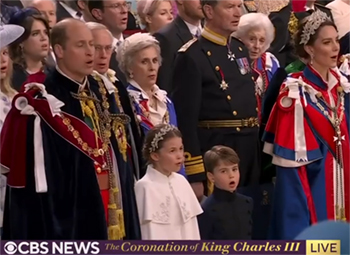 Here are some excellent photos ("The Best of the Red Carpet") from Infobae. [More...]
(15 comments, 200 words in story) There's More :: Permalink :: Comments
Emmanuel Macron has been re-elected in France. The world should give a sigh of relief that French voters were rational enough to recognize the threat his uber right-wing challenger, Marine Le Pen, posed to France.
Ms. Le Pen,softening her image if not her anti-immigrant nationalist program, rode a wave of alienation and disenchantment to bring the extreme right closer to power than at any time since 1944. Her National Rally party has joined the mainstream, even if at the last minute many French people seem to have voted for Mr. Macron to ensure that France not succumb to the xenophobic vitriol of the darker passages of its history.

...If Brexit was a blow to unity, a French nationalist quasi-exit, as set out in Ms. Le Pen's proposals, would have left the European Union on life support. That, in turn, would have crippled an essential guarantor of peace on the continent in a volatile moment.
Le Pen has conceded defeat.
(27 comments) Permalink :: Comments
Yesterday, Russia began its military offensive against the Ukraine. Vladimir Putin said in a public address that "his goal was to "demilitarize" but not occupy the country." The Ukraine began conscripting soldiers a few days ago.
As for where the first blasts were heard, reporters and others have mentioned this places: (Maps are also provided).
Russia launched cruise and ballistic missiles at airfields and military headquarters near Kyiv, the country's capital city, according to Ukrainian officials. In the south, Russian troops landed in Odessa, according to Ukrainian officials.

In eastern Ukraine, Russian missiles hit targets in Kharkiv and Dnipro, according to Ukrainian officials, and loud booms were reported in Kramatorsk. Ukraine's state emergency services said that attacks had been launched against 10 Ukrainian regions, primarily in the east and south of the country. Several planes were hit at airports, the statement said.
Russia's military as compared to the Ukraine's is like a David v. Goliath scenari.. The Ukraine has around 209,000 troops on active service compared to Russia's 900,000; and Ukraine's reserve forces number 900,000, while Russia has 2 million.
The Ukraine has closed the Sea of Azov.
Here is a free link to the Wall. St. Journal news coverage. I really like their news coverage on just about everthing (as opposed to their opinion pieces which I just gloss over).
(201 comments) Permalink :: Comments
The Mexico Supreme Court has ruled that laws criminalizing abortion violate its Consitution.
The unanimous ruling from the nation's top court follows a growing women's movement in Mexico that has repeatedly taken to the streets of major cities across the country, demanding greater rights and protections for women.

"Today is a historic day for the rights of all Mexican women," said Supreme Court Chief Justice Arturo Zaldivar after the decision was announced. "It is a watershed in the history of the rights of all women, especially the most vulnerable."
And then, there's Texas, whose Governor showed some foot in mouth disease when answering a question about the new Texas law banning abortion after the detection of a fetal heartbeat (usually 6 weeks): Texas won't force rape victims to have babies because they have 6 weeks to get an abortion and Texas will make a great effort to eliminate rape by removing rapists from the streets.
(20 comments) Permalink :: Comments
Prince Harry today publicly addressed his sadness at not being able to continue working for the Crown as he and Meghan branch out to live their own lives.
Her Majesty the Queen issued this statement yesterday. It is followed by a statement from Buckingham Palace with the what Harry and Meghan are giving up. In addition to their titles and public funds, they have requested to repay the Crown for the cost of remodeling their residence at Frogmore Cottage ($1.3 million) which will continue to be their home when in England.
As agreed in this new arrangement, they understand that they are required to step back from Royal duties, including official military appointments. They will no longer receive public funds for Royal duties.
[More...]
(11 comments, 471 words in story) There's More :: Permalink :: Comments
Citizens of the Ukraine have elected a comedian with no political experience as their president.
Ukraine entered uncharted political waters on Monday after near final results showed a comedian with no political experience and few detailed policies had dramatically upended the status quo and won the country's presidential election by a landslide.
His name is Volodymyr Zelenskiy. He is 37 years old. No one knows what he stands for other than pledging to preserve "Ukrainian identity".
Zelenkiy is most famous for having played a President on TV. (No, I didn't make this post up.) It seems the vote was more a protest against his opponent than a vote for Zelenskiy.
(10 comments) Permalink :: Comments
Here is the press release from Saudi Arabia with its findings on its investigation into the death of journalist Jamal Khashoggi.
[T]he prosecutor said Khashoggi was given a lethal injection by Saudi agents who had orders only to bring him to Saudi Arabia through persuasion or, if necessary, with force. His body was then dismembered, carried out of the consulate and disposed of by a Turkish contact, the prosecutor said. He offered no indication of where Khashoggi's remains could be found.
The Treasury Department has announced sanctions on 17 Saudis. Saudi Arabia has said it will seek the death penalty for 5 of those charged in Khashoggi's murder. Neither country has placed any blame on the Crown Prince, notwithstanding: [More..]
(1 comment, 422 words in story) There's More :: Permalink :: Comments
The Turkish Prosecutor's office has released a statement on its investigative findings of the death of journalist Jamal Khashoggi: He was strangled shortly after entering the embassy and cut into small pieces. The statement says the killing was a pre-meditated hit.
"In accordance with plans made in advance, the victim, Jamal Khashoggi, was choked to death immediately after entering the Consulate General of Saudi Arabia." His body was then dismembered and destroyed "again, in line with advance plans", it added.
More on the statement here. Istanbul chief prosecutor Irfan Fidan met with Saudi prosecutor Saud al-Mojeb in Instanbul the past two days. Apparently, Turkey was not satisfied with the meeting. Fidan's statement said, "Despite all our well-intentioned efforts to the current stage uncovering the truth as the talks could not be achieved tangible results ". [More...]
(1 comment, 369 words in story) There's More :: Permalink :: Comments
Saudi Arabia has issued a statement acknowledging that journalist Jamal Khashoggi died inside the Turkish consulate. But they claim he died as the result of a fist-fight.
"An argument erupted between him [Khashoggi] and others whom he met in the Saudi consulate in Istanbul leading to a fist fight which led to his death," SPA reported.

"The investigations are still under way and 18 Saudi nationals have been arrested," a statement from the Saudi public prosecutor said, adding royal court adviser Saud al-Qahtani and deputy intelligence chief Ahmed al-Asiri were fired from their positions.
Here is the actual Saudi press release. The Saudis are firmly standing behind the Crown Prince. Here is a statement today from the Saudi Minister of Justice: [More...]
(7 comments, 462 words in story) There's More :: Permalink :: Comments
Rep. Joaquin Castro , a member of the House Intelligence Committee, took to Twitter today to walk back his statements on CNN about Jared Kushner's possible providing of a hit list to the Saudi Crown Prince which included Jamal Kashoggi.
Castro, during a CNN appearance Friday morning, cited unspecified "reporting that Jared Kushner may have, with U.S. intelligence, delivered a hit list, an enemies list, to the crown prince, to MBS, in Saudi Arabia and that the prince may have acted on that, and one of the people he took action against is Mr. Khashoggi."
While his statements on CNN yesterday were interpreted by many as a direct accusation against Jared Kushner, today Rep. Castro says he is only asking for an investigation based on media reporting. The reporting he cites today:
[More...]
(3 comments, 428 words in story) There's More :: Permalink :: Comments
Jamal Kashoggi was tortured for seven minutes before he was beheaded inside the Saudi embassy in Instabul. The Saudi kill squad played loud music as they cut off his fingers. This is according to Turkish sources who have obtained the tape.
Saudi Consul Mohammed al-Otaibi can be heard on one tape saying during Khashoggi's torture: "Do this outside. You are going to get me in trouble," according to the paper, which did not reveal how it obtained the tapes.
The Turkish report on the tapes is here.
The source said Khashoggi was "dragged from the Consul General's office at the Saudi consulate in Istanbul and onto the table of his study next door. The screaming stopped when Khashoggi was injected with an as yet unknown substance. Head of forensic evidence in the Saudi general security department Salah Muhammad al-Tubaigy began to cut Khashoggi's body up on a table in the study while he was still alive. As he started to dismember the body, Tubaigy put on earphones and listened to music. He advised other members of the squad to do the same."
A New York Times report is here. His body has not been found. One Turkish columnist thinks it may have been vaporized. He also writes that "some of the killers are personal guards of Prince Salman."
Apparently, the Prince had an "army of assassins", including contractors hired from a U.S. firm (former U.S. military). [More...]
(29 comments, 557 words in story) There's More :: Permalink :: Comments