"You don't need a weatherman to know which way the wind blows" for Donald Trump. (Bob Dylan, Suberteranean Homesick Blues)
If Trump resigns, won't Pence just pardon him the way Ford pardoned Nixon? I'd rather see him stay and try to pardon himself, which will end up costing him millions in legal fees over the next few years as the courts debate whether he has the power to do that.
I think a charge of seditious conspiracy is the way to go. Maybe he will be hit with a federal complaint on January 21 after which they will take it to the grand jury so there is no question they did not indict a sitting President.
[More...]
(202 comments, 305 words in story) There's More :: Permalink :: Comments
Nancy Pelosi has been re-elected Speaker of the House.
Her victory means that after two years as President Trump's most outspoken antagonist, Ms. Pelosi will now be responsible for trying to shepherd through Congress as much of President-elect Joseph R. Biden Jr.'s agenda as possible.
The Dems have a pretty slim majority in the House.
On the Senate side, congrats to former Colorado Governor John Hickenlooper who was sworn in today by Mike Pence . [More...]
(205 comments, 138 words in story) There's More :: Permalink :: Comments
Today the Electoral College is voting. By the end of the day Donald Trump will be forced to accept that he stands alone. And that after "an extraordinary year of anti-democratic agitation and disinformation spread by an incumbent president", the time has arrived.
Or as Bob Dylan would say:
"Even the president of the United States Sometimes must have to stand naked"
(81 comments) Permalink :: Comments
The time has come to leave Donald Trump behind. He's toast. The fat lady sang. The Supreme Court is not coming to his rescue. He's lived high on our dime (and the dime of the Secret Service covering his and his kids' international and domestic travel) long enough.)
As soon as the media stops covering Donald Trump, which it will shortly, he'll be on his way to somewhere like Abu Dhabi faster than the speeding bullet trains in Asia can get him there. (He can't possibly be dumb enough to think he's safe from arrest at Mar-a-Lago and he would never be able to adapt to a non-opulent lifestyle or a place where English isn't widely spoken). So why is he hanging on to his desk in the oval office so tightly? What is he afraid of? My theory is five-fold: [More....]
(201 comments, 1816 words in story) There's More :: Permalink :: Comments
Update: Great speech by Kamala Harris. Biden now comes running down tarmac - he certainly seems very physically fit for his age. He's really happy. He talks about unity and healing.
Original Post: Kamala Harris starts with a quote from John Lewis about democracy. She adds:
"We the people have the power to build a better future." You (the voters) protected our democracy.
She is very gracious, always talking about us rather than her. Good for her that she is making us want to celebrate.
"You chose hope and unity decency science and yes truth." [More...]
(5 comments, 147 words in story) There's More :: Permalink :: Comments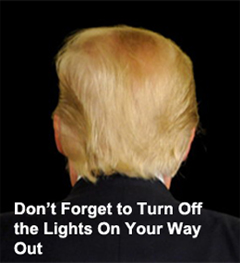 It is so heartening to see the streets filled with youth and people of color cheering and dancing in cities across America.
Congratulations, America. You won. The witch is gone.
Let's all take a few days to breathe our sighs of relief.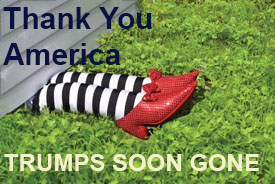 (44 comments) Permalink :: Comments
Update 8:06 p.m. MT: The latest numbers are not encouraging. Trump is now ahead in Ohio, PA, NC, and GA. Trump is on the rails in Arizona. John King keeps comparing Biden's numbers to Hillary's 2016 numbers. I'm not sure they mean that much. He also keeps talking about the "suburban revolt" against Trump. And the changing demographics. But if Trump takes PA, FL, Ohio, WI, NC and MI, I don't see a Democrat win, no matter what Arizona does.
Update 7:31 pm MT: Biden takes Colorado! Hickenlooper wins the U.S. Senate seat, dethroning Trump ally Cory Gardner. John King is talking faster than I can listen. But I suspect Trump will take Florida, Michigan, North Carolina and Texas. I don't know about Ohio or PA.
Update: John King on CNN says Trump is out if Biden takes Ohio. No Republican has ever won the White House without winning Ohio.
Update: 6:30 pm MT: Donald Trump has won Alabama, Mississippi, Oklahoma and Tennessee, Kentucky, Indiana; West Virginia; Democrat Joe Biden has won Connecticut, Delaware, Vermont, the District of Colombia, Illinois, Maryland, Massachusetts, New Jersey and Rhode Island.
Ohio, PA and Florida are still in play. Trump is currentlhy ahead in Michigan. Biden is ahdead in Ohio including the suburbs of Cleveland. Polls close in Colorado in 30 minutes.[More...]
(121 comments, 327 words in story) There's More :: Permalink :: Comments
Update 5:48 pm MT: I think I will watch after all. I heard CNN on the car radio today and some official said that the mute button is only for the first two minute segments when they each get a chance to talk. (Shouldn't it be for all questions if the one not asked the question butts in and hogs the other candidate's time?) I think they should go further and block out the offender's face and mute his statements and have a chyron that says "Stand by. We will be back momentarily".
Does anyone need another debate to decide between voting for Trump or Biden? I doubt it. Does anyone need a final debate to decide whether to vote at all? Perhaps. [More...]
(36 comments, 185 words in story) There's More :: Permalink :: Comments
Donald Trump wanted to return to the campaign trail (pun intended, as he trails his opponent be several points) today. but he is now planning on heading out on Monday. His doctor says:
White House physician Sean Conley said in a memo released on Thursday that Trump had completed his course of therapy for COVID-19, remained stable since returning home from the Walter Reed medical facility on Monday and could resume public engagements on Saturday.

"There are medical tests underway that will ensure that when the president is back out he will not be able to transmit the virus," McEnany said, adding Conley would lay out the details later. "He won't be out there if he can transmit the virus."

[More....]
(134 comments, 217 words in story) There's More :: Permalink :: Comments
This is the funniest thing I've read all day. Andrew Giuliani, the golfing son of Rudy hired by Donald Trump in 2017 as an "assistant to the public liaison office" for which taxpayers shelled out $90k a year says he is seriously thinking of running for Mayor of New York:
"I am certainly thinking about it. It's something that a bunch of people that I trust have approached me with," the younger Giuliani told The Post. "It's been terrible to see over the last few years how the city has spiraled. I am afraid if the right candidate doesn't win in 2021, four more years of de Blasio's policies will remind us of the 80s."
I guess Don Jr., who once was toying with running for mayor, has now passed the post on to Andrew. Don, Jr. probably thinks the job isn't good enough for him, he'd make a better governor or Senator. (I doubt he'll run for Congress, it's too much work to have to reapply to your constituents every 2 years.) [More...]
(44 comments, 1305 words in story) There's More :: Permalink :: Comments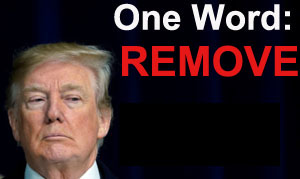 Donald Trump's is holding an indoors rally today in Henderson, Nevada.
The campaign rally in Henderson, Nevada -- which will be held inside a facility of Xtreme Manufacturing -- is expected to violate the state of Nevada's restriction on gatherings of 50 people or more.
200,000 Americans have now died from the coronavirus. It is not going away. Cases have risen in 11 states this week: Alaska, Arkansas, Connecticut, Delaware, Maine, Nebraska, New Hampshire, New Jersey, Rhode Island, Wisconsin and Wyoming.
(75 comments, 710 words in story) There's More :: Permalink :: Comments
Is Michael Cohen's book now chopped liver?
Making a bigger splash today is the release of Bob Woodward's Rage,, which exposes more of Donald Trump's incompetence and lie, as told to Woodward by Trump himself, in 18 separate interviews, only 3 of which took place in office settings: The remaining 15 were Trump calling Woodward late at night from his private (and likely unrecorded) phone line from the White House bedroom. It may be that Trusty Trump let Woodward record his calls without him recording at his end. Which would mean White House Staffers have never heard most of the 18 hours of tapes. No wonder they weren't all over the air last night giving advice.
Former Defense Secretary James Mattis, former Director of National Intelligence Dan Coats and former Secretary of State Rex Tillerson, all hired at the start of Trump's presidency, are quoted detailing their frustrations with Trump's inability to focus, their alarm over his refusal to accept facts or listen to experts, their fears over the consequences of his impulsive decision-making -- and one top official even suspected Russian President Vladimir Putin had something on Trump.
The Washington Post published snippets of Trump's taped comments to Woodward.
Wouldn't a normal person in Trump's situation apologize and resign, after which the media would get in position to broadcast his final frog-march across the White House lawn, with his stiletto-heeled wife and towering son at his side? But Donald Trump is not normal. [More...]
(15 comments, 830 words in story) There's More :: Permalink :: Comments