Tag: ISIS
During Donald Trump's SOTU I mentioned a few things I thought would backfire big time. First, his spotlight on his guest, Juan Guaidó, who is an opposition leader in Venezuela.
Trump called Guaidó the "true and legitimate" leader of Venezuela and said President Nicolas Maduro is a "tyrant" as lawmakers applauded.

"Mr. President, please take this message back to your homeland," Trump said to Guaidó. "All Americans are united with the Venezuelan people in their righteous struggle for freedom."
Here's the result of Trump's welcome of Guaidó:
Six American oil executives under house arrest in Venezuela were rounded up by police hours after President Donald Trump met Venezuelan President Nicolás Maduro's chief opponent at the White House, according to family members of the men.
[More...]
(11 comments, 817 words in story) There's More :: Permalink :: Comments
There was a briefing at the Pentagon today (video here) on the al-Baghdadi capture or kill Mission.
The capture or kill mission was in the works for months. Used intelligence from the Pentagon and other agencies (did not credit intel from other countries) to locate him.
"Devastating blow" to members of

ISIS

who have been deprived of their spiritual leader.
Our mission is not to act as a police force in Syria.
We're going after the oil. We want the "Syrian Democratic Forces" (SDF) to reap oil funds which allows them to maintain prisons for

ISIS

members.
Throws shade at Turkey.
We're now in the "next phase of the campaign". We will hunt to the ends of the earth people who would harm the

U.S.
[More...]
(265 words in story) There's More :: Permalink :: Comments
Donald Trump is very excited. He will hold a presser during Sunday morning news shows to tell everyone a U.S. airstrike he approved took out ISIS leader Abu Bakr al Baghdadi.
There are multiple reports among Middle East sources claiming al-Baghdadi toggled his suicide vest and killed himself.
Iraqi TV says it will air the raid footage, and that Iraqi intelligence helped pinpoint Baghdadi's location.
Turkey too is claiming its share of credit, saying they knew Baghdadi was in Idlib two days ago and they got a warning about the imminent US raid.
A Syrian Human Rights group says 9 people were killed in the raid. I've seen pictures of two dead males laying on the ground but neither was Baghdadi. [More...]

(14 comments, 332 words in story) There's More :: Permalink :: Comments
The New York Times has conducted an intensive investigation of files ISIS left behind in Iraq. What did it find? Among other things, that ISIS was self-financed, and its biggest income producer was not oil and gas, but tax revenue.
How did a group whose spectacles of violence galvanized the world against it hold onto so much land for so long? Part of the answer can be found in more than 15,000 pages of internal Islamic State documents I recovered during five trips to Iraq over more than a year. [More...]
(6 comments, 718 words in story) There's More :: Permalink :: Comments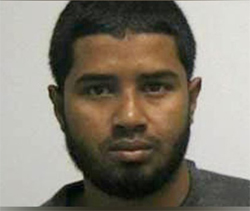 Bangladeshi government officials have told the U.S. that Akayed Ullah is a product of U.S. homegrown terrorism.
Bangladesh has communicated with the US government that it has no record on Akayed Ullah's involvement with the militancy here and termed him as a "homegrown US terrorist," a senior Bangladesh government official said on Tuesday.
Here is the Affidavit in support of the Complaint against Ullah. Among other things, it states that Ullah wrote on his FB page, "Trump you failed to protect your nation."
The Affidavit states Ullah told authorities his attack was ISIS-inspired and he began following ISIS sites online in 2014. (What took him so long to act, and why now, after ISIS has lost so much ground in Syria and Iraq?)
ISIS has been calling for homegrown attacks in the U.S. and Europe since shortly after it declared its Caliphate in June, 2014. Deceased ISIS spokesman al-Adnani called for homegrown attacks in September, 2014. [More...]
(6 comments, 858 words in story) There's More :: Permalink :: Comments
British photojournalist and ISIS hostage John Cantlie is still alive. ISIS released a new video today of him in Mosul. He asks why the coalition forces are bombing Mosul's bridges when the only people affected are residents -- the ISIS fighters, the "Mujahideen", are on fighting on the front lines outside Mosul. He shows a destroyed bridge which make it very difficult for people to get around.
He looks thin, but I don't think he looks much different than his last video in July. I am just glad he is still alive. [More...]
(1 comment, 472 words in story) There's More :: Permalink :: Comments
I wrote this yesterday and forgot to press the "publish" button. The U.S. Navy announced a Navy chief petty officer serving as an advisor in Northern Iraq has been killed:
A Sailor assigned to Explosive Ordnance Disposal Mobile Unit (EODMU) 3 based in Coronado, California, died Oct. 20 after sustaining injuries while deployed to Iraq. Chief Petty Officer Jason C. Finan, 34, of Anaheim, California, was serving in an advisory capacity to the Iraqi coalition force supporting Operation Inherent Resolve in Iraq.
U.S, Naval Institute News reports he was killed when an improvised device exploded during the Iraqi Forces push to retake Mosul from ISIS:
Finan was killed when an improvised explosive device exploded...Developing an EOD capability has been important due to the Islamic State planting roadside bombs and booby-traps as they have moved throughout the region.
[More...]
(3 comments, 1054 words in story) There's More :: Permalink :: Comments
ISIS is getting ready for the attack on Mosul: It plans on creating a "river of fire" along the city's perimeter.
The group has been working hard this month to dig a two-metre by two-metre trench along the city's perimeter and position oil tanks nearby to create a river of fire that would impede advancing troops and hinder aerial surveillance, according to senior Iraq military officers, Mosul residents, and local officials based outside the city.
The U.S. wants to send more U.S. troops to Mosul. [More...]
(1 comment, 333 words in story) There's More :: Permalink :: Comments
Amaq News Agency (associated with ISIS) claims an ISIS supporter is responsible for the knife attacks at a Minnesota mall:
Local news in Minnesota is identifying the attacker, who was killed, as Dahir Adan:
(no link due to auto-play video.) He is reportedly a Somali-American. His family has issued an apology. He was a college student with (as far as they know) no history of violence. He told his family he was going to the mall to buy an iPhone, and they don't know what happened after that. 8 or 9 people were injured at the mall, none with life-threatening injuries, and Adan was killed outside Macy's by an off-duty police officer. [More...]
(29 comments, 238 words in story) There's More :: Permalink :: Comments
ISIS's official media arm, al Hayat, has released the first issue of a new magazine called Rumiyah. Here is an English version. (There is also a Turkish, Russian and Arabic version.) In the Foreward, it praises ISIS fighters who died for the cause. The magazine tells its readers to be like these dead fighters: Stand and Die.
This is the way of the muwahhidin in every time and place. Whenever a generation of them passes, another generation follows, holding the banner of tawhid overhead while plunging anew into the battle for Islam, which continues to be waged against shirk and its people. The slogan of each of them is, "Stand and die upon that for which your brothers in faith before you have died."
The Magazine says the dead fighters aren't really dead at all, but enjoying life in paradise.[More...]
(1073 words in story) There's More :: Permalink :: Comments
Has ISIS in Afghanistan captured a U.S. soldier? A statement today by ISIS-affiliated news agency Amaq, accompanied by photographs displaying the Identification card of U.S. Army soldier Ryan Jay Larson, and what is purportedly his equipment, leaves that impression. But the statement stops short of claiming Larson was seized or killed
The statement says ISIS successfully repelled an attack by the Afghan army in the Tor Ghondi and Kha'stan Kamar areas in Nangarhar. It adds ISIS then conducted a counterattack and took control of three of of their points, killing two and injuring several others. It reports many fled. It says ISIS took "ghanimah" of weapons and ammunition. [More...]
(1 comment, 894 words in story) There's More :: Permalink :: Comments
We're bombing Libya again. I say again because many media outlets are erroneously reporting this is the first time. It's not, it's merely the first strike against ISIS in Libya conducted with the approval of the new Government of National Accord in Tripoli.
Previously, there was an airstrike in February, 2015, when the U.S. struck an ISIS training camp in Libya. It's believed there were no civilians at the camp. The U.S. said it targeted and killed ISIS extremist Noureddine Chouchane, linked to the Tunisian beach attacks at Sousse which killed 30 Britons. But Serbia said the U.S. attack killed two of its embassy employees who were being held hostage. The Intercept said evidence supports Serbia's claim. More than 40 people were killed in the strikes. And Libya complained it was not consulted and had not approved.
In November, 2015, the U.S. struck Libya and said it took out Abu Nabil, another suspected Isis leader. The BBC reported: [More...]
(290 words in story) There's More :: Permalink :: Comments