Tag: Afghanistan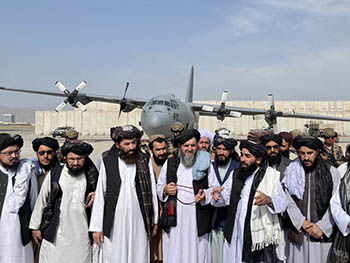 At a Congressional hearing today, there was criticism of Joe Biden's decision to withdraw from Afghanistan.
Among the comments: Fear-Mongering:
Gen. Milley: "We must remember that the Taliban was and remains a terrorist organization and they still have not broken ties with Al-Qaeda...A reconstituted Al-Qaeda or ISIS with aspirations to attack the United States is a very real possibility."
[More...]
(10 comments, 1106 words in story) There's More :: Permalink :: Comments
Has ISIS in Afghanistan captured a U.S. soldier? A statement today by ISIS-affiliated news agency Amaq, accompanied by photographs displaying the Identification card of U.S. Army soldier Ryan Jay Larson, and what is purportedly his equipment, leaves that impression. But the statement stops short of claiming Larson was seized or killed
The statement says ISIS successfully repelled an attack by the Afghan army in the Tor Ghondi and Kha'stan Kamar areas in Nangarhar. It adds ISIS then conducted a counterattack and took control of three of of their points, killing two and injuring several others. It reports many fled. It says ISIS took "ghanimah" of weapons and ammunition. [More...]
(1 comment, 894 words in story) There's More :: Permalink :: Comments
It will be a banner year for poppy growers in Afghanistan, largely due to a new kind of seed.
The new poppy seeds allow farmers to almost double the output from each plant, said Helmand's provincial police chief Nabi Jan Malakhail. At harvest, collectors cut the bulb of the plant, allowing the raw opium to ooze out. This resin dries and is collected the following day.

Malakhail said the new seeds grow bulbs that are bigger than usual and can be scored twice within a few days, thus doubling the quantity of raw opium. The plants mature in three to four months, rather than the five months of the previous seed variety, allowing farmers to crop three times a year instead of just twice.
Drug officials blame the Taliban. Farmers blame the Afghan government which doesn't provide irrigation and power, both of which would allow them to grow other crops. [More...]
(6 comments, 1163 words in story) There's More :: Permalink :: Comments
The LA Times has photos of U.S. troops in Afghanistan posing with body parts of dead Afghans.
The troops were with the 82nd Airborne Division. In one instance, their mission on the first such occasion was simply to :
Check out reports that Afghan police had recovered the mangled remains of an insurgent suicide bomber. Try to get iris scans and fingerprints for identification.
They did the same while investigating another suicide bombing a few months later. The photos were given to the Times by a soldier in the division. A criminal investigation has been launched:
It is a violation of Army standards to pose with corpses for photographs outside of officially sanctioned purposes," said George Wright, an Army spokesman. "Such actions fall short of what we expect of our uniformed service members in deployed areas."
[More...]
(3 comments, 287 words in story) There's More :: Permalink :: Comments
Crossposted from Antemedius
...............
In 2010, American voters foolishly aided and abetted the Republicans by giving them control of Congress.
We now enter a very dangerous period in the lead up to the 2012 presidential election.
If Obama is not re-elected, and people don't work towards returning workable majorities in the House and the Senate to the Democrats, then the country only continues its decline, and all will be lost.
It may be the end of a two century great social experiment unequaled in human history.
(4 comments, 464 words in story) There's More :: Permalink :: Comments
The Taliban spent the past 5 months building a 1,060 foot underground tunnel that led directly into Sarposa Prison in Khandahar and broke out 575 inmates, including about 100 Taliban commanders.
Their tunnel operation was not discovered. They were able to bypass checkpoints and main roads. When asked how the Taliban were able to build the tunnel and effect the breakout, Gov. Tooryalai Wesa said only, "It's under investigation."
This is one of the prisons at which the U.S. has been providing training and funding to strengthen the Afghan secuirty guards.
The facility has undergone security upgrades and tightened procedures following a brazen 2008 Taliban attack that freed 900 prisoners. Afghan government officials and their NATO backers have regularly said that the prison has vastly improved security since that attack.
All the prisoners had left through the tunnel, taking 4.5 hours to do so, before anyone knew they were gone.
Guess they are still not ready for prime-time. How much more will it cost us to stay longer and re-train them?
(21 comments) Permalink :: Comments
The latest Wikileaks document release has a state department cable from August, 2009 on Afghanistan President Hamid Karzai's pardoning of convicted drug traffickers (many of whom were cops.)
This was reported in depth at the time, and I don't see that the cable adds much. But perhaps it will put the spotlight on a bigger issue.
While searching around trying to determine if Ismal Safed ever got his pardon (and why it was considered a big deal since it involved only one sale of three kilos to an undercover agent), I came across this March, 2010 GAO report on the DEA's performance in Afghanistan. It says the DEA seized 4,083 metric tons of heroin in Afghanistan in 2008. (One metric ton equals 1,000 kilograms.) Three kilos out of 4,083,000 kilograms (and considering the opiate/heroin trade in Afghanistan amounts to $3 billion a year)is like a grain of sand. It also notes the pervasive problem of corruption, and interestingly, the high number of Afghan police who use heroin. [More...]
(1111 words in story) There's More :: Permalink :: Comments
The Open Society Foundation has released a new report on detainee abuse by the U.S. military at a detention facility in Afghanistan:
The accounts by Afghans—who refer to the site as "Tor Jail" or "Black Jail"—are not in accordance with U.S. detention rules. The report, Confinement Conditions at a U.S. Screening Facility on Bagram Air Base, provides the first detailed account of detainee treatment at this classified site, which is different than the well-know Bagram detention facility.

Detainees state that they were held in excessively cold isolation cells; supplied inappropriate or inadequate food, bedding, and blanketing; denied exposure to natural light; unable to carry out their religious duties; restricted from exercise; and kept from meeting with the International Committee of the Red Cross.
[More...]
(4 comments, 256 words in story) There's More :: Permalink :: Comments
"America's Secret Afghan Prisons", the result of a year long investigation from Afghanistan, by reporter Anand Gopal, conducted on behalf of The Nation, The Investigative Fund at The Nation Institute and TomDispatch.com, has been released. The report appears today at Tom Dispatch, tomorrow at TheNation.com and will be on newsstands Friday in the next issue of The Nation.
The report examines counter-terror policies in Afghanistan. What it finds:
widespread and feared American "night raids" in Afghanistan
a network of secret prisons on

U.S.

military bases in Afghanistan where detainees from raids are held.
allegations of prisoner abuse, and in some cases disappearances.
[More...]
(13 comments, 566 words in story) There's More :: Permalink :: Comments
Apparently, $708 billion isn't enough for the Defense Department for the coming year. The AP reports that military commanders briefed on an upcoming report say President Obama will ask Congress to approve another $33 billion when it submits its budget request in February.
What for? Supposedly for beefing up the war in Afghanistan, but it sounds more like the global war on terror, even though Obama insists on not using that phrase.
The administration also plans to tell Congress next month that its central military objectives for the next four years will include winning the current wars while preventing new ones and that its core missions will include both counterinsurgency and counterterrorism operations.
[More..]
(30 comments, 200 words in story) There's More :: Permalink :: Comments
Update: 1/1/10: More confirmation here.
As I speculated here, new reports show the suicide bomber who killed 8 CIA agents yesterday at a U.S. intelligence post in Afghanistan, was a person being groomed to be an informant. He had been invited onto the base, and although he had never been there before, he wasn't searched. As to why he was invited on to the base:
An experienced Central Intelligence Agency debriefer came from Kabul for the meeting, suggesting that the purpose was to gain intelligence, the official said.
Among the seven CIA officials killed was the female base chief, a mother of three. While some reports say the attack happened in the gym, others says it happened as he was getting out of a car. Maybe she walked up to the car to greet the would-be informant and he blew himself up as he was getting out.
The Taliban, which has taken credit for the attack, says the bomber was posing as an Afghan officer. So the CIA thought they had flipped the guy, but he was playing them. This story is still developing.
(2 comments) Permalink :: Comments
The Taliban has reacted strongly to President Obama's pledge of more troops for Afghanistan. From one of its commanders:
"Obama is sending more troops to Afghanistan and that means more Americans will die. With just a handful of resources we can cause them even more casualties and deaths."
Where's the exit strategy? We will have 100,000 troops in Afghanistan after the additions. Obama says we will begin withdrawal in 2011. That's too nebulous. When will we be finished?
Where's the clarity? Training Afghan troops to turn the war over to them didn't work too well in Iraq. How will sending more troops strengthen Afghan institutions or create a sustainable economy?
David Sirota asks, Is this hope or change? This is Obama's war now. He owns it. [More...]
(69 comments, 481 words in story) There's More :: Permalink :: Comments