Tag: David Addington
The New York Times reports on a covert program planned by the CIA that Dick Cheney ordered be kept secret.
The Central Intelligence Agency withheld information about a secret counterterrorism program from Congress for eight years on direct orders from former Vice President Dick Cheney, the agency's director, Leon E. Panetta, has told the Senate and House intelligence committees, two people with direct knowledge of the matter said Saturday.

....Mr. Panetta, who ended the program when he first learned of its existence from subordinates on June 23, briefed the two intelligence committees about it in separate closed sessions the next day.
[More...]
(21 comments, 390 words in story) There's More :: Permalink :: Comments
David Addington, Dick Cheney's former legal counsel and current Chief of Staff (post Scooter Libby) testified before a House subcommittee today on the Administration's interrogation practices and torture.
Crooks and Liars has some thoughts as well as videos of Addington's testimony and the law profs at Balkanization have lots to say about John Yoo's testimony.
Human Rights First has the lowlights of both men's testimony. John Yoo's prepared testimony is here.
In other torture news, the American Civil Liberties Union is calling on the United States government "to appoint an independent prosecutor for U.S. torture crimes, to put an end to practices that involve torture and abuse and to fulfill its obligations under the Convention Against Torture (CAT). "
(13 comments) Permalink :: Comments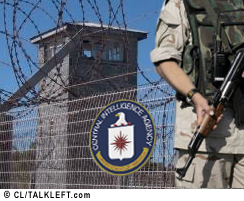 The House Intelligence Committee has scheduled a hearing on January 16 (pdf) regarding the destruction of CIA interrogation videotapes of two al Qaeda suspects held in secret overseas prisons, Abu Zubaydah and Abd al-Rahim al-Nashiri.
The order to destroy the tapes allegedly was given by Jose Rodriguez who at that time was head of the CIA's clandestine service. Rodriguez, who has hired lawyer Robert Bennett to represent him, has no intention of being the scapegoat.
The TimesonLine reports Rodgriguez is seeking immunity for his testimony. Who might he give up?
Four names in the White House have surfaced so far. My money is on Cheney lawyer (now his Chief of Staff) David Addington.
Jose Rodriguez, former head of the CIA's clandestine service, is determined not to become the fall guy in the controversy over the CIA's use of torture, according to intelligence sources.

It has emerged that at least four White House staff were approached for advice about the tapes, including David Addington, a senior aide to Dick Cheney, the vice-president, but none has admitted to recommending their destruction.
Former CIA agent Larry Johnson writes the real issue isn't who ordered the tape destruction, but who lied to the Judge in the trial of Zacarias Moussaoui. That was my first thought when I read that one of the taped suspects was Abu Zubaydah.
Larry points out: [More...]
(47 comments, 619 words in story) There's More :: Permalink :: Comments