Tag: Dick Cheney
The Miami Herald has 26 great photos of several of the six recently released Guantanamo detainees in Uruguay. The AP has this article on their new lives.
These men were held for 12 years and cleared for release in 2009. No charges were ever brought against them. I was glad to see some of them smiling in the photos. They are learning Spanish, taking hikes, walking along the beach, shopping for food, and cooking at barbecues.
Thank you Uruguay. [More...]
(16 comments, 391 words in story) There's More :: Permalink :: Comments
The years have not changed Dick Cheney, who in my view was the worst Vice-President in American history.
His latest: The war in Iraq was the right thing to do, and we should spend more on defense and less on the needs of the American people.
"[Defense dollars] ought to be our top priority for spending. Not food stamps, not highways or anything else," Cheney said.
Thank goodness he's irrelevant.
(40 comments) Permalink :: Comments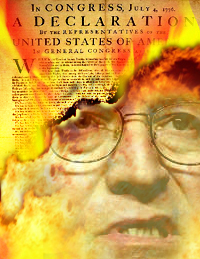 Dick Cheney came out of the woodwork today to defend warrantless NSA surveillance.
The former No. 2 in the Bush administration defended the NSA's ability to monitor phone and email data, and labeled as a "traitor" the analyst who has admitted to having leaked details about the classified program.
He's concerned Edward Snowden will become a Chinese spy. Same old Cheney. Defending our rights under the Constitution was never his strong suit.
(28 comments) Permalink :: Comments
Dick Cheney has some advice for Mitt Romney: Don't pick a Sarah Palin. Cheney says he likes Palin but McCain shouldn't have picked her for his running mate because she wasn't qualified. He says the test has to be whether the person is qualified to assume the Presidency and she was not.
The interview will air tomorrow and highlights, including the part about Palin, are already available. I couldn't stand to watch for than 10 seconds of Dick Cheney, so I didn't see the actual remarks.
(38 comments) Permalink :: Comments
Dick Cheney had a heart transplant today at Inova Fairfax Hospital in Falls Church, Va. He's been on the list for 20 months.
Heads-Up: Comments calling for his demise will be deleted. It's bad form and probably bad karma.
Comments critical of his politics and actions as Vice President are fine, if expressed without name-calling.
The 2011 cost of a heart transplant is $1 million. Is 20 months a normal wait time? Here are the current guidelines for allocation of thoracic organs (heart and lungs.)
(48 comments) Permalink :: Comments
Vice President Joe Biden appears on Meet the Press this morning. Here's the transcript of his comments about Dick Cheney (no link yet, received from NBC by e-mail), in which he asserts Cheney is attempting to re-write history. As for his motive, Biden says Cheney is either misinformed or misinforming. Why not just call him what he is -- a disingenuous ex-politician.
DAVID GREGORY: Let me ask you about some of the criticism that's been leveled at this Administration by former Vice President Dick Cheney. He has argued that this Administration has failed to treat the fight against terrorists as war. He cites the decision related to Khalid Sheik Muhammad to offer him a civilian trail as one example. Giving the Christmas Day Bomber the privileges of the American criminal justice system is another example. The decision to shut down the Guantanamo Bay prison. What do you say?
[More...]
(13 comments, 890 words in story) There's More :: Permalink :: Comments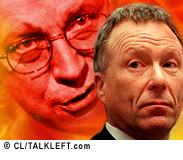 CREW announced today that the FBI released notes (pdf)of former Vice-President Dick Cheney's FBI interview on the leak of Valerie Plame's identity, purusant to its FOIA lawsuit. In the interview, Cheney is critical of the CIA.
Cheney could not recall 22 things, including, whether he had ever told Scooter Libby about Valerie Plame. Via Mother Jones, A list is below: [More....]
(10 comments, 721 words in story) There's More :: Permalink :: Comments
(This was the very first diary I ever posted on the internet, way back in June 2007, and some of it is dated, but since Dick Cheney has been all over TV recently urging President Obama to stop "dithering" and "do what it takes to win" in Afghanistan, I decided it was worth reposting.)
If you're a liberal, you can say that George Bush isn't very smart, and Dick Cheney isn't very nice, and that's about the end of it. A million liberal blogs and columns grind away at synonyms for "not nice" and "not smart" year after year, but the Republicans still control 49 seats in the Senate, and Fox News still has a license to broadcast.
Bush-Cheney chained up a 78 year-old Afghan man in a fetal position at Guantanamo for more than 24 hours, while he pissed and shat all over himself. The New York Times and the Washington Post are still a little fuzzy about what to call this procedure, and the rest of the media is even more obtuse. When John McCain sponsored a very weak bill to restrict this method of "interrogation," Dick Cheney ran through every office in the Capitol trying to defeat it, and he succeeded. The same sort of thing is happening at this very moment in a secret CIA prison somewhere, and if you don't know what to call it, I can tell you.
It's torture, Stupid!
(4 comments, 802 words in story) There's More :: Permalink :: Comments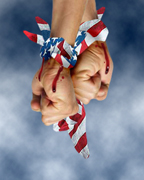 Dick Cheney continues to insist the CIA interrogators should neither be investigated nor prosecuted. He continues to praise their work.
"The people involved deserve our gratitude. They do not deserve to be the targets of political investigations or prosecutions," he said in a statement dated Monday.
[More...]
(36 comments, 177 words in story) There's More :: Permalink :: Comments
CREW advises that tomorrow morning, Judge Emmett Sullivan will hear arguments in its FOIA lawsuit on whether Dick Cheney's FBI interview in the Valerie Plame leaks investigation should be released to the public.
On April 8, 2009, CREW requested that the Obama administration release the interview in light of President Obama's oft-stated claims of a commitment to transparency and accountability and Attorney General Holder's promise of a presumption of openness. The current administration has refused to release the interview, siding with the Bush administration in keeping secret a document that would shed light on the former vice president's role in destroying Valerie Plame Wilson's covert CIA career and jeopardizing the lives of others with whom she came in contact.
[More....]
(22 comments, 310 words in story) There's More :: Permalink :: Comments
The New York Times reports on a covert program planned by the CIA that Dick Cheney ordered be kept secret.
The Central Intelligence Agency withheld information about a secret counterterrorism program from Congress for eight years on direct orders from former Vice President Dick Cheney, the agency's director, Leon E. Panetta, has told the Senate and House intelligence committees, two people with direct knowledge of the matter said Saturday.

....Mr. Panetta, who ended the program when he first learned of its existence from subordinates on June 23, briefed the two intelligence committees about it in separate closed sessions the next day.
[More...]
(21 comments, 390 words in story) There's More :: Permalink :: Comments
When I wrote a few weeks ago about the Obama Administration taking the position that documents related to Dick Cheney's FBI interview in the Valerie Plame leaks case should not be released, it was in the context of lack of transparency and the silliness of the Government's attempted justification:
Another sign of non-transparency from Obama: His Justice Department is fighting a Freedom of Information Act request in federal court, trying to keep CREW from obtaining FBI reports and summaries of Dick Cheney's statement to the FBI over the Valerie Plame Leak. The Judge held a hearing yesterday and was very unhappy with the Government's position. He's going to review the statement himself to see if there's any reason not to release the requested documents. The Government gave this ridiculous reason: They don't want the statements "to become fodder for Cheney's political enemies or late-night commentary on "The Daily Show."
In newer developments, David Corn reports the Government has filed a new pleading containing a more substantive reason: [More...]
(12 comments, 1986 words in story) There's More :: Permalink :: Comments