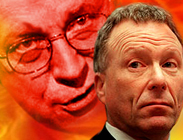 The New York Daily News reports that aides to Dick Cheney are saying he's really angry that Bush wouldn't give Scooter Libby a full pardon and kept the pressure on Bush until the last minute.
After repeatedly telling Cheney his mind was made up, Bush became so exasperated with Cheney's persistence he told aides he didn't want to discuss the matter any further. The unsuccessful full-court press left Cheney bitter. "He's furious with Bush," a Cheney source told The News. "He's really angry about it and decided he's going to say what he believes."
[More...]
(27 comments, 254 words in story) There's More :: Permalink :: Comments
Via Christopher Bateman at Vanity Fair: In his tell-all book about the Bush Administration, former Press Secretary Scott McClellan has harsh words for President Bush's commutation of Scooter Libby's prison sentence in the Valerie Plame leaks case:
It's … clear to me that Scooter Libby was guilty of the perjury and obstruction crimes for which he was convicted. When the president commuted Libby's prison sentence and thereby protected him from serving even one day behind bars, I was disappointed. This kind of special treatment undermines our system of justice…. President Bush certainly has the right and the power to commute Libby's sentence. But in choosing to do so, he sent an unfortunate message to America and the world—that in the United States criminal behavior on behalf of a political cause may go unpunished if those who support that cause have the power to make it happen.
At the time, John McCain agreed with Bush: [More...]
(32 comments, 216 words in story) There's More :: Permalink :: Comments
I. Lewis "Scooter" Libby was disbarred today. The court said he perjury conviction was a crime of moral turpitude.
The former White House aide was found guilty a year ago of obstruction of justice and lying. Those are considered crimes involving "moral turpitude" that under the law require disbarment, the District of Columbia Court of Appeals ruled.

The court had previously suspended Libby from the practice of law in Washington. President George W. Bush in July commuted Libby's 2-1/2-year prison sentence, enraging Democrats who accused Bush of abusing his power.
Libby did not challenge the disbarment.
(14 comments) Permalink :: Comments
Anybody remember this priceless
line
from
"The Ref"
(1994)?
Connie Chasseur: Who would catch a criminal, and then let him go free?

Mary Chasseur: Republicans.
I had a conversation with a prosecutor today about a two level enhancement for obstruction on a client in custody. I told her that the Executive Branch doesn't count obstruction as a jailable offense, so he should not get the two level enhancement.
She was not amused.
None of us are.
(2 comments) Permalink :: Comments
This piece by Alan Dershowitz made me laugh out loud:
The appellate judges had to see that Libby's arguments on appeal were sound and strong -- that under existing law he was entitled to bail pending appeal. (That is why I joined several other law professors in filing an amicus brief on this limited issue.)
Hahahahahahahahahaha. But of course brave Sir Alan. YOU filed an amicus brief. How could the Appellate Court not have recognized the utter brilliance and merit of your argument? It had to be political.
Too funny. This guy is a scream.
(3 comments) Permalink :: Comments
I read Max Frankel's 7,800 word article on the Scooter Libby trial last night. It left a bad taste, and I didn't write about it. Marcy Wheeler has a terrific analysis of the article and what's wrong with it at Firedoglake.
However, my problem with the article was not so much Frankel's embrace of Judith Miller, but his implication that no real crime was committed and Fitzgerald should not have compelled the journalists to testify.
This wasn't a case of whistle-blowing. This was a case of Administration officials using the media to discredit a war critic by outing his CIA agent wife through allegations that his trip to Africa was the result of nepotism and therefore his findings on that trip were not worthy of belief.
Since when are perjury and obstruction of justice not really crimes?
Max Frankel disappoints with this article.
(12 comments) Permalink :: Comments
The jury trial of I. Lewis Scooter Libby begins Tuesday. I intend to follow it closely. However, I don't want TalkLeft to become all Libby, all the time. And, there will be days when I can't monitor live developments.
As I did with the Duke Lacrosse players case, I have set up a TalkLeft forum for those interested in following the trial and commenting on it on a detailed level.
The forum can also be used as a reference section as it has links to documents in the case, other bloggers covering the trial and the archives of several bloggers who have followed the Valerie Plame leak investigation and Scooter Libby Indictment since the beginning.
I will be adding documents to the document section over the weekend.
It is open for posting and registration. Your TalkLeft registration doesn't work on the forums. You will need to do a separate, free registration. You can hide your e-mail address and register using a moniker.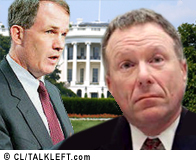 Judge Reggie Walton has issued the following trial decorum order (pdf) for the Scooter Libby trial. There will be two overflow courtrooms.
Also, from another order granting the following persons 24 hour access to the courthouse during the trial, here's a clue as to who's on the Government's trial team (some could be agents and paralegals in addition to lawyers.).
ORDER as to I. LEWIS LIBBY granting the following individuals access to the E. Barrett Prettyman Courthouse 24 hours a day/7 days per week from the date of the Order until the conclusion of the trial of this matter: Patrick Fitzgerald, Peter Zeidenberg, Kathleen Kedian, Debra Bonamici, Debbie Bond, Gerard Francisco, Jared Richards, Katie Hance, Bonnie Hansen, and Harry Brady.
(6 comments) Permalink :: Comments
The Washington Post reports that two of the coveted media seats in the Scooter Libby trial will go to bloggers.
After two years of negotiations with judicial officials across the country, the Media Bloggers Association, a nonpartisan group with about 1,000 members working to extend the powers of the press to bloggers, has won credentials to rotate among his members. The trial of I. Lewis "Scooter" Libby, the highest-ranking Bush administration official to face criminal charges, could "catalyze" the association's efforts to win respect and access for bloggers in federal and state courthouses, said Robert Cox, the association's president.
Firedoglake announced last week that with the aid of Arianna Huffington, it had been granted a press pass for the trial.
(2 comments, 462 words in story) There's More :: Permalink :: Comments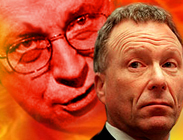 It's official. Team Libby told the Judge presiding over his trial today he absolutely will call Veep Dick Cheney as a trial witness.
More information is available here, as well as last week's filings.
Update: Empty Wheel and Christy at Firedoglake share their thoughts.
Update: I'd love to see Fitz impeach Cheney at trial using Cheney's statements made in 2004 to federal investigators.
(3 comments) Permalink :: Comments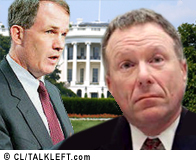 Both the Government and Lewis "Scooter" Libby filed status reports yesterday. I have uploaded them here and here.
Editor & Publisher notes the key details: While Libby states two reporters may resist testifying for him, Fitz reports none of its witnesses, including White House officials, will claim privilege to avoid testifying.
We can expect Dick Cheney and others to be witnesses and not to claim privilege -- at least during the Government's questioning. Cross-examination by Libby could be different. From Fitz's pleading:
(332 words in story) There's More :: Permalink :: Comments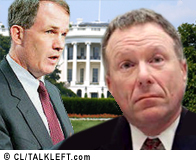 In a 31 page opinion I have uploaded here (pdf), the Judge in the Scooter Libby trial today denied Libby's request to use a memory expert at trial. [Background here.]
I'm still digesting the opinion, but the shorter version seems to be:
The studies relied on by Libby mostly pertain to eye-witness identification and don't fit the facts of his case.
The 13 points of memory principles Libby expert Robert Bjork would testify to are unlikely to assist the jury because the jurors could figure most of them out.
Libby has not shown that the traditional method of cross-examining the Government's witnesses would not be sufficiently effective.
I wonder whether the Judge has not just handed Libby his first legitimate issue for appeal. I see definite corollaries between the memory principles that affect eyewitnesses and other fact witnesses. It would have been safer for the Government if the Judge had allowed the testimony.
(4 comments, 287 words in story) There's More :: Permalink :: Comments