Tag: death penalty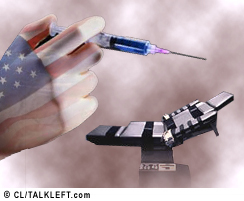 Attorney General Merrick Garland Thursday issued a moratorium on scheduling of federal executions, pending a study by the Department of Justice on fairness. In a memo to federal prosecutors he wrote:
Serious concerns have been raised about the continued use of the death penalty across the country, including arbitrariness in its application, disparate impact on people of color, and the troubling number of exonerations in capital and other serious cases," he added. "Those weighty concerns deserve careful study and evaluation by lawmakers."

...The Department of Justice must ensure that everyone in the federal criminal justice system is not only afforded the rights guaranteed by the Constitution and laws of the United States, but is also treated fairly and humanely. That obligation has special force in capital cases," Garland said in the memo.
Shorter version: Smackdown to Donald Trump who had his AG William Barr resume executions after a 20 year hiatus. Under Donald Trump, 13 inmates were killed just in his last year of office.
[More...]
(1 comment, 925 words in story) There's More :: Permalink :: Comments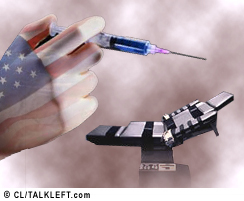 The Supreme Court today let stand a ruling on the death penalty, and as a result, executions may now resume (as Attorney General William Barr has promised they would.) The case is Bourgeois v. Barr, No. 19- 1348.
Judge Tanya S. Chutkan, of the Federal District Court in Washington, blocked the executions in November, saying the protocol the government planned to use did not comply with the Federal Death Penalty Act of 1994, which requires executions to be carried out "in the manner prescribed by the law of the state in which the sentence is imposed."

The central legal question in the case is whether the word "manner" in the 1994 law refers to the methods of execution authorized by the relevant states (like hanging, firing squad or lethal injection) or the protocols the states require (like the particular chemicals used in lethal injections, whether a doctor must be present or how a catheter is to be inserted).
The Court's unsigned order today states: [More...]
(4 comments, 825 words in story) There's More :: Permalink :: Comments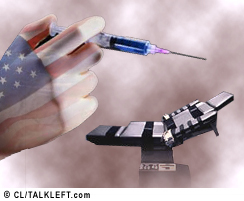 These are the last three federal executions in the United States. Today, Attorney General William Barr announced that after 16 years without a federal government-sanctioned murder, the Government will resume executing inmates sentenced to death in a federal court.
Presently, there are 62 such inmates in the U.S. AG Barr also announced today the first five on deck to be killed. [More...]
(12 comments, 283 words in story) There's More :: Permalink :: Comments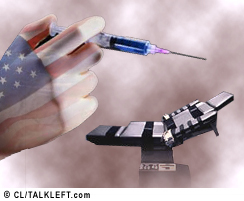 Colorado Democrats have re-introduced a bill to repeal the state's death penalty law. If it passes, Colorado will be the 21st state to ban the death penalty.
Our new Governor, former Congressman Jared Polis, says he will sign the bill if it passes. (In a Denver Post article, he said he also might then grant clemency to the three men on Colorado's death row, all of whom were prosecuted in Arapahoe County and all of whom are African-American.)
The bill will get its first hearing Wednesday. If you are a Colorado voter, please email your Representative and Senator (find them here)and urge them to pass this bill. You can read the bill here and follow its progress. And send thanks to Gov. Jared Polis.
(3 comments) Permalink :: Comments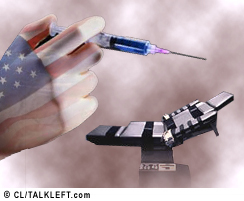 Carey Dean Moore was executed this morning with a four drug concoction that included fetanyl. Nebrasks wins the title of being the first state in the country to intentionally kill someone using Fetanyl. Nevada intended to be first until stopped by a court last month.
According to the Nebraska Dept of Corrections, it took 23 minutes for Moore to die after receiving the first drug.
The first of four substances was administered at 10:24 a.m. The Lancaster County coroner pronounced Moore's time of death at 10:47 a.m.
One media witness, Brent Martin of the Nebraska Radio Network, said that Tuesday's execution in the Nebraska State Penitentiary took longer than the 13 executions he witnessed in Missouri. In those executions, it took about five minutes to complete the lethal injection process.
About 15 minutes into the execution, ight after administering the last injection, officials closed the curtains for about 8 minutes, so the process was not as transparent as it should have been. When officials re-opened the curtains, Moore was already dead. Witnesses said his face was "darker purple, and mottled."
The four drugs used were: Diazepam was first, and then the fentanyl, then cisatracurium and then the heart-stopper, potassium chloride. [More...]
(7 comments, 417 words in story) There's More :: Permalink :: Comments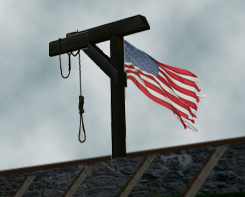 Amnesty International has released a report on global executions for 2015. More people were executed than in any year in the past 25 years.
89 % were killed by three countries, Iran, Pakistan and Saudi Arabia. (China's exact numbers are unknown, but they are known to be very high.)
The U.S. ranks 5th in the number of people executed in 2015.
The top five executioners in the world in 2015 were China, Iran, Pakistan, Saudi Arabia and the USA – in that order.
[More...]
(286 words in story) There's More :: Permalink :: Comments
Hillary Clinton today espoused her views on the death penalty.
"I think that we have a lot of evidence now that the death penalty has been too frequently applied and very unfortunately in a discriminatory way," Clinton said at Saint Anselm's College. "So I think we have to take a hard look at it and a lot of states are doing that."

Clinton said that the United State needs to be "smarter and more careful" about how the death penalty is applied, but that in some "egregious" cases, capital punishment is still needed.

"I do not favor abolishing it, however," Clinton said, arguing that it should be used in "very limited and rare" instances.
How about a moratorium then, until the system is fixed? Is it more important to kill an egregious offender or not to kill someone who was unfairly sentenced to death on the basis of race?
(70 comments) Permalink :: Comments
Today it was announced ten coffins have arrived on Nusakambangan island, Indonesia's island of death.
Indonesian President Joko Widodo has refused to budge on the imminent executions of drug offenders, which by all accounts will proceed as soon as possible. He has tuned out requests by leaders of Brazil, Nigeria, France, the Philippines, and especially Australia.
What is fueling his stubborn resistance? He says other countries need to butt out and let Indonesia enforce its laws. He says this is about legal sovereignty and Indonesia's dignity. Shorter version: the politics of pride and nationalism. [More...]
(1 comment, 1088 words in story) There's More :: Permalink :: Comments
R.I.P. Marco Archer Cardoso Moreira (Brazil), Ang Kiem Soei (The Netherlands), Daniel Enemuo (Nigeria), Namaona Denis (Malawi), Tran Thi Bich Hanh (Vietnam) and Rani Andriani (Indonesia.) Despite pleas from governmental leaders and world-wide criticism, the four men and two women were executed just after midnight in Indonesia. There are 58 more convicted drug offenders on Indonesia's death row.
For background, see my earlier post today here, this from yesterday, this post from a few days ago and this one from over a year ago.
It seems not much has changed in Indonesia. The five who were executed on Nusakambangan Island, in Central Java, were taken from their cells in the dead of night and driven to a remote spot several miles away where they were shot in pairs. Media and families were of those killed were not allowed to be present. Reactions from the governments in the home countries of those killed was swift: [More....]
(10 comments, 687 words in story) There's More :: Permalink :: Comments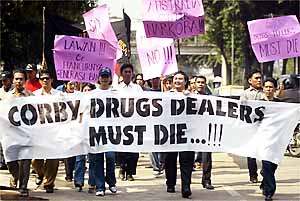 Indonesia does not deserve your tourist dollars. Many Indonesians support their barbaric laws against drug traffickers. This is how many on Bali reacted to Schapelle Corby's arrest for 4.4 kilos of marijuana. This weekend, six drug traffickers, including five foreigners, will be killed by firing squads in Indonesia. Indonesia's President has rejected requests from leading officials of Brazil, the Netherlands and Australia not to kill their citizens.
Death is neither quick or painless when you are tied to a wooden cross and shot. The same fate awaits Bali Nine Australians Andrew Chan and Myuran Sukumaran.(Indonesia claims the executioners now walk right over to those they just shot and shoot them again behind the ear to make sure they are dead.)
There are beautiful beaches all over the world. There is no reason to give your tourist dollars to a country that executes drug traffickers. [More...]
(19 comments, 828 words in story) There's More :: Permalink :: Comments
A new U.N. report on the death penalty in Iraq says it is fueling the violence and a moratorium should be imposed.
The report says executions in Iraq have been increasing at an alarming pace and that is applied unfairly:
Judges often pass death sentences based on evidence from disputed confessions or secret informants, condemning suspects who are unaware of their rights, may have been tortured and have no defense attorney until they arrive in court, the report said.
[More...]
(4 comments, 243 words in story) There's More :: Permalink :: Comments
These kinds of headlines make me find 3 confirming reports before writing about them, in case there's a language difference as to the use of some words, like "crucifixion. In this case, it means what we think it means.
Nimr Baqer al-Nimr, a reformist cleric, has been sentenced to death by crucifixiton , the country's harshest punishment. He will be beaheaded and his body will be tied to two perpendicular pieces of wood. He'll be strung up and his severed head will be by him. This barbarity will take place in the public square severed head will be place by him. The event takes place in town square, with the public watching.
What was al-Nimr's sin? He preached against the Saudi King, arguing for civil rights. and an end to corruption and discrimination against minorities. [More...]
(100 comments, 289 words in story) There's More :: Permalink :: Comments