Tag: lethal injections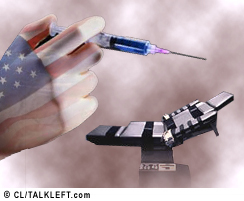 The Supreme Court today let stand a ruling on the death penalty, and as a result, executions may now resume (as Attorney General William Barr has promised they would.) The case is Bourgeois v. Barr, No. 19- 1348.
Judge Tanya S. Chutkan, of the Federal District Court in Washington, blocked the executions in November, saying the protocol the government planned to use did not comply with the Federal Death Penalty Act of 1994, which requires executions to be carried out "in the manner prescribed by the law of the state in which the sentence is imposed."

The central legal question in the case is whether the word "manner" in the 1994 law refers to the methods of execution authorized by the relevant states (like hanging, firing squad or lethal injection) or the protocols the states require (like the particular chemicals used in lethal injections, whether a doctor must be present or how a catheter is to be inserted).
The Court's unsigned order today states: [More...]
(4 comments, 825 words in story) There's More :: Permalink :: Comments
Responding to a federal court opinion last week finding California's death penalty procedures woefully inadequate, Gov. Arnold Schwarznegger is promising to fix them in 30 days.
Sorry, Arnie. That's not good enough. You need to suspend them until (if ever) they are fixed, like Jeb Bush did.
(2 comments) Permalink :: Comments