Tag: Owl Farm
I'm off to NORML's annual Aspen legal conference. My talk this year: "Federal Responses to Marijuana Legalization, Both Good and Bad." Here's the entire agenda, it's a privilege to be included with these impressive lawyers.
I'll be back Saturday night, after the annual Owl Farm picnic.
Enjoy the weekend, the weather is beautiful here. This is an open thread, all topics welcome.(I'll put up new open threads if this one fills up.)
(Date corrected from Friday to Thursday)
(202 comments) Permalink :: Comments
It's time for the Annual NORML legal conference in Aspen. As always, I'll be staying with Anita at Owl Farm in Woody Creek, just outside of Aspen -- and with the peacocks. (And, she tells me 29 other animals.)
I'll leave you with a note that Hunter had on his fridge. I have no idea what he meant, but it seems particularly topical. [More...]
(56 comments, 118 words in story) There's More :: Permalink :: Comments
We're driving back from Aspen. Another great weekend at Owl Farm with the NORML lawyers. It rained all day yesterday but that didn't stop the outdoor picnic (Anita had tents brought in.) The Red Tones played for hours, the food was great and we all missed Hunter. Friday night, Aspen top chef Chris Lantern of Cache Cache cooked another incredible feast for 200 at Gerry and Chris Goldstein's home.
it was the TL kid's first time staying at Owl Farm. He got to sleep in Johnny Depp's room and got a weekend course on all things Hunter, including watching a slew of old videos even I had never seen. He had a great time. He says it was like stepping into an alternate reality.
As to the current state of drug law reform, while we all recognized there's been progress the past few years with medical marijuana, we are also aware things go in cycles and another backlash is always around the corner. We are still years away from where we need to be. For those of us who have been fighting the battle in courtrooms for decades, we're so glad to see more and more of the next generation of lawyers joining us.
This is my first full blog post on my iPad as we're still driving. Just got to the top of Vail Pass. I'll be back blogging tonight.
(20 comments, 252 words in story) There's More :: Permalink :: Comments
The TL kid and I are headed up to Aspen for the annual NORML drug law conference. There's live coverage this year. We're staying with Anita at Owl Farm. The TL kid gets to sleep in Johnny Depp's room. (No, he won't be there, it's called that because it's the room he always slept in when he visited Hunter.) Here's the speaking agenda . I'll be speaking Saturday on new forms of electronic surveillance.
I'll have my iPad and my laptop and will be checking in, and maybe posting occasionally. (I will be following developments in Peru with Joran Van der Sloot but won't be able to devote as much time to them.)
Here's an open thread, all topics welcome.
(90 comments) Permalink :: Comments
I'm off to Aspen for the
2009

NORML

Legal Seminar
(that's me giving my talk in 2006.) Sad to say, not too much has changed since then, but at least some changes to our country's draconian drug laws are in the works. My topic this year: "High Hopes and Modest Expectations: Drug Law Reform under President Obama and a Democratic Congress." [More...]
(8 comments, 151 words in story) There's More :: Permalink :: Comments
It's that time of year again. I'm off to Aspen for the NORML Aspen Legal Seminar. My topic this year: Crackadoodledoo! A New Dawn in Crack Cocaine Sentencing. (I only wish it were true.) Here's the full schedule.
Like last year, I'll be staying in Woody Creek at Hunter Thompson's Owl Farm, with his wife Anita and his longtime Washington editor, Shelby Sadler. And of course, the peacocks.[More...]
(17 comments, 455 words in story) There's More :: Permalink :: Comments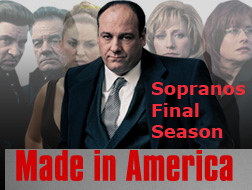 I put up a Sopranos open thread before the start of Sunday night's finale as I have every week the past two seasons. I was too angry after the show to add my thoughts. I waited until I slept on it and watched it again. My final reaction: Count me among those who are livid.
Like many viewers I've watched every episode of the show. Unlike the most obsessed viewers, I cannot recall all the players in all the episodes in all the seasons. I just enjoyed the show as I watched. It was entertainment. I never saw any greater message in the show, never cross-checked the minor characters with their real actor names to see if they re-appeared in future episodes and didn't analyze the dialog or action searching for clues.
But, at the end of each show I wondered what would happen next. I never expected that the final episode would be one in which nothing happened.
More...
(44 comments, 1197 words in story) There's More :: Permalink :: Comments
Dateline Aspen: Today is the final day of the NORML Aspen legal seminar. Troy Hooper of the Aspen Daily News (link fixed) takes a look at the first day's events including my presentation on Terrorism and the War on Drugs: The Shrinking of the Constitution.
Gerry and Chris Goldstein once again have opened their home to all of us, hosting a very fun pre-dinner Wednesday night and a NORML benefit dinner last night. Last night's dinner was attended by more than 50 people, and included Aspen Sheriff Bob Braudis (recovering from bronchitis, it was his first day out) and Anita and Juan Thompson (Hunter Thompson's wife and son). Chris Lanter, the incredible chef of Aspen's Cache-Cache restaurant, took charge in the kitchen and contributed not only his time but all of the food. Why? He told me:
(8 comments, 326 words in story) There's More :: Permalink :: Comments