Tag: NORML
We're driving back from Aspen. Another great weekend at Owl Farm with the NORML lawyers. It rained all day yesterday but that didn't stop the outdoor picnic (Anita had tents brought in.) The Red Tones played for hours, the food was great and we all missed Hunter. Friday night, Aspen top chef Chris Lantern of Cache Cache cooked another incredible feast for 200 at Gerry and Chris Goldstein's home.
it was the TL kid's first time staying at Owl Farm. He got to sleep in Johnny Depp's room and got a weekend course on all things Hunter, including watching a slew of old videos even I had never seen. He had a great time. He says it was like stepping into an alternate reality.
As to the current state of drug law reform, while we all recognized there's been progress the past few years with medical marijuana, we are also aware things go in cycles and another backlash is always around the corner. We are still years away from where we need to be. For those of us who have been fighting the battle in courtrooms for decades, we're so glad to see more and more of the next generation of lawyers joining us.
This is my first full blog post on my iPad as we're still driving. Just got to the top of Vail Pass. I'll be back blogging tonight.
(20 comments, 252 words in story) There's More :: Permalink :: Comments
If you're a criminal defense lawyer, come join us in Aspen June 6 to 8 for the annual NORML Legal Seminar on defending drug cases. You'll get 15 CLE credits and have a great time. (The video is one I made of the 2006 seminar.) Here's the agenda.
My topic this year: "High Hopes and Modest Expectations: Drug Law Reform under President Obama and a Democratic Congress." [More...]
(1 comment, 133 words in story) There's More :: Permalink :: Comments
It's that time of year again. I'm off to Aspen for the NORML Aspen Legal Seminar. My topic this year: Crackadoodledoo! A New Dawn in Crack Cocaine Sentencing. (I only wish it were true.) Here's the full schedule.
Like last year, I'll be staying in Woody Creek at Hunter Thompson's Owl Farm, with his wife Anita and his longtime Washington editor, Shelby Sadler. And of course, the peacocks.[More...]
(18 comments, 467 words in story) There's More :: Permalink :: Comments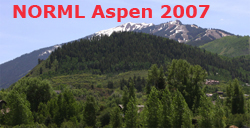 Criminal defense lawyers take note. This year's NORML Aspen legal conference (June 9 - 10th) promises to be outstanding. Tommy Chong, Tony Serra (just released from federal prison on a tax misdemeanor and back practicing law) will be featured, and we will again be spending an afternoon at Hunter Thompson's Owl farm.
[NORML}will be holding another NORML legal seminar in Aspen, CO in early June. Among the many terrific speakers on the Aspen program, we are delighted to announce that Tommy Chong, of the famous duo Cheech and Chong, will be our featured luncheon speaker.

Tommy, as you may recall, was selectively prosecuted by the federal government a couple of years ago for selling pipes on the Internet, for which he ended up serving nine months in prison. His topic for the seminar is titled Why Pot Is Still Illegal and Why Dave Is Still Not Here. This experience has clearly left Tommy feeling a renewed sense of urgency for the need to legalize marijuana and stop arresting responsible marijuana smokers.
More....
(615 words in story) There's More :: Permalink :: Comments
I'm off to Key West for the annual NORML legal seminar where I'll be speaking Saturday on Terrorism and the War on Drugs. The full agenda is here.
It's just about my favorite seminar of the year, between getting together with other drug defense lawyers, the Pier House Resort and Spa (check out my favorite room) and the free-spirit, laid back style of Key West itself.
(18 comments, 483 words in story) There's More :: Permalink :: Comments
Dateline Aspen: Today is the final day of the NORML Aspen legal seminar. Troy Hooper of the Aspen Daily News (link fixed) takes a look at the first day's events including my presentation on Terrorism and the War on Drugs: The Shrinking of the Constitution.
Gerry and Chris Goldstein once again have opened their home to all of us, hosting a very fun pre-dinner Wednesday night and a NORML benefit dinner last night. Last night's dinner was attended by more than 50 people, and included Aspen Sheriff Bob Braudis (recovering from bronchitis, it was his first day out) and Anita and Juan Thompson (Hunter Thompson's wife and son). Chris Lanter, the incredible chef of Aspen's Cache-Cache restaurant, took charge in the kitchen and contributed not only his time but all of the food. Why? He told me:
(8 comments, 326 words in story) There's More :: Permalink :: Comments