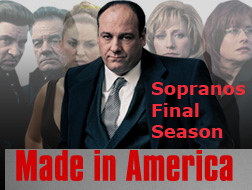 I put up a Sopranos open thread before the start of Sunday night's finale as I have every week the past two seasons. I was too angry after the show to add my thoughts. I waited until I slept on it and watched it again. My final reaction: Count me among those who are livid.
Like many viewers I've watched every episode of the show. Unlike the most obsessed viewers, I cannot recall all the players in all the episodes in all the seasons. I just enjoyed the show as I watched. It was entertainment. I never saw any greater message in the show, never cross-checked the minor characters with their real actor names to see if they re-appeared in future episodes and didn't analyze the dialog or action searching for clues.
But, at the end of each show I wondered what would happen next. I never expected that the final episode would be one in which nothing happened.
More...
(44 comments, 1197 words in story) There's More :: Permalink :: Comments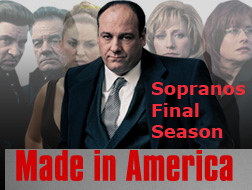 The second to last episode of the Sopranos, Number 85 is tonight: "The Blue Comet." Could they be any more cryptic?
This week, the allegiance of those closest to Tony is put to the test. Meanwhile, a case of mistaken identity has serious ramifications
Update:
and Spoiler Alert:
(7 comments, 177 words in story) There's More :: Permalink :: Comments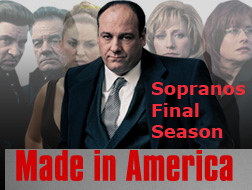 Episode 84 is tonight: "The Second Coming."
This week, Phil turns down Tony's offer of compromise and A.J. despairs about the world and his future. Meanwhile, Tony takes offense over an affront to Meadow.
I thought last week was the best episode of the season, and a total surprise. It's winding down rapidly.
(4 comments) Permalink :: Comments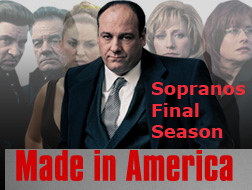 Episode 83 is tonight: "Kennedy and Heidi."
This week, an asbestos-disposal impasse raises tensions between Jersey and New York. Meanwhile, Tony has a revelation while Paulie gets upstaged.
(9 comments) Permalink :: Comments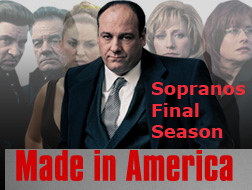 Episode 82 is tonight: "Walk Like a Man."
This week, A.J. struggles with depression. Meanwhile, Kelli's dad is the unwitting catalyst of a new feud between Christopher and Paulie.
Paulie sure is getting his share of attention this season. I wonder if it means he'll be gone by the season's end.
So many loose ends, so few episodes left. Anyone have any predictions or reactions?
(9 comments) Permalink :: Comments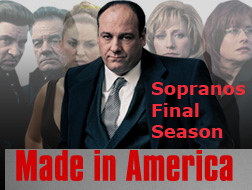 Episode 80 is tonight: "Remember When."
This week, with the heat turned up in Jersey, Tony and Paulie head south to cool off. Meanwhile, Junior rekindles some of his old fire in a poker game.
I'm wondering if someone will be killed tonight. Three weeks without a whacking is a long time.
After the Sopranos is the final episode of Apprentice: LA. Donald Trump chooses his apprentice tonight. My money's on Frank. This was definitely not a great season for the show, I usually tuned in to the last 15 minutes to see the boardroom action and who got fired, but the finales are fun to watch because they are live and the contestants presumably don't know who will be chosen.
Update: Trump chose Stephanie, a very L.A. civil lawyer who defends construction companies against defect claims and employers against workman comp claims. She was a mouse the whole season, but she showed her mettle tonight. A fitting choice for Trump.
If you watch and have some thoughts, here's the place to leave them.
Update: Ann Althouse and her commenters review the Soprano's episode. I agree with one of the commenters who said it seems like the show is going to go out with a whimper, not a bang.
(3 comments) Permalink :: Comments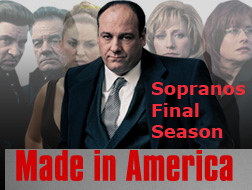 Episode 79 is tonight:
"Stage Five".


This week, Tony finds art imitating life at the Cleaver premiere; in prison, Johnny Sack copes with more bad news. Watch Episode 79: "Stage 5" Sunday at 9PM.
Geraldo Rivera has a cameo.
Update: What a great episode. If you missed it, watch the rerun later this week.
(2 comments) Permalink :: Comments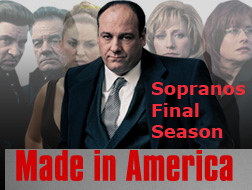 Finally, the Sopranos are back. The final season, Made in America, begins tonight on HBO with Episode 78, "Home Movies." Like last year, I will be putting up a thread every Sunday night to discuss the show. Predictions, analysis, reactions, all Soprano topics are welcome.
If you get Comcast On Demand, it appears that HBO is free this weekend, including the Sopranos past episodes and tonight's new one.
The only thing I can glean from the news coverage is that not all of the story lines will be resolved by the end.
Update: Some hints here from an exclusive interview with Tony and his son.
Update: Spoiler Alert: Here's a recap for those who missed it.
(5 comments) Permalink :: Comments
The final episodes of the Sopranos will begin to air on HBO on April 8. Fans of the Bada Bing might appreciate this story about two "accused members of a notorious New York crime family [who] turned a strip club into a training ground for mobsters."
(4 comments) Permalink :: Comments

Tonight is the final episode of the Sopranos until next year.
Kaisha: Tony gets Carmela's career back on track; Chris picks up where Tony left off; AJ gets a work perk; Phil won't let well enough alone.
What did you think?
(17 comments) Permalink :: Comments

The Sopranos is about to begin.
Tonight's episode is "Cold Stones":
A frenzy of borrowing money hits the crew; Carmela waxes philosophical on a trip with Rosalie; Meadow relocates.
It has to be winding down for the season, but so far there hasn't been that much action. Let us know what you think of tonight's episode.
(15 comments) Permalink :: Comments

Tonight's episode is "Moe and Joe."
Tony leverages Johnny's misfortune into a domestic upgrade; Bacala suffers vision impairment.
Will Tony end up taking Johnny's house? Will Johnny flip for the feds? Does Bobby get beat up by his new associates and suffer eye damage? Will tonight be a Vito night?
Those are some of my questions, it starts in 15 minutes.
(9 comments) Permalink :: Comments