Via Andrew Sullivan, from ABC's interview with Dick Cheney:
CHENEY: I was a big supporter of waterboarding. [. . .]

KARL: And you opposed the administration's actions of doing away with waterboarding?

CHENEY: Yes.
It's not new but it remains news. And news mostly unreported -- the Bush Administration sanctioned and engaged in torture - a federal crime, a war crime and a crime against humanity.
Speaking for me only
(17 comments) Permalink :: Comments
When I wrote a few weeks ago about the Obama Administration taking the position that documents related to Dick Cheney's FBI interview in the Valerie Plame leaks case should not be released, it was in the context of lack of transparency and the silliness of the Government's attempted justification:
Another sign of non-transparency from Obama: His Justice Department is fighting a Freedom of Information Act request in federal court, trying to keep CREW from obtaining FBI reports and summaries of Dick Cheney's statement to the FBI over the Valerie Plame Leak. The Judge held a hearing yesterday and was very unhappy with the Government's position. He's going to review the statement himself to see if there's any reason not to release the requested documents. The Government gave this ridiculous reason: They don't want the statements "to become fodder for Cheney's political enemies or late-night commentary on "The Daily Show."
In newer developments, David Corn reports the Government has filed a new pleading containing a more substantive reason: [More...]
(12 comments, 1986 words in story) There's More :: Permalink :: Comments
In an interview with Mark Knoller of CBS news that airs today, Vice President Dick Cheney voices support for Alberto Gonzales and says he was truthful with Congress.
In the 13 minute interview, which you can watch here, Cheney also discusses Scooter Libby.
Contrary to Bush who said he accepted the jury's verdict but thought the sentence was excessive, Cheney says Libby's jury got the verdict wrong.
I don't know when the interview was conducted, but I assume it was yesterday or today since Cheney was in the hospital getting his pacemaker battery updated Saturday. I don't have time to watch the interview now, but I wonder if the Knoller asked Cheney if he was the one who sent Gonzales and Card to John Ashcroft's hospital room in March, 2004. A New York Times editorial Sunday said Cheney directed the visit, but no one else seems to have confirmed that.
More....
(3 comments, 320 words in story) There's More :: Permalink :: Comments
Plan A was:
Cheney's office has contended that it does not have to comply because the vice president serves as president of the Senate, which means that his office is not an "entity within the executive branch."
Plan B now is:
White House spokeswoman Dana Perino said Cheney is not obligated to submit to oversight by an office that safeguards classified information, as other members and parts of the executive branch are. . . . Cheney is not subject to the executive order, she said, "because the president gets to decide whether or not he should be treated separately, and he's decided that he should."
Of course that begs the question, WHEN did the President decide this? Cuz Cheney has not been complying since 2003. If he decided yesterday that does not excuse Cheney's non-compliance before. But what the hey, Cheney says it does not matter if the President says he has to or not, the Vice President is NOT a part of the Executive Branch so the President has no rulemaking power over him anyway.
I like Rahm Emanuel's Plan C:
Rep. Rahm Emanuel (D-Ill.) said he plans to propose next week, as part of a spending bill for executive operations, a measure to place a hold on funds for Cheney's office and official home until he clarifies to which branch of the government he belongs.
Emanuel, WaPo says, admits his plan is "just a stunt." It should not be a stunt if it is.
(13 comments) Permalink :: Comments
Dick Cheney denies he shot and killed the deer, but what is it doing on his lawn? Wonkette explains.
The NY Daily News has more.

[Hat tip reader Scribe.]
(26 comments) Permalink :: Comments
As you travel to your polling place tomorrow, don't take a short-cut through the woods: Dick Cheney is going hunting.
It will be Cheney's first hunting trip since February, when he accidentally shot a hunting companion while attempting to fire at a covey of quail on a private ranch in Texas.
(5 comments) Permalink :: Comments

Via Wonkette, what's Cheney destroying now?
Spotted on 10/19, by an eagle-eyed Wonkette reader: The Mid-Atlantic Shredding Services truck making its way up to the Cheney compound at the Naval Observatory.
(4 comments) Permalink :: Comments
by TChris
An amusing jab at Vice President Cheney from President Putin:
Russian President Vladimir Putin lashed out at U.S. Vice President Dick Cheney ahead of this weekend's G8 summit, calling his recent criticisms of Russia "an unsuccessful hunting shot," according to a television interview broadcast Wednesday.
(21 comments) Permalink :: Comments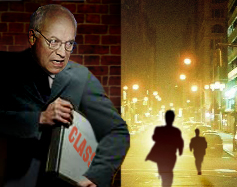 Is Dick Cheney the next "Official A"?
Late Friday, Patrick Fitzgerald filed a new pleading in the Scooter Libby case. Empty Wheel at Next Hurrah posts the pleading and analyzes the contents, including this exhibit, a copy of Joseph Wilson's July 6, 2003 New York Times op-ed with Cheney's handwritten notations.
In the notations, Cheney writes,
Have they done this sort of thing before? Send an Amb to answer a question? Do we ordinarily send people out pro bono to work for us? Or did his wife send him on a junket?
(3 comments, 534 words in story) There's More :: Permalink :: Comments
by TChris
Vice President Cheney, who shot Harry Whittington after mistaking him for a quail, should have learned the consequences of careless hunting when he was "pelted" with a shotgun blast while hunting in the late 1990's.
Cheney wasn't hurt but he was miffed, [Bob] Forrest told the [Albuquerque] Journal.

''He said, 'You guys watch where you're shooting!' He was very offended,'' Forrest said.
A good safety tip from the "offended" Cheney: "Watch where you're shooting!"
(5 comments) Permalink :: Comments
by TChris
Newsweek promises to take you "inside Dick Cheney's dark, secretive mind-set." A disturbing journey, that.
Cheney, the conservative that moderates once seemed to like, has strangely iced over in recent years. Even his old friends sometimes wonder if he has not grown angrier, more suspicious, even paranoid.
(Try to get past the description of Brit Hume as a "friendly but also serious and credible interrogator" of Cheney.)
(1 comment) Permalink :: Comments
by TChris
How ridiculous is this? The vice president shoots his hunting partner in the face (not to mention the heart), and when the poor guy gets out of the hospital, he apologizes to the vice president for getting shot.
"Gosh, Dick, I'm so sorry my face got in the way of your buckshot. Did you get the quail anyway?"
As a reality check, this story recounts the various discrepancies in the factual accounts of the shooting and its aftermath that eventually made their way to the public.
(30 comments) Permalink :: Comments