Tag: wiretapping
Senior Obama administration officials have secretly authorized the interception of communications carried on portions of networks operated by AT&T and other Internet service providers, a practice that might otherwise be illegal under federal wiretapping laws.

The secret legal authorization from the Justice Department originally applied to a cybersecurity pilot project in which the military monitored defense contractors' Internet links. Since then, however, the program has been expanded by President Obama to cover all critical infrastructure sectors including energy, healthcare, and finance starting June 12.
(4 comments, 205 words in story) There's More :: Permalink :: Comments
To read this "exclusive" report by a news service called GigaOM, one would expect news in the ongoing lawsuit brought by a former New York prosecutor against the major cell phone companies for gouging the FBI, federal and state law enforcement agencies for compliance with wiretap orders.
A former New York prosecutor, John Prather, claims AT&T, Verizon, Qwest and Sprint regularly charged law enforcement agencies 10 times what they should have for routine wiretaps. He's now suing on behalf of the FBI and state and city police departments to recover many millions of dollars for overcharging that allegedly took place for almost 20 years.

The case provides a window on the evolving world of wiretaps during an era of increasing surveillance. But the case is complicated because Prather stands to get a big chunk of money if the case succeeds and, as the phone companies argue, he may not be a real whistle-blower in the first place.
First, the lawsuit is not new. It was filed almost a year ago. Second, it's a Qui Tam lawsuit which means the prosecutor is essentially a bounty hunter who collects a portion of any proceeds awarded (like a whistleblower), usually about 15 to 25%. [More...]
(9 comments, 1999 words in story) There's More :: Permalink :: Comments
Eric Lichtblau in the New York Times writes about a report from cell phone carriers in response to a Congressional Inquiry about law enforcement requests cell phone tracking warrants, subpoena and informal requests.
The report was received by Co-Chairs of the Congressional Bi-Partisan Privacy Committe., as a response to a letter written In March, 2012 to AT&T asking for information.
The reports notes a huge upswing in use of cell-phone surveillance.Even some members of Congress were suprised. [More...]
(48 comments, 270 words in story) There's More :: Permalink :: Comments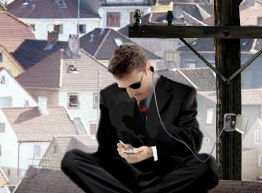 The Administrative Office of the U.S. Courts has released its annual report on the use of federal and state wiretaps and electronic surveillance. It's available here.
In 2010, wiretaps were up 34% from 2009. There were 1,207 federal wiretaps and 1,287 state wiretaps. On average, each wiretap intercepted the communications of 118 people. The average number of incriminating calls intercepted was 26%.
A whopping 84% of the wiretaps were for drug investigations. The average cost of a federal wiretap was $63,000. [More...]
(2 comments, 576 words in story) There's More :: Permalink :: Comments
Many states only require the consent of one party to a conversation to legally record it. Some states require the consent of both parties (Think Linda Tripp and Monica Lewinsky.)
Illinois takes the two party consent rule to a whole new level. For years, it has been a felony to record a conversation unless all parties agree. And, if you record a conversation with a police officer or prosecutor without their consent, it's a class 1 felony punishable by 15 years in prison.
Illinois is charging people who record their conversations with police without their knowledge and consent. The Times article tells the story of one woman who recorded her conversation with an officer when filing a complaint for sexual harassment against another officer. And another of a man who sold art on the sidewalk without a permit and taped his conversation with an officer who arrested him for the violation.
The ACLU has been trying to have the law declared invalid, to no avail so far. Other states with similar laws: Oregon and Massachusetts. Here's a handy state-by-state guide (but check to see that it's up to date on your state.)
(38 comments) Permalink :: Comments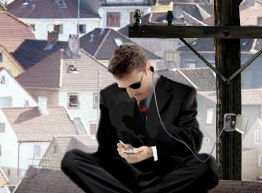 The Obama Administration intends to introduce a bill next year that will make it easier for feds to wiretap your internet communications.
Essentially, officials want Congress to require all services that enable communications — including encrypted e-mail transmitters like BlackBerry, social networking Web sites like Facebook and software that allows direct "peer to peer" messaging like Skype — to be technically capable of complying if served with a wiretap order. The mandate would include being able to intercept and unscramble encrypted messages.
[More...]
(3 comments, 420 words in story) There's More :: Permalink :: Comments
The Third Circuit Court of Appeals today released its long-awaited decision on whether the law and the Constitution require a warrant based on probable cause (rather than a court order issued under a lesser standard) when the Government wants cell phone providers to turn over data showing the location of the cell phone. Wired gets the import right: Court OKs Warrantless Cell-Site Tracking."
The Third Circuit is the first appeals court in the country to address the issue. The decision is here. EFF and the ACLU submitted Amicus Briefs. Disappointingly, the Obama Administration argued probable cause and a warrant are not needed for historical CSLI, and refused to say it wouldn't go the same route when seeking prospective (real-time) data.
The Court's decision is very disappointing. The ACLU and EFF are trying to spin it into a win, but it's clearly not. [More...]
(7 comments, 1614 words in story) There's More :: Permalink :: Comments
Yesterday, there was a major victory for privacy. Unfortunately, it was not in the US. The German Constitutional Court threw out as unconstitutional a law which required storage of all flavors of electronic data on everyone. Further, they required that the databases which had been built to comply with that law be erased. Immediately.
(4 comments, 1525 words in story) There's More :: Permalink :: Comments
Congrats to TChris for his win in a Wisconsin Appeals Court this week. A sad case, but a good outcome.
Police who videotaped a man having sex with his comatose wife in her nursing home room violated his constitutional rights, an appeals court ruled Thursday.

David W. Johnson, 59, had an expectation to privacy when he visited his wife, a stroke victim, at Divine Savior Nursing Home in Portage, the District 4 Court of Appeals ruled. Therefore, police violated his Fourth Amendment rights against unreasonable searches when they installed a hidden video camera in the room, the court said.
More....
(22 comments, 336 words in story) There's More :: Permalink :: Comments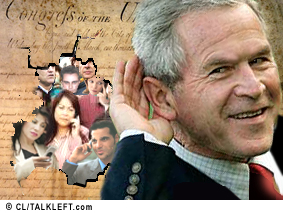 Ryan Singal reports newly declassified documents show that the FISA Court had concerns the FBI was wiretapping innocent Americans:
Does the FBI track cellphone users' physical movements without a warrant? Does the Bureau store recordings of innocent Americans caught up in wiretaps in a searchable database? Does the FBI's wiretap equipment store information like voicemail passwords and bank account numbers without legal authorization to do so?

That's what the nation's Foreign Intelligence Surveillance Court wanted to know, in a series of secret inquiries in 2005 and 2006 into the bureau's counterterrorism electronic surveillance efforts, revealed for the first time in newly declassified documents.
A review of the declassified documents shows: [More...]
(4 comments, 458 words in story) There's More :: Permalink :: Comments
The New York Times reports that the Bush Administration's wiretapping of defense lawyers in terror cases in Oregon is having an effect nation-wide:
Sean M. Maher, a New York lawyer who is a co-chairman of the national security committee of the National Association of Criminal Defense Lawyers, said he knew talented private lawyers who were refusing to take on terrorism cases because of potential violations of their privacy, including monitoring of their communications with clients. That fear has grown as a result of the disclosures in Oregon, Mr. Maher said.

Lawyers who agree to defend terrorism suspects in cases involving classified information are required to undergo background checks that can include an F.B.I. review of their financial and medical records, including records of psychiatric care.

"People just aren't going to get involved in this process," Mr. Maher said. "I find it unfathomable that in our adversarial system, we've created a process to weed out qualified defense counsel."
Background on the Oregon wiretapping is here.
(15 comments) Permalink :: Comments
I have long been opposed to any re-write of FISA granting additional powers to conduct electronic surveillance. FISA's not broke, it doesn't need fixing and it certainly doesn't need weakening at the expense of the Fourth Amendment.
This is a bill, as the Washington Post says, that "would update the 1978 Foreign Intelligence Surveillance Act to expand the powers of intelligence agencies and keep pace with ever-changing communications technologies."
The good news, as I see it, is this:
The House's action ensures that Bush will not receive surveillance legislation for several weeks. But some lawmakers from both parties said the impasse is now so deep that the issue may not be resolved until a new president takes office next year.

Bush and Republican lawmakers have shown no desire to move further toward the House Democratic leaders' position, and the Democrats are showing no sign of buckling under the mounting political pressure.
Maybe we won't get a FISA re-write after all.
(10 comments) Permalink :: Comments