Tag: El Chapo
I'm catching up on the latest news and rumors about "Los Chapitos", who I think are victims of the DEA and Justice Department's latest smear campaign, intended to prejudice a future jury in the event they are captured and extradited. At least the Chapitos are fighting back. Here are the details of the lengthy letter their lawyer says they wrote and he submitted to the media in Mexico in response. An English translation is here.
Los Chapitos said that the purpose of their letter, which was addressed to the production team of a Milenio Televisión program, was to "clarify several points."

They asserted that they are not the "head" of the Sinaloa Cartel and are not interested in leading the criminal organization. They also say that small and large "independent" cells of the cartel use their name or that of their father while carrying out illicit activities.
[More...]
(1639 words in story) There's More :: Permalink :: Comments
Yesterday the Justice Department announced that indictments had been unsealed in the District of Colombia for two more of El Chapo's sons, Joaquin Guzman-Lopez and Ovidio Guzman-Lopez. The Indictment is here.
The Indictment was returned and ordered sealed almost a year ago, in April, 2018. In December, 2018, it was unsealed for a few days so the Government could include it in an extradition application for them. On January 25, 2019, the Government moved to permanently unseal the Indictment. The motion was granted on Feb. 14, 2019.
The charges are for conspiring to distribute large amounts of cocaine, meth and marijuana between April, 2008 and April, 2018, knowing it would be imported into the U.S.
Two other sons of El Chapo, Ivan Guzman-Salazar and Jesus Alfredo Guzman-Salazar have been under federal Indictment in the U.S. for several years. Ivan is charged in San Diego and Alfredo in Chicago. [More...]
(434 words in story) There's More :: Permalink :: Comments
This is a pretty remarkable interview by Vice News with an anonymous juror or alternate in the trial of Joaquin "El Chapo" Guzman. The juror says s/he, as well as multiple other jurors, regularly violated the court's instructions not to read media accounts of the trial, including tweets and articles containing information that was purposely withheld from the jurors, and then lied to the judge when questioned about it. They also discussed El Chapo's guilt before deliberations began, took notes out from the jury room (which wasn't allowed), and considered punishment, even though they were admonished not to. I'm not sure there's a rule this group didn't break, according to the "snitch juror."
It seems to me it would take the FBI about ten minutes to figure out this juror's identity, and another half hour for a the Government to file a motion for a show cause order directing the juror to appear in court and show cause why s/he shouldn't be held in contempt. [More...]
(13 comments, 1840 words in story) There's More :: Permalink :: Comments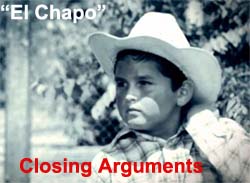 The Government gave an all day closing argument yesterday in the trial of el Chapo. Shorter version: We're not asking you to like our 13 dirty snitches, most of whom will get visas to stay in the U.S. permanently, we're asking you to presume they are telling the truth and find El Chapo guilty.
Jeffrey Lichtman, the most bombastic of El Chapo's lawyers, is giving the defense closing. Three themes:
1. Where is Mayo, why isn't he here? While Chapo was being "hunted like an animal," El Mayo was "sitting on his ass, sunning himself, smoking a cigar."
2. Would you want to be put away based on the testimony of 14 lying, thieving snitches, some of whom are admitted murderers and all of whom are being paid for their testimony with promises of leniency for their own misdeeds?
3. It's the corruption. "He's paying everybody from the local beat cops up to the president." Mayo's sons get sweetheart deals, Mayo stays free, and the universe falls on El Chapo to take the blame. [More...]
(4 comments, 799 words in story) There's More :: Permalink :: Comments
Federal prosecutors representing the U.S. in the trial of Joaquin "El Chapo" Guzman are absolutely livid over the partial opening statement Tuesday by El Chapo defense lawyer Jeffrey Lichtman. Late last night they filed a motion to strike it in its entirety. (Case 1:09-cr-00466,Doc. 444, filed 11/14/18, available here)
The Government's motion has enough direct quotes to get a pretty good idea of what Lichtman said that got them so riled up. The question is: Was Lichtman's statement improper, or did the Government get caught flat-footed (or blind-slided, as they would say on Survivor)?
"This is a case that will require you to throw out much of what you were taught to believe in about the way Government's work and how they behave, governments in South and Central American and Mexico and even the United States. This is a case which will require you to open your minds to the possibility that government officials at the very highest level can be bribed, can conspire to commit horrible crimes; that American law enforcement agents can also be crooked . . . ." Tr. at 576:21-24.
[More...]
(4 comments, 1608 words in story) There's More :: Permalink :: Comments
Joaquin "El Chapo" Guzman is quite the rock star -- to the female inmates at MCC New York who repeatedly chanted out his name as he arrived in their midst.
The press conference this morning began with typical government hyperbole:
"In short, he is a man who has known no other life than one of crime, violence, death and destruction."
The truth is that he is also a husband, father, and son who is loved by his mother, wife and children. He is someone who is respected, not just feared, in his part of Mexico.
Did the prosecutor mention when discussing that his "associates dug a tunnel from a home a mile away directly into his shower" that it would not have been possible but for corrupt jail and political officials, many of whom are now locked up? Without the corruption among Mexico's police, politicians and army, there would no cartels as vast as those that exist in Mexico. The drug lords are but a part of the equation.
The Government filed a 56 page brief in support of detention pending trial (no bail.) It's filled with photos of boats that big loads of drugs were seized from. [More...]
(2 comments, 337 words in story) There's More :: Permalink :: Comments
Through El Chapo's lawyer, his sons have denied the allegation they had anything to do with the attack on the military. The Mexican defense department says the man in the ambulance with the false name was indeed El Chapo's brother, Guano.
The Mexican media is rushing to judgment and claiming the sons of Joaquin "El Chapo" Guzman are responsible for killing a convoy of military persons who were taking a wounded man to the hospital following a shooting.
At a press conference, officials said :
The commander [Alfonso Duarte] said that the first attack was in the .....the municipality of Badiraguato, where monitoring the surveillance and combating drug trafficking, the military found a wounded man, identified as Julio Oscar Ortiz Vega, whom the military personnel led to the municipal head later to be moved to the square of Culiacan for health care.
[More...]
(1276 words in story) There's More :: Permalink :: Comments
Riodoce reported this morning it has confirmed that Alfredo Guzman-Salazar, son of Joaquin "El Chapo" Guzman-Loera and the other five men kidnapped at La Leche Restaurant in Puerto Vallarta have been freed and are back in Sinaloa. Alfredo and his brother Ivan Archivaldo reportedly are both there. According to Sinaloa Press, all six were released unharmed and El Chapo has been informed.
Sin Embargo and now almost all Mexican media, and the AFP, are reporting the same. La Pared reports no additional details are being provided because of the pending extradition request from the U.S. for both sons:
Neither the Attorney General's Office or the Office of Jalisco have issued information regarding the release of the imprisoned son of Sinaloa cartel leader, but a source of the Sinaloa Attorney mentioned that there are indications that the release is correct.

"It is information that can not be confirmed because this person is a fugitive, there are only reports was released by his captors," said the source.
[More...]
(335 words in story) There's More :: Permalink :: Comments
6 bodies were found today in several locations in towns around Guadalajara in the state of Jalisco.
In the El Mirador, in Tonala, police authorities placed the bodies of three men between 25 and 30 years. The first two victims were found inside a vacant lot and another in a gap in the same area. The dead showed signs of torture and gunshot wound.

In Tlajomulco de Zuniga, in the La Teja ranch, the gap La Cajilota, were located the bodies of two people "you encobijadas", one of them apparently female. Another body of a "encobijado" was found in Dr. R. Michel Avenue and Stadium; near the body of the authorities assured a card with a chilling message that further details were not given.
Puerta Vallarta, where 6 men, including Alfredo Guzman-Salazar, the son of Joaquin "El Chapo" Guzman, were kidnapped from La Leche restaurant this week, allegedly by rival cartel CJNG, is also in Jalisco.
The Attorney General of Jalisco says that as of now there is no indication the dead bodies discovered today are related to those kidnapped in Puerta Vallarta. [More...]
(2 comments, 640 words in story) There's More :: Permalink :: Comments
It's amazing how bad some news reports are. They just publish without fact-checking. Memo to the AP, AFP and Australia News and other news outlets: This photo is not Alfredo Guzman-Salazar or any son of El Chapo. It's a nobody 23 year old used car salesman named Felix Beltran Leon that police mistook for Alfredo in 2012
The stocky, baby-faced suspect had been presented as the son of Guzman, the chief of the Sinaloa Cartel, and a Navy official described him as a rising operator in the international drug trafficking organization. But Beltran Leon's wife, Karla Pacheco, said he is the father of a toddler and works with his mother-in-law at a used car dealership.

The Attorney General's Office said that "necessary tests" had proved that he wasn't the drug lord's son, but said he would remain under investigation for the guns and money found during his arrest.
[More...]
(1024 words in story) There's More :: Permalink :: Comments
Besides fighting extradition through requests for writs of Amparo and Appeals, which could take one to three years, what other options does Joaquin "El Chapo" Guzman have for avoiding life in a U.S. prison?
His lawyer says they have a lawyer in the U.S. and they are interested in resolving all of his charges (and not by going into witness protection.) Via Google translate:
Before the endorsement of the Government of Mexico for his extradition to the United States, Joaquín El Chapo Guzmán, leader of the Sinaloa Cartel, could plead guilty in Exchange for some benefit, said his lawyer José Refugio Rodríguez, in an interview with EL

UNIVERSAL.

The defense of Guzman Loera said that they have not contemplated that will welcome witnesses protected in that country programme, but yes looking for a settlement with the US authorities that require it.
[More...]
(2090 words in story) There's More :: Permalink :: Comments