Tag: immigrant rights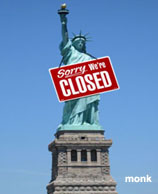 Give me your tired, your poor,
Your huddled masses yearning to breathe free,
The wretched refuse of your teeming shore.
Send these, the homeless, tempest-tossed to me.
I lift my lamp beside the golden door.
125 years ago today the Statue of Liberty opened with that message. Starting today, via Earthcam, you can watch live feeds from the statue with stunning views.
The Statue of Liberty should not be treated as an artifact of the past. But the reality is: We build walls and fences to keep people out and when that doesn't work, we jail them. We deny social benefits to the undocumented, even when they've worked and paid taxes. We conduct raids at businesses and separate families. [More...]
(106 comments, 514 words in story) There's More :: Permalink :: Comments
"We don't need a warrant, we're ICE" said the officers as they broke down the doors of an apartment in Nashville.
Without a search warrant and without consent, the ICE agents eventually knocked in the front door and shattered a window, shouting racial slurs and storming into the bedrooms, holding guns to their heads. When asked if they had a warrant, one agent reportedly said, "We don't need a warrant, we're ICE," and, gesturing to his genitals, "the warrant is coming out of my balls."
It wasn't just one apartment, but a complex. ICE agents and Metro Nashville police officers are now being sued by the ACLU on behalf of 15 residents, including American citizens and children. [More...]
(7 comments, 184 words in story) There's More :: Permalink :: Comments
While states like Arizona are working hard to pass anti-immgrant bills, the LA Times reports Utah is bucking the trend.
Gov. Gary Herbert last week signed a bill that would give illegal immigrants who do not commit serious crimes and are working in Utah documents that, in the state's eyes at least, make them legal residents. For the law to work, however, the Obama administration would have to permit Utah to make it legal to employ people who entered the United States illegally — a federal crime.
Even if the law is symbolic, perhaps it can reshape thinking on the issue in other states:
"Utah is proof that there is a true silent majority of decent, level-headed Americans," said Paul Mero, head of the conservative Sutherland Institute here. "Conservative Republican members of Congress will be able to take a step back, not be so knee-jerk and caught up in the fear-mongering, and say, 'Look at Utah, the reddest of the red.' "
I've been to Snowbird, Alta and Salt Lake City, all of which I like a lot. Park City is on my list. Moab is also very popular. If you have some tourism dollars to spend, I hope you consider Utah.
(12 comments) Permalink :: Comments
The Inter-American Commission on Human Rights has released its December, 2010 report critical of U.S. detention policy for immigrants. The focus of the report is on ICE's civil immigration operations. From the Report's Introduction:
the Inter-American Commission is convinced that in many if not the majority of cases, detention is a disproportionate measure and the alternatives to detention programs would be a more balanced means of serving the State's legitimate interest in ensuring compliance with immigration laws. The IACHR is disturbed by the rapid increase in the number of partnerships with local and state law enforcement for purposes of enforcing civil immigration laws.
The Inter-American Commission finds that ICE has failed to develop an oversight and accountability system to ensure that these local partners do not enforce immigration law in a discriminatory manner by resorting to racial profiling and that their practices do not use the supposed investigation of crimes as a pretext to prosecute and detain undocumented migrants.
The New York Times has more here.
Update: Mr. Rubashkin will be sentenced Thursday. Prosecutors are asking for a life sentence but we won't know until tomorrow what the judge decides. Sorry for the error.
There is something seriously wrong with a justice system that imposes a life sentence on a 51 year old non-violent offender. That's what may happen Thursday to Sholom Rubashkin, former CEO of Agriprocessors meat packing plant in Iowa.
Mr. Rubashkin was in charge of the Agriprocessors plant in Postville, Iowa, when immigration agents landed in helicopters to detain nearly 400 illegal immigrant workers. In November, Mr. Rubashkin was convicted of 86 counts of federal bank fraud in connection with loans to the company.

Prosecutors, citing Mr. Rubashkin's "blatant lawlessness, utter lack of remorse, his egregious and repeated attempts to obstruct justice," have asked Judge Linda R. Reade to impose a life sentence.
I have hardly been a supporter of Agriprocessors. In 2008, I wrote I stopped buying their products due to the treatment of immigrant workers. As TChris explained here: [More...]
(57 comments, 1063 words in story) There's More :: Permalink :: Comments
Amnesty International has released a new report , Jailed Without Justice (available here, pdf). Via Reuters:
On an average day, the rights group said, more than 30,000 immigrants are in detention facilities. That's triple the number that were in custody a decade ago, according to Amnesty's report "Jailed Without Justice: Immigration Detention in the USA."

"America should be outraged by the scale of human rights abuses occurring within its own borders," said Larry Cox, director of Amnesty International USA.
(65 comments) Permalink :: Comments
A new report by the University of Arizona reveals the substandard medical treatment afforded to women at immigration detention centers.
The study concluded that immigration authorities were too aggressive in detaining the women, who rarely posed a flight risk, and that as a result, they experienced severe hardships, including a lack of prenatal care, treatment for cancer, ovarian cysts and other serious medical conditions, and, in some cases, being mixed in with federal prisoners.
A sample story:
[A] woman being held at the Central Arizona Detention Center in Florence who experienced excruciating abdominal pain for months after she had been forced to undergo female genital mutilation in West Africa was told by the center's staff to "exercise and watch her diet," her lawyer at the time, Raha Jorjani, said. After nearly six months, the woman, who had been convicted of a nonviolent crime, was taken to a hospital where an ultrasound revealed a cyst the size of a five-month-old fetus, Ms. Jorjani said.

Immigration officials then suddenly released the woman with no money or health insurance to treat the cyst, Ms. Jorjani said.
Nationally, 3,000 are being held in immigration detention centers pending deportation. The study examined three centers in Arizona, home state to our new Homeland Security Secretary, Janet Napolitano. [More...]
(5 comments, 723 words in story) There's More :: Permalink :: Comments
The immigration raid on Agriprocessors, the Postville, Iowa meatpacking plant is having greater repurcussions. Abhorrent labor conditions by the employer are coming to light.
in the aftermath of the arrests, labor investigators have reaped a bounty of new evidence from the testimony of illegal immigrants, teenagers and adults, who were caught in the raid. In formal declarations, immigrants have described pervasive labor violations at the plant, testimony that could result in criminal charges for Agriprocessors executives, labor law experts said.

Out of work and facing deportation proceedings, many of the immigrants say they now have nothing to lose in speaking up about the conditions in the plant.
More...
(11 comments, 1037 words in story) There's More :: Permalink :: Comments
Apparently the U.S. isn't alone in shamefully detaining suspected immigration policy violators.
Latin American leaders on Tuesday voiced their "deep rejection" of the immigration policy adopted recently by the European Union (EU).

Presidents of the Common Market of the South (Mercosur) "member states and associate states reject any attempt to criminalize the irregular migration and the adoption of restrictive immigration policies, in particular against the most vulnerable sectors of society, namely, women and children," said a statement at issued Mercosur summit.
The EU policy goes into effect in 2010 and allows authorities to detain improperly or undocumented immigrants for up to 18 months before deporting them.[More...]
(11 comments, 220 words in story) There's More :: Permalink :: Comments
The New York Times, Washington Post and 60 Minutes have published results of investigations into America's immigrant jails, all of which show "alarming evidence of shoddy care, inadequate staffing, lax standards, secrecy and chronic ineptitude." Background here.
The New York Times has an editorial in tomorrow's paper urging passage of the Detainee Basic Medical Care Act, introduced by Rep. Zoe Lofgren (D-CA) and Sen. Robert Menendez (D-NJ.) The House version of the bill, H.R. 5950 is here and the Senate version. S. 3005, is here.
The bill would impose more rigorous standards on the network of more than 300 publicly and privately run prisons that make up the federal system — current rules are voluntary, not legally enforceable and not uniformly followed. And it would require that all deaths be reported to the Justice Department and Congress.

Congress should swiftly pass the bill, putting aside the poisoned debate over illegal immigration, which has no relevance here. Whether immigrants are legal or illegal has nothing to do with their right to humane care. As Ms. Lofgren bluntly put it: "You are not supposed to kill people who are in custody."
There is no excuse for another life being lost.[More...]
(1 comment, 323 words in story) There's More :: Permalink :: Comments