Tag: al-Nashiri
A motions hearing is underway at Guantanamo in the military commission proceeding against detainee and U.S.S. Cole bombing suspect Abd al Rahim al Nashiri. Here's the agenda. Miami Herald/McClatchy reporter Carol Rosenberg provides this backdrop. She's also at Gitmo tweeting updates. The hearing is being broadcast by closed circuit at Ft. Meade.
The big issue involves the reading of al Nashiri's legal mail. Gitmo Chief Adm. Woods will testify tomorrow about how the prison staff is reviewing legal mail. (Update: He is testifying today.) The defense motion is now available here on the court's website (You have to click on al-Nashiri's active case and then bring up the docket and then scroll down to 12/19 for the motion.) [More...]
(346 words in story) There's More :: Permalink :: Comments
The Military Commission's website last night posted the transcript of yesterday's four hour hearing for al-Nashiri. (Go here, click on second al-Nashiri link, it's the top document. There is no direct link.)
It wasn't just an arraignment. The judge heard argument on and granted the defense motion to prevent Gitmo and prosecutors from reading his legal mail (with some exceptions.) The Court also heard argument on al-Nashiri's motion seeking to have the military jury advised at the start of trial if an acquittal won't result in his release (see my earlier post on this here.) The Court addressed an issue of potential conflict of interest for one of the defense lawyers, Michael Paradis who represented al Bahlul in appealing his conviction by military commission and life sentence. Al-Bahlul is named as a co-conspirator of al-Nashiri's in Charge V. [More...]
(1 comment, 854 words in story) There's More :: Permalink :: Comments
As Guantanamo detainee Abd al-Rahim Hussein Muhammed Abdu Al-Nashiri is arraigned on capital charges of masterminding al Qaida's 2000 bombing of the U.S.S. Cole, lawyers are also arguing some important motions. Chief among them is: If al-Nashiri is acquitted, will he be released? Miami Herald Reporter Carol Rosenberg is live-tweeting the proceedings. Here's a handy twitter link to many of the reporters' live tweets in one place.
What are the possible outcomes of al-Nashiri's trial? If there are only 3, guilty and a death sentence, guilty and a sentence less than death, acquittal followed by indefinite detention, probably for life, why bother with a trial? A trial with no possibility of release is nothing but a show trial.
The defense argues that the military jury that will decide al-Nashiri's fate should be told that an acquittal means continued incarceration, if that's the case. Its motion is here. [More...]
(27 comments, 692 words in story) There's More :: Permalink :: Comments
The Pentagon is considering a death penalty trial for Abd al Rahim al Nashiri at Guantanamo. al-Nashiri is accused of orchestrating the U.S.S. Cole bombings near Yemen in 2000.
Navy Lt. Cmdr. Stephen Reyes and New Mexico criminal defense attorney Nancy Hollander are already on the case. This week, the Pentagon agreed to also fund death penalty lawyer, Rick Kammen of Indiana, at the CJA rate of $178 per hour. The Pentagon authorized 200 hours for Kammen, who previously represented al-Nashiri, to cover the period up to the Pentagon's final decision on whether to seek death. The order is here. The order says Kammen's representation will benefit both the Government and the defense.
The Pentagon is required, by law, to pay for an experienced death penalty counsel under 18 U.S.C. § 949a(b)(2)©(ii) and R.M.C. 506(b).
I don't know Navy Lt. Cmdr. Stephen Reyes, but I do know both Nancy and Rick, and they will be great advocates for al-Nashiri. [More...]
(1 comment, 395 words in story) There's More :: Permalink :: Comments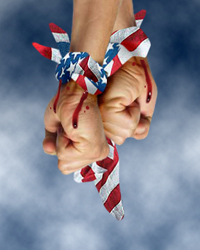 President Obama is about to lift the ban on military commission trials at Guantanamo.
One of those expected to be recharged and tried is Abd al Rahim al Nashiri, who was captured in 2002. Al-Nashiri was originally charged by the Bush Administration with participating in the 2000 bombing of the U.S.S. Cole. He was facing the death penalty. The Obama Administration moved to dismiss the charges against in in 2009. Al-Nashiri's co-defendants were moved to federal court. Why wasn't Al-Nashiri? The obvious answer is because the evidence against him was obtained by torture. His lawyer, Lt. Com. Stephen Reyes says:
"Nashiri is being prosecuted at the commissions because of the torture issue," Mr. Reyes said. "Otherwise he would be indicted in New York along with his alleged co-conspirators."
[More...]
(2 comments, 615 words in story) There's More :: Permalink :: Comments