Tag: Pakistan
The Pakistani military announced it carried out a raid this weekend on an al Qaida hideout in South Waziristan, killing AQ leader Adnan G. el-Shukrijumah, a naturalized U.S. citizen indicted for terror crimes in the U.S.
Pakistan said it was their intelligence that led to the raid (not U.S. Intelligence.) Adnan G. el-Shukrijumah has been on the FBI's wanted list for a long time. In 2003, based on information obtained during the interrogation of 9/11 detainee Khalid Sheikh Mohammed, they searched for him from Florida to Morocco. In 2010, he was indicted in the Eastern District of New York as part of the Najibullah Zazi case involving a plan to attack the NY subway. He was also charged with planning to blow up a shopping mall in Manchester, England. [More...]
(251 words in story) There's More :: Permalink :: Comments
The Associated Press today reports that ISIS is not a danger to America, but another Islamic extremist group, Khorasan (aka Khurasan), which is affiliated with al Qaida in Pakistan and Afghanistan and the Taliban, is working with Yemeni bomb-makers from AQAP to launch an attack inside the U.S.
At the center is a cell known as the Khorasan group, a cadre of veteran al-Qaida fighters from Afghanistan and Pakistan who traveled to Syria to link up with the al-Qaida affiliate there, the Nusra Front.

But the Khorasan militants did not go to Syria principally to fight the government of President Bashar Assad, U.S. officials say. Instead, they were sent by al-Qaida leader Ayman al-Zawahiri to recruit Europeans and Americans whose passports allow them to board a U.S.-bound airliner with less scrutiny from security officials.
There are so many Khorasan groups I'm not sure yet which branch this is. [More...]
(10 comments, 290 words in story) There's More :: Permalink :: Comments
Former Pakistani president Pervez Musharraf said on CNN tonight that our entry into Pakistan to kill Osama bin Laden was an act of war.
Also today, Pakistan told the U.S. to shut down its fusion cells and its troops in Pakistan.
The liaison centers, also known as intelligence fusion cells, in Quetta and Peshawar are the main conduits for the United States to share satellite imagery, target data and other intelligence with Pakistani ground forces conducting operations against militants, including Taliban fighters who slip into Afghanistan to attack U.S. and allied forces.
Pakistan's distrust of the U.S. is growing: [More...]
(11 comments, 312 words in story) There's More :: Permalink :: Comments
Glenn Sargent at The Plum Line obtained a copy of the May 9th letter CIA Chief Leon Panetta wrote John McCain. He quotes three paragraphs:
Nearly 10 years of intensive intelligence work led the CIA to conclude that Bin Ladin was likely hiding at the compound in Abbottabad, Pakistan. there was no one "essential and indispensible" key piece of information that led us to this conclusion. Rather, the intelligence picture was developed via painstaking collection and analysis. Multiple streams of intelligence — including from detainees, but also from multiple other sources — led CIA analysts to conclude that Bin Ladin was at this compound. Some of the detainees who provided useful information about the facilitator/courier's role had been subjected to enhanced interrogation techniques. Whether those techniques were the "only timely and effective way" to obtain such information is a matter of debate and cannot be established definitively. What is definitive is that that information was only a part of multiple streams of intelligence that led us to Bin Ladin.
[More...]
(49 comments, 462 words in story) There's More :: Permalink :: Comments
Pakistan's intelligence chief, Ahmed Shuja Pasha, appeared before the country's Parliament today. He acknowledged their intelligence failure over Osama bin Laden, offered to resign and blasted the U.S. for invading Pakistan's sovereignty to conduct the raid. He also denounced U.S. drones in Pakistan. After his appearance, Parliament passed a resolution that condemned the raid and called for a re-evaluation of Pakistan's cooperation with the U.S. and revamp the security agencies so there would be no repeat.
The resolution expressed support for Pakistan's military and demanded the U.S. cease sending drones into Pakistan. And called for an independent inquiry into the raid at Abbouttabad. [More....]
(36 comments, 479 words in story) There's More :: Permalink :: Comments
ABC News has obtained the Pakistani report on the interrogations of the five men who were reported missing in the U.S. and arrested in Pakistan. (Report available here.) Three of the five were born in the U.S. From the report:
They were all college students. They had deep interest in the religion and they were of the opinion that a Jihad must be waged against the infidels for the atrocities committed by them against Muslims around the world. Among them Ahmed Abdullah Minni used to regularly visit the internet page of YouTube. He used to the praise the videos which showed attacks on the US Army and Installations. This became a regular feature and Minni, a registered user of YouTube, regularly praised such attacks. Soon after, Minni was contacted by a person named "Saifullah".
The five had an interesting way of e-mailing each other: [More...]
(5 comments, 314 words in story) There's More :: Permalink :: Comments
Former FBI translator and whistleblower Sibel Edmonds has new and damning allegations against at least one senior Pentagon officials in the Bush Administration.
The unnamed official denies the allegations. Edmonds alleges cash bribes and payments regarding "Turks [who]had acquired nuclear secrets from the United States and shared the information with Pakistan and Israel. "
(4 comments) Permalink :: Comments
Musharraf must go. Hundreds more lawyers were arrested in Pakistan yesterday. The photo is of lawyers shouting slogans as they are being hauled away in police vans and accompanies this Scotsman article describing the lawyers being beaten.
Lawyers protesting yesterday outside the courts in Karachi and Lahore were thrashed by baton-charging police amid clouds of tear gas. About 350 of them were rounded up in Lahore.

Lawyers, judges and human-rights activists appear to have been deemed the enemies of the regime, as the country slides towards totalitarian rule. Since Saturday, between 1,500 and 2,000 have been incarcerated.

"On the pretext of fighting militants, General Musharraf has mounted a coup against Pakistan's civil society," said Brad Adams, the Asia director at the campaign group Human Rights Watch. "It's clear it is aimed solely at keeping himself in power."
More...
(19 comments, 330 words in story) There's More :: Permalink :: Comments
CNN is reporting Pakistani President Pervez Musharraf has declared a state of emergency and suspended the Constitution and imposed martial law.
Emergency rule declared, constitution suspended, Chief Justice expelled
Troops enter Supreme Court, court declares emergency illegal
Ex-PM Benazir Bhutto said to be returning to Pakistan from Dubai
Most media channels off the air due to an apparent media blackout
I haven't been following Pakistan much, what's going on?
(29 comments) Permalink :: Comments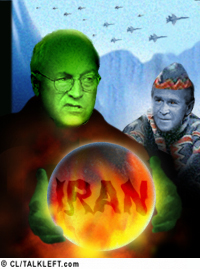 I see while I was out today President Bush made the statement:
If Iran had a nuclear weapon, it'd be a dangerous threat to world peace," Bush said. "So I told people that if you're interested in avoiding World War III, it seems like you ought to be interested" in ensuring Iran not gain the capacity to develop such weapons. "I take the threat of Iran with a nuclear weapon very seriously," he said.
In the mail today, I received an unsolicited advance copy of the book released Tuesday, Deception: Pakistan, the United States and the Secret Trade in Nuclear Weapons by Adrian Levy and Catherine Scott-Clark.
From the inside jacket:
(20 comments, 511 words in story) There's More :: Permalink :: Comments