Tag: Israel
Israel has not yet officially confirmed the news, but everyone else, from the BBC to Al Jazeera to the New York Times, is reporting that Israel launched an airstrike in Syria. An Israeli spokesman says:
"Israel is determined to prevent the transfer of chemical weapons or other game-changing weaponry by the Syrian regime to terrorists, specially to Hezbollah in Lebanon."
U.S. officials on the other hand say:
US officials say the Israeli air strike happened overnight Thursday into Friday, but the aircraft did not enter Syrian airspace. [More...]
(6 comments, 192 words in story) There's More :: Permalink :: Comments
Update: Reuters reports a ceasefire has been agreed to.
Yesterday a truce between Israel and Hamas seemed very close. Hillary Clinton traveled from Israel to Egypt for further truce talks. Today, a truce seems less likely. As to what's changed?
Hamas has stepped up its rocket launches into Israel, firing 80 missles into southern Israel in the past 24 hours. 20 were intercepted, in Ashkelon, Beersheba, Be'er Tuviya, Hof Ashkelon and Ashdod.
A package bomb was placed on a bus in Tel Aviv today (no deaths, several injured, seems to be the work of amateur terrorists). On al Aqsa (Hamas) TV: "G-d willing, we will soon see black body bags."
In Gaza yesterday, a Hamas gunman executed 6 people believed to be Israeli collaborators. The bodies were then tied to a motorcyle and dragged through the streets. Photos here, video here. [More...]
(7 comments, 435 words in story) There's More :: Permalink :: Comments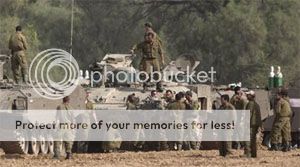 Israel has called up 75,000 reservists and struck Hamas Government buildings. Hamas has claimed credit for firing rockets at Tel Aviv and Jerusalem.
The Israeli military said some 150 rockets fired from Gaza had hit Israel since Friday and at least 83 more were intercepted by its Iron Dome anti-missile system.
Gaza is a small place with a lot of people, and there have been at least 38 civilian casualties, some of them children. Israel says it is acting in self-defense, and the rockets Hamas is firing at them come from Gaza.
This morning, Hamas fired 20 rockets at Israel. Israel says Operation Pilar Defense will continue. [more...]
(10 comments, 295 words in story) There's More :: Permalink :: Comments
If you have not seen Sixty Minutes correspondent Bob Simon's piece "Time Running out for a Two-State Solution" stop everything you are doing and watch it
now
.
It is that good. And it is that heroic. In the piece, Simon boldly lays out the truth about what Israel's encroachment on Palestinian land -- and what the lack of a peace deal -- means for the future of the country:
"Without a separate Palestinian state the Israelis would have three options, none of them good. They could try ethnic cleansing, drive the Palestinians out of the West Bank, or they could give the Palestinians the vote. That would be the democratic option but it would mean the end of the Jewish state. Or they could try apartheid - have the minority Israelis rule the majority Palestinians, but apartheid regimes don't have a very long life."
[More...]
(68 comments, 352 words in story) There's More :: Permalink :: Comments
Israel has declared a ceasefire in Gaza.
Troops would remain in Gaza for the time being and if Hamas held fire, the military would "consider pulling out of Gaza at a time that befits us". If militant rocket fire into Israel continued, Israel would respond with force, the Israeli leader added.
Hamas isn't pleased:
Israel must withdraw completely, lift its economic blockade of Gaza and open border crossings, the spokesman said.
(25 comments) Permalink :: Comments
President Elect Barack Obama's support for Israel grew during the course of the campaign. This weekend he received briefings from Bush's Secretary of State, Condoleeza Rice. In three weeks, he will be President and shortly thereafter, Hillary Clinton will be Secretary of State.
David Axlerod, on Face the Nation today, was asked what Obama's response to the crisis would be. He waffled a bit, noting that it would inappropriate for Obama to take a strong position while Bush was still President, but repeated what Obama had said when visiting Israel this summer:
"If somebody was sending rockets into my house, where my two daughters sleep at night, I'm going to do everything in my power to stop that," he told reporters in Sderot, a small city on the edge of Gaza that has been hit repeatedly by rocket fire. "And I would expect Israelis to do the same thing."
So, what will Obama do once he is President? The New York Times lays out two options: [More...]
(66 comments, 392 words in story) There's More :: Permalink :: Comments
From what I gather in the news about Israel's air strikes against Hamas in the Gaza Strip:
There was a cease fire but it ended earlier this month.
Most of the 225 killed were militant Hamas policemen, since a principal target was Hamas police headquarters, although hundreds were injured and there were some civilians and children who died. Most of the strikes were on security compounds and militant bases.
Israel had been planning the attacks for some time due to Hamas's refusal to stop sending rockets into Israel
The Bush Administration blames Hamas. Condoleeza Rice blames Hamas because it kept sending rockets into Israel

"We strongly condemn the repeated rocket and mortar attacks against Israel and hold Hamas responsible for breaking the ceasefire and for the renewal of violence there. The ceasefire must be restored immediately and fully respected."

This can't be good news for Obama, who will take office with Iraq, Afghanistan and Pakistan already on the front burners. And neither he, nor any American president, may have much control over what goes on between Israel and Hamas.
Daniel Levy at Huffpo adds his perspective. Your Thoughts?
(117 comments) Permalink :: Comments
Sen. Barack Obama is headed to Israel and the West Bank next week:
U.S. Democratic presidential hopeful Barack Obama will visit Israel and the occupied West Bank next week, Israeli and Palestinian officials said on Monday. Obama will be in Israel on July 22 and 23 and hold talks with Prime Minister Ehud Olmert, Foreign Minister Tzipi Livni, Defence Minister Ehud Barak, President Shimon Peres and opposition leader Benjamin Netanyahu, an Israeli official said.

Palestinian peace negotiator Saeb Erekat said Obama would also meet President Mahmoud Abbas in the West Bank city of Ramallah next Wednesday.
More...
(56 comments, 321 words in story) There's More :: Permalink :: Comments