Tag: Fidel Castro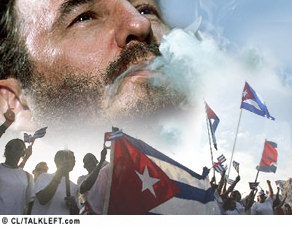 Citing health reasons, Fidel Castro has resigned as President of Cuba. An election is expected within days.
His letter was published overnight in a Cuban newspaper.
"I will not aspire to, nor will I accept the position of president of the council of state and commander in chief," Castro wrote. "I wish only to fight as a soldier of ideas. ... Perhaps my voice will be heard."

....My wishes have always been to discharge my duties to my last breath," he said. "That's all I can offer."
More...
(26 comments, 341 words in story) There's More :: Permalink :: Comments
Update: It looks even worse.
*******
The end may be near for Fidel Castro. A Spanish newspaper is reporting he has had three failed surgeries.
The newspaper El Pais cited two unnamed sources from the Gregorio Maranon hospital in the Spanish capital of Madrid. The facility employs surgeon Jose Luis Garcia Sabrido, who flew to Cuba in December to treat the 80-year-old Castro.
Here's a graphic description:
(111 comments, 171 words in story) There's More :: Permalink :: Comments