Tag: Duke Lacrosse players
The Fourth Circuit Court of Appeals dealt a serious blow to the civil lawsuit of the falsely accused Duke La Crosse players. The players had sued various governmental entities and two police detectives, Officers Mark Gottlieb and Benjamin Himan.
The three-judge panel rejected their claims for damages filed under federal law against the City of Durham and its police department.

The panel allowed the former players to continue with their claims under North Carolina law that Durham officials violated their state constitutional rights. The panel also allowed the three wrongfully accused players to proceed with their state claims that two police investigators – Mark Gottlieb and Benjamin Himan – engaged in malicious prosecution.
The opinion is here.
The players previously settled a lawsuit against Duke University for an undisclosed sum. Where is Crystal Gail Mangum? In jail, awaiting trial on a murder charge. In October, she received permission to represent herself at trial.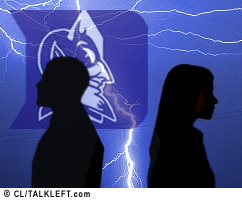 Duke University has agreed to a financial settlement with the wrongly charged Duke Lacrosse players. Here is the University's press release:
Durham, NC -- On Monday, Duke University leaders announced they have reached a settlement with David Evans, Collin Finnerty and Reade Seligmann. Below are statements about the settlement.

STATEMENT OF THE BOARD OF TRUSTEES AND THE PRESIDENT OF DUKE UNIVERSITY:

This has been an extraordinary year for Duke students David Evans, Collin Finnerty and Reade Seligmann, who were accused of serious crimes they did not commit. In April, after a thorough review, the North Carolina Attorney General declared that they were innocent of all charges and that the charges never should have been brought. We welcomed their exoneration and deeply regret the difficult year they and their families have had to endure. They conducted themselves with great dignity during their long ordeal.
(4 comments, 673 words in story) There's More :: Permalink :: Comments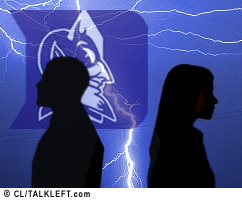 New York Times Public Editor Byron Calame today examines the paper's coverage of the Duke Lacrosse players false sexual assault charges.
At one point he discusses whether the false accuser should be named now. He concludes:
Times editors discussed whether "to stick to our policy of not naming accusers in sexual assault cases," Mr. Keller told me, "and decided to do so." My first instinct was that The Times should strongly consider adopting a policy of naming false accusers. Then I decided that the mental health of the Duke accuser and the failure of Mr. Nifong to limit the harm she caused by doing his job responsibly combined to keep this case from being a good one on which to debate such a policy change. But I hope Times editors will soon consider holding a discussion, free of deadline pressure, about what purpose the tradition of not naming sexual assault victims serves when their accusations are proved to have no merit.
I disagree. The moment the charges were dismissed, upon the Attorney General's finding there was no credible evidence to support her claim that any attack occurred that night, she became a false accuser. Her name should be published so that she can no longer hide behind the victim label. Mentally ill or not, she caused incalculable damage to the lives and reputations of three innocent young men, who will be traumatized by the ordeal for years to come.
More...
(7 comments, 416 words in story) There's More :: Permalink :: Comments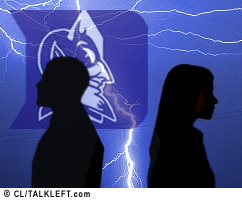 Kirk Osborn, one of the chief lawyers for accused Duke lacrosse player Reade Seligman, has died, following a massive heart attack on Friday.
Osborn was a respected lawyer who had been in high-profile cases for years. He had participated in a number of death penalty cases and his wife said he was most proud that he had never lost a death penalty case.
R.I.P. Mr. Osborn, and I'm very sorry that you didn't live to see your client vindicated, as I expect he will be when the Attorney General's office concludes its investigation.
More....
(2 comments, 282 words in story) There's More :: Permalink :: Comments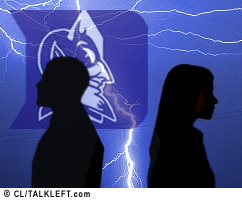 Rumors have been rampant this week that the North Carolina's Attorney General's office would be announcing the dismissal of all charges against the three accused former Duke Lacrosse players.
The Attorney General's office now says, "Not so fast." It's not true...at least not this week.
Our review of the case, including reviewing documents and conducting interviews, is continuing," Talley said. "[A] decision hasn't been made. ... We expect our review of the case to wrap up within the next few weeks and ... no announcements about the case by our office have been scheduled."
(1 comment) Permalink :: Comments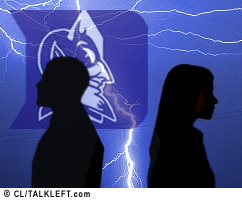 Lawyers for the three charged Duke lacrosse team players filed a 39 page motion (available here, pdf) today arguing that they still have not received complete DNA analysis in the case.
In the motion, defense attorneys do not blame the special prosecutors for the issues because they said they did not have any direct knowledge of the withholding of evidence.
(2 comments) Permalink :: Comments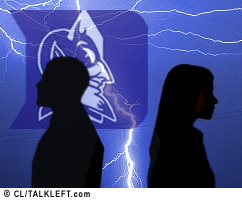 The accuser in the Duke lacrosse players' alleged sexual assault case has given birth, a month early, by cesarian section.
Will she be ready to testify at the Feb. 5 eyewitness identification hearing?
I think she should be.
The options? She will ask Nifong to drop the case saying she doesn't want to pursue the case or Nifong will ask for a continuance on medical grounds or the hearing will proceed.
Any bets?
Blogger Betsy Newmark has an op-ed on the racial aspects of the case and Nifong's conduct in today's Washington Examiner.
(6 comments) Permalink :: Comments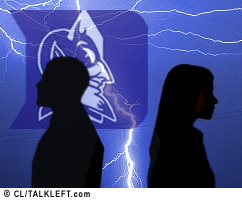 Duke University has asked Reade Seligman and Collin Finnerty, charged with sexual assault, to return to Duke.
This is a stunning turnaround, since they are still charged with felonies. From Duke's letter to the boys and its public statement:
As circumstances have evolved in this extraordinary case, we have attempted to balance recognition of the gravity of legal charges with the presumption of your innocence," Duke officials wrote to the Seligmann family in a letter obtained by ABC News Law & Justice Unit.

"Now with the approach of a new term, we believe that circumstances warrant that we strike this balance differently. At this point, continued extension of the administrative leave would do unwarranted harm to your educational progress. We decided…to lift the administrative leave," the letter states.
(6 comments, 410 words in story) There's More :: Permalink :: Comments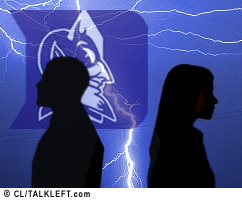 Update: The accuser is not due until February. Paternity tests have been ordered at the request of the defense. Nifong says he has no reason to believe any of the players are the father.
[Added: The following appears to be incorrect]
The accuser in the Duke Lacrosse alleged rape case gave birth on Thursday.
The 29-year-old gave birth nine months after she alleges she was raped by three Duke University lacrosse players at a March 13 team party.

Added: The following still seems valid:

....A defense attorney tells WRAL that a test taken at the hospital showed that she was not pregnant at the time of the party and that she was given emergency contraception commonly referred to as the morning-after pill.
While no semen from any of those accused as found in her body, male DNA from multiple other sources was.
In other Duke case news, the defense filed a great motion to suppress the accuser's eyewitness identification of the players today. It's 46 pages and available here.
There are more internal inconsistencies in this case than in any other rape case I can remember reading about. A hearing is scheduled for tomorrow.
There's a lot of discussion about today's developments going on at the TalkLeft Duke Forums.
(8 comments) Permalink :: Comments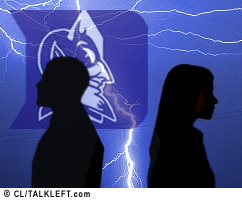 For months, the Duke lacrosse players alleged rape case has been a train wreck waiting to happen. I hope with this news, it finally derails for good.
A private laboratory hired by the prosecution in the Duke lacrosse case failed to report that it found DNA from multiple males in the accuser's body and underwear, according to a defense motion filed today.

The lab, DNA Security of Burlington, found that the DNA did not match the three defendants, their lacrosse teammates or anyone else who submitted their DNA to police, including the accuser's boyfriend.
You can read the motion filed by the defense today here.
(5 comments, 488 words in story) There's More :: Permalink :: Comments