Tag: 2008 Convention
The Denver Host Committee, under a contractual deadline to raise $40.6 million by today for the Democratic National Convention in August, has confirmed it fell $11.6 million short of that amount. So, what now?
Barack Obama has raised $265 million for his campaign so far. Will he now assist the Host Committee in obtaining contributions for the convention?
The Obama campaign has broken all political fundraising records largely by mining the Internet for small contributions, collecting some $265 million. A fundraising pitch to those donors could vastly boost the convention's fundraising, several observers said.
While the Host Committee is confident the money will be raised one way or another, Committee Co-Chair Steve Farber addressed that possibility today:
"There are discussions occurring. We could definitely use the help of the Obama campaign," said Steve Farber, a Denver lawyer and leading member of the host committee. "The fact that we have a candidate now does help."
Today in Michigan, Al Gore endorsed Sen. Obama. He even sent out an e-mail to readers of his own website asking them to contribute to Obama. [More...]
(111 comments, 433 words in story) There's More :: Permalink :: Comments
Chris Bowers at Open Left has been numbers-crunching:
Obama needs 471.5 of the 875 remaining delegates, or 53.9%, in order to reach the magic number.

Clinton needs even more, 489.5 of 875, or 56.0%. Both scenarios are extremely unlikely.
Those numbers are very close to each other. Put another way, Hillary is only 18 delegates behind Obama in the race for the next 875.
Chris then makes predictions. But they all start with his (probably educated)guess that the credentials committee will refuse to seat MI and FL because it will have more Obama supporters than Hillary supporters on it. But these committee members like superdelegates can change their support at any time, and not all of them have declared, so I'm not prepared to agree with that. That said, here's how Chris sees it playing out:
(71 comments, 483 words in story) There's More :: Permalink :: Comments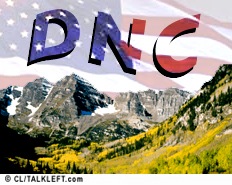 It's official. The DNCC has announced the hotels the various state delegations will be staying at for the Democrats' convention in August. Here's the list (no link yet, received by e-mail):
STATE/TERRITORY HOTEL
Alabama - Doubletree Denver Stapleton
Alaska - Four Points Sheraton Denver Southeast
American Samoa - Radisson Southeast
Arizona - Hyatt Regency Denver Tech Center
Arkansas - Marriott Denver South at Park Meadows
California - Adam's Mark
Colorado - Grand Hyatt Downtown
Connecticut - Marriott Denver Tech Center
Delaware - Marriott South at Park Meadows
Democrats Abroad - Red Lion Denver Central
District of Columbia - Crowne Plaza, Downtown
Georgia - Doubletree Denver Stapleton
Guam - Sheraton Denver Tech Center
Hawaii - Marriott Denver South at Park Meadows
Idaho - Sheraton Denver Tech Center
Illinois - Marriott City Center, Downtown
Indiana - Sheraton Denver Tech Center
Iowa - Courtyard by Marriott, Downtown
Kansas - Doubletree Denver Tech Center
Kentucky - Hilton Garden Inn, Downtown
Louisiana - Radisson Stapleton Plaza
More...
(8 comments, 495 words in story) There's More :: Permalink :: Comments
The DNCC is hosting the first media walk-through for the Democratic National Convention in Denver tomorrow.
Events kick off in an hour with a reception at the Wynkoop Brewery. Tomorrow is the walk-through. I'll miss some of it as I have early court in the morning. But I will be there to hear Howard Dean for lunch.
Democratic National Committee (DNC) Chairman Howard Dean will address members of the media attending the 2008 Democratic National Convention Fall Media Walk-Through during a luncheon at 12:00 p.m. MT on TUESDAY, November 13, 2007, at the Pepsi Center in Denver. The Media Walk-Through is being organized by the Democratic National Convention Committee (DNCC).

...Governor Dean will address members of the media from international, national, local and online outlets planning their coverage of the 2008 Democratic National Convention.
This should be fun. More details when I return.
Update below:
(3 comments, 771 words in story) There's More :: Permalink :: Comments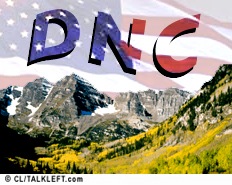 Patrick Doyle of Denver's premier monthly magazine 5280 takes a long look at what holding the Democratic convention in the Denver means for Democrats winning the West in 2008. It's good news.
By holding their convention in Denver, they've signaled to the country that they're marching, knees high, into the West. It's a bold move, and it's long overdue: The last time the Dems held a convention in Denver was 1908, and it's been 80 years since they held a convention west of Chicago or east of California. Over the next six pages, we'll look at what the West means to the political left.
Among the Topics:
(188 words in story) There's More :: Permalink :: Comments

Woo-hoo! Via the National Journal Hotline, Howard Dean and the DNC have chosen Denver to host its 2008 national convention.
A Democrat who was briefed said that chairman Howard Dean made the final decision yesterday, weeks later than planned. DNC comm. dir. Karen Finney declined to confirm the choice.

Colorado is a marquee states for Democrats, who have, in the past two years, gobbled up the governor's mansion, control of the state legislature, and two congressional seats.
How excited am I?
More from the Denver Post. The decision will be announced this afternoon.
(4 comments, 572 words in story) There's More :: Permalink :: Comments