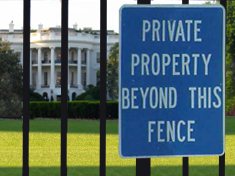 Vice President Dick Cheney will give an interview to Fox News at 2:00 pm today. It will air shortly before 6 p.m. ET.
Democrats have been pressing him to come forward. The secrecy of this Administration and Cheney are unbefitting an open government. The White House is not private property.
(47 comments, 193 words in story) There's More :: Permalink :: Comments
The New York Times reports that the White House has dropped its tone of levity over the Cheney shooting of Texas lawyer Harry Whittington, following Whittington's heart attack this morning, caused by a pellet that lodged or migrated to his heart.
The turn for the worse in Mr. Whittington's health changed the White House response to the hunting accident as well as the response of local law officials in Texas. Officials there said that they were monitoring the case and Carlos Valdez, the district attorney in Kleberg County, said a fatality would require a new report from the local sheriff and, most likely, a grand jury investigation.
Cheney's handling of the incident has caused tension between his office and the office of the President. And many medical experts are disputing the Texas doctor's version of Whittington's condition.
Attytood has more on lobbyist and Texas ranch owner Katharine Armstrong. Our prior post on Armstrong and her family's connections is here, and a related post on Kenedy County, hunting ground for the Texas political heavyweights is here.
Happiness may be a warm gun, but it looks like Cheney could get cold-cocked over this. He still hasn't made a public statement and even the White House thinks he should.
(122 comments, 456 words in story) There's More :: Permalink :: Comments
The 78-year-old lawyer who was shot by Vice President Dick Cheney in a hunting accident has some birdshot lodged in his heart and he had a "minor heart attack," a hospital official said Tuesday.

Peter Banko, the hospital administrator at Christus Spohn Hospital Corpus Christi-Memorial, said Harry Whittington had the heart attack early Tuesday while being evaluated.

He said there was an irregularity in the heartbeat caused by a birdshot pellet, and doctors performed a cardiac catheterization. Whittington expressed a desire to leave the hospital, but Banko said he would probably stay for another week.
Scotty better lay off the jokes now.
(98 comments, 186 words in story) There's More :: Permalink :: Comments
Maybe there is a simple answer to this, but if so, it escapes me. Why does Kenedy County have a Sheriff and why is it a county?
More than 22 million people live in Texas. According to the Census Bureau, the population of Kenedy County is 407 persons. There are approximately 138 households. There are 4 non-farm privately owned businesses with employees.
But it has received 1,441 federal grants. Here are more statistics.
Did the ranchers buy themselves a county government? It sure looks like it.
(7 comments, 775 words in story) There's More :: Permalink :: Comments
There's an update tonight on lawyer Harry Whittington's condition:
Millionaire lawyer Harry Whittington's condition continued to improve Monday after Vice President Dick Cheney accidentally shot him during a quail hunt, but doctors said he would probably live out his days with pellets inside him.

[Hospital Emergency Chief] Blanchard said that in cases like Whittington's, where the number of pellets lodged in the skin were "more than I can count on the fingers of my hand, but less than 100," it was better to leave them there than to try to extract them. "In all likelihood, he will continue the rest of his long life and his longevity with those pellets remaining in place," Blanchard said.
Another update on the "miscommunication" over the request to interview Cheney on Saturday night:
(19 comments, 187 words in story) There's More :: Permalink :: Comments
Arianna does a great job today of recapping the criticism the Administration is under from those in its own party on a myriad of issues, including "NSA wiretaps, Iraq, Katrina, Plamegate leaks, the budget, the Abramoff scandal, and immigration." After a detailed analysis on each one, she concludes with:
Indeed, with so many Republicans trying to distance themselves from the president, it's clear the wheels are coming off the White House wagon. Just in time for 2006. If the GOP barrage keeps up, the president will soon find himself in the political ICU.
(2 comments) Permalink :: Comments
CNN just reported Dick Cheney was in violation of Texas statutes by not having a $7.00 stamp on his license. He has been given a warning. This is small potatoes in the grand scheme of the story.
Much bigger issues: Why did Cheney not give an interview to the Game wardens until Sunday morning? Why did he let Katharine Armstrong notify the press? Why the 24 hour delay? And why did Cheney not speak to the President until today --are they on the outs, as has been reported?
Tonight: Letterman will feature Cheney jokes throughout the show. "We've finally found weapons of mass destruction. They are Dick Cheney." And a top ten list of Dick Cheney excuses.
Leno: Cheney shot a lawyer, his popularity goes up to 92%.
Update: The New York Times has these details from a White House press release:
(19 comments, 234 words in story) There's More :: Permalink :: Comments
Smoking Gun has the Texas Warden's report. And a press release from the Kenedy County Sheriff saying there was no alchohol or misconduct involved and that Whittington's and Cheney's statements matched. The Sheriff's office is "fully satisfied" this was an accident.
Did Whittington fall on his sword for Cheney?
And the details about the 24 hour delay in reporting keep getting murkier. From Hardball tonight: Bush knew at 8pm Saturday, after being told by Andrew Card. McClellan not until 6 am Sunday. Bush didn't speak to Cheney until today. Cheney was present at Bush's press conference on Kofi Annan, but left the room before reporters could ask him questions. Former Wyoming senator and Cheney friend Alan Simpson was on doing his best to spin for his buddy. He made no sense. He also blamed Whittington.
Reddhedd at Firedoglake has more on the Texas statutes.
Paul Begala, another hunter with 30 years experience, weighs in at the TPM Cafe and says Cheney's story doesn't hold.
(21 comments) Permalink :: Comments
A reader writes in:
Do you find it odd that 2 men are out hunting with 2 women that are not their wives? Maybe this is the reason for the WH cover up?
The four in the hunting party were: Cheney, Whittington, the divorced Katharine Armstrong and as Raw Story wrote earlier, Pamela Willeford, the U.S. Ambassador to Switzerland.
Before you say it's sleazy to ask this, think about what the press would be reporting if it were John Kerry instead of Dick Cheney.
(19 comments) Permalink :: Comments
Check out what this lawyer reader who has been a bird hunter of 30 years' experience sent me in an e-mail on the improbability of Ms. Armstrong's version (pdf) of Cheney's shooting accident from a mathematical point of view. A snippet:
I conclude the target was within 10 or 15 yards, at most, of Dick and possibly as close as 5 yards. My reasons for saying this are algebraic.

...So, my best estimate is as follows: Dick nearly blew this guy's head off.
Conclusion: "I don't think I'd hunt anything with Dick."
(11 comments, 168 words in story) There's More :: Permalink :: Comments
Jon Podhoretz at The Corner gets this right:
It seems beyond question that the vice president is going to have to go before the cameras, explain what happened, and show genuine remorse for his actions, however inadvertent. It's a difficult challenge for someone as reticent as Dick Cheney. But unless he does so, and makes a good showing of it, he will be damaged goods for the remainder of the Bush presidency.
Keep the pressure on. Katharine Armstrong may have been an eye-witness, but she's no substitute for hearing from the man himself, both as to his account of the shooting and his explanation for the delay in notifying the press. The response of Cheney's office so far, that the Veep believed Armstrong should make the announcement because the incident occurred on her ranch strains credulity.
(34 comments, 204 words in story) There's More :: Permalink :: Comments
Raw Story has the transcript of this morning's press conference which is not up yet on the White House website. Crooks and Liars has the video.
As to how the report of the shooting became public:
MR. MCCLELLAN: Well, I think you can always look at -- you can always look back at these issues and look at how to do a better job.

Q Well, but let's not -- it's not really a hindsight issue here. I mean, the vice president made a decision about how the public should be notified. It basically is at odds with the standard practice of how the president's own press operation in this White House notifies the public, isn't that right?

MR. MCCLELLAN: Well, again, this was handled by the vice president's office. The vice president thought that Mrs. Armstrong should be the first one to give that information out since she was an eye-witness --
(1 comment, 938 words in story) There's More :: Permalink :: Comments
Update: Think Progress reports:
CBS News White House correspondent Peter Maer reports Texas authorities are complaining that the Secret Service barred them from speaking to Cheney after the incident. Kenedy County Texas Sheriffs Lt. Juan Guzman said deputies first learned of the shooting when an ambulance was called. The Secret Service is looking into how the case was handled at the scene, Maer added.
The Sheriff of Kenedy County, Texas reports that reports of the shooting are being gathered, but investigations are not mandated in absence of a fatality:
The secretary for Kenedy County Sheriff Ramon Salinas the third, Sandra Guzman, said today that reports on the incident are pending. District Attorney Carlos Valdez says the matter hasn't been referred to his office, which prosecutes criminal cases in Kenedy, Klebert and Nueces counties. He says his office would become involved only if an investigative agency finds a hint of criminal wrongdoing or a dispute about the facts.

....Texas Parks and Wildlife spokesman Tom Harvey would not provide specifics on the information gathered. He says hunting parties aren't required to report accidents. The state penal code requires people to report fatalities, and law-enforcement would investigate those.
It sounds like the reports are gathered for statistical purposes only.
(3 comments, 304 words in story) There's More :: Permalink :: Comments
Update: 78 year-old shooting accident victim Harry Whittington is out of surgery.
A friend who has talked to family members said that Mr. Whittington was hit by about 50 birdshot pellets. He underwent surgery Sunday morning to remove some of the pellets, and doctors have told his family that the shot apparently did not damage any major organs.

[Harry's daughter] got to see her father Sunday afternoon after the surgery. Of her father's face, she said, "It looks like chicken pox, kind of." She said that he was sitting up telling jokes. "He is so lucky, it's a miracle," she said.
The Dallas News says, " It's not the first time the vice president's hunts have resulted in controversy." And President Bush once had his own shooting mistake: [Corrected, it was Bush not Cheney who made the following hunting mistake.]
In 1994, when he was running for governor against then-incumbent Ann Richards, Mr. Bush went dove hunting for the cameras in Hockley, northwest of Houston, and shot what he thought was a dove. The one bird he did hit turned out to be the protected killdeer. He reported the incident to the local game warden and paid a $130 fine.
Whittington is in the intensive care unit.
Hunting accidents are rare in Texas, primarily because hunters have to take mandatory hunting education classes, if they are born after 1971. Hunting accidents by older hunters are on the rise, however -- possibly because they are not required to take the classes. Has Cheney ever taken one?
(69 comments, 1326 words in story) There's More :: Permalink :: Comments