Tag: Karl Rove (page 3)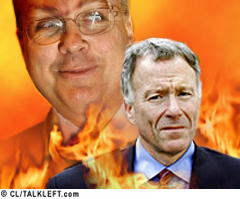 Dan Froomkin in the Washington Post brings us up to speed on Karl Rove, whom he aptly notes, was up to his ears in PlameGate, but unlike Scooter Libby, talked his way out of getting indicted.
It turns out he's alive and well and plotting in his windowless West Wing office just how to spin Bush's greatest weakness into a great strength -- and in that way burnish his boss's legacy.
What's he pushing? The Bush Doctrine.
The Bush Doctrine...maintains that regimes that harbor terrorists are as culpable as the terrorists themselves and that the U.S. is entitled to take preventative military action to neutralize potential threats before they have materialized.
More....
(4 comments, 466 words in story) There's More :: Permalink :: Comments
Update 3/4: "Rove 2", Dick Wadhams, was unanimously elected to lead the state's Republican party.
*******
Presidential advisor and Republican strategist Karl Rove was in Colorado yesterday, urging Republians to choose Dick Wadhams as chairman of the Colorado Republican Party. Here's what he had to say about the Republican loss in 2006:
During a "repaint the state red dinner," Rove said Republicans suffered a significant defeat in the November elections, but he said he takes a longer view of history and predicted voters will again turn to Republicans for leadership.

"We had a defeat. Can't dress up that pig. We pick ourselves up off the mat, we stand on principle and we get back in the fight," he told a cheering crowd of hundreds of supporters.
Wadhams took some lumps last year when he couldn't save his Virginia senatorial candidate George Allen from self-destruction:
(8 comments, 260 words in story) There's More :: Permalink :: Comments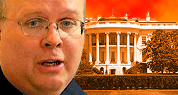 I am all in favor of amnesty for undocumented residents. President Bush's plan is neither amnesty nor open borders, but in response to critics who say it is, Karl Rove reportedly gave this ridiculous justification for Bush's plan at a women's luncheon this week:
According to a congressman's wife who attended a Republican women's luncheon yesterday, Karl Rove explained the rationale behind the president's amnesty/open-borders proposal this way: "I don't want my 17-year-old son to have to pick tomatoes or make beds in Las Vegas."
The Corner's Mark Krikorian responds:
There should be no need to explain why this is an obscene statement coming from a leader in the party that promotes the virtues of hard work, thrift, and sobriety, a party whose demi-god actually split fence rails as a young man, a party where "respectable Republican cloth coat" once actually meant something. But it does seem to be necessary to explain.

Rove's comment illustrates how the Bush-McCain-Giuliani-Hagel-Martinez-
Brownback-Huckabee approach to immigration strikes at the very heart of self-government. It is precisely Rove's son (and my own, and those of the rest of us in the educated elite) who should work picking tomatoes or making beds, or washing restaurant dishes, or mowing lawns, especially when they're young, to help them develop some of the personal and civic virtues needed for self-government. It's not that I want my kids to make careers of picking tomatoes; Mexican farmworkers don't want that either. But we must inculcate in our children, especially those likely to go on to high-paying occupations, that there is no such thing as work that is beneath them.
[hat tip Raw Story.]
(20 comments) Permalink :: Comments
Last week, Karl Rove gave a speech on foreign policy at the annual Churchill Dinner sponsored by Hillsdale College at the Mayflower Hotel.
Via Lexis.com (subscription only), which has a copy of his speech, in answer to a question about redistricting, which he criticized, he said:
....I say this as a former political consultant who liked competitive races when I was in the business. I won't be returning to the business.
The Evans and Novak Report says this means Rove is retiring from politics when Bush's term ends.
(7 comments, 561 words in story) There's More :: Permalink :: Comments