Ohio Execution: New Drug Combo Took 24 Minutes to Kill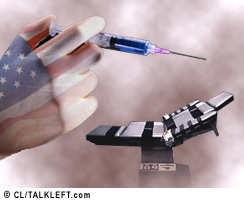 Ohio's experiment with a new execution cocktail didn't go very well:
Dennis McGuire struggled, repeatedly gasping loudly for air and making snorting and choking sounds, before succumbing to a new two-drug execution method today.

The 24-minute execution process was a "failed, agonizing experiment by the state of Ohio," said one of the killer's attorneys, Allen Bohnert, a federal public defender. "The people of the state of Ohio should be appalled by what was done in their name."
Shorter version: You wouldn't do a dog this way. More here. In 2007, Amnesty International released a report on botched U.S. executions.
This is not Ohio's first botched execution. [More...]