You Wouldn't Do a Dog This Way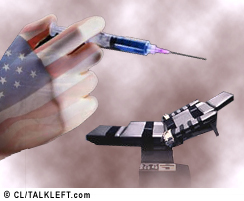 Since 2004, I've been writing about how vets won't put dogs down using the chemicals prisons use to execute inmates.
A new study, Anesthetizing the Public Conscience: Lethal Injection and Animal Euthanasia, is out comparing the two -- and witnesses are testifying in an Ohio death penalty case to exactly that: you wouldn't do a dog this way.
First, the Ohio case:
An anesthesiologist testified Monday that Ohio's lethal injection procedure isn't appropriate for dogs or cats, let alone humans. Dr. Mark Heath's testimony on behalf of two murder defendants came in a Lorain County hearing on the constitutionality of state's method for putting prisoners to death.

Heath, an assistant professor of anesthesiology at Columbia University, says it's possible to perform lethal injection of prisoners in a humane manner, but that Ohio's method falls below the standard for euthanizing household pets.
The problems in a nutshell:[More...]