Execution Takes Two Hours, Ten Tries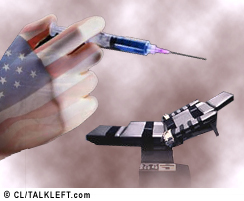 Christopher Newton was put to death like a dog in Ohio yesterday. The execution took two hours and ten attempts.
The execution team stuck Christopher Newton at least 10 times with needles Thursday to insert the shunts where the chemicals are injected.

He died at 11:53 a.m., nearly two hours after the scheduled start of his execution at the Southern Ohio Correctional Facility. The process typically takes about 20 minutes.

"What is clear from today's botched execution is that the state doesn't know how to execute people without torturing them to death," American Civil Liberties Union of Ohio attorney Carrie Davis said Thursday.
On the other hand, you wouldn't do a dog this way.