Amnesty Int'l Chronicles U.S. Execution Horrors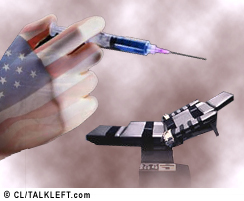 Amnesty International has released a report tracking the botched executions in the U.S.
"The use of lethal injections in the US has led to at least nine bungled executions, including one in which the prisoner took 69 minutes to die and another in which the condemned man complained five times: "It don't work," a report by Amnesty International says today.

The report contains a catalogue of botched executions dating from 2000, when lethal injection was adopted by 37 of the 38 US states with the death penalty."
As to Texas:
Amnesty notes that Texas, which operates America's busiest execution chamber, has banned one of the chemicals involved for use in euthanising pets, because it does not effectively mask pain.
In other words, you wouldn't do a dog this way.
Yesterday, a Tyler, TX judge set a Nov. 6 execution date for Allen Bridgers.
More...