Texas Exit Polls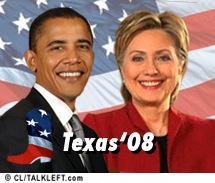 Update: Looks like the 3 am ad worked, Texas voters said Hillary is more able to keep our country secure according to CNN.
Big Tent has a first exit poll thread about the Independent vote here.
Hillary Clinton holds a two-to-one advantage over Barack Obama with Hispanic voters in Texas, while blacks are overwhelmingly supporting him in Tuesday's Democratic presidential primary, according to CNN's exit poll.

These early surveys provide a snapshot of the race, but are not conclusive on who will win this critical contest. Eighty three percent of blacks voted for Obama, while 16 percent supported Clinton, according to the exit poll. Meanwhile, 64 percent of Hispanics backed Clinton, while 32 percent went for Obama.
Update [2008-3-4 18:27:40 by Big Tent Democrat]: Conflicting exit polls -Marc Ambinder sez Clinton with "slim leads" in Ohio and Texas. NRO has two conflicting exits (meaning? trust neither?) - one has Obama winning both by 2, the other with Clinton up 2 in Ohio and tied in Texas.