Sopranos Final Episode: Fans Have a Right to be Angry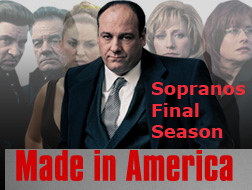 I put up a Sopranos open thread before the start of Sunday night's finale as I have every week the past two seasons. I was too angry after the show to add my thoughts. I waited until I slept on it and watched it again. My final reaction: Count me among those who are livid.
Like many viewers I've watched every episode of the show. Unlike the most obsessed viewers, I cannot recall all the players in all the episodes in all the seasons. I just enjoyed the show as I watched. It was entertainment. I never saw any greater message in the show, never cross-checked the minor characters with their real actor names to see if they re-appeared in future episodes and didn't analyze the dialog or action searching for clues.
But, at the end of each show I wondered what would happen next. I never expected that the final episode would be one in which nothing happened.
More...