Sopranos Final Episode: Fans Have a Right to be Angry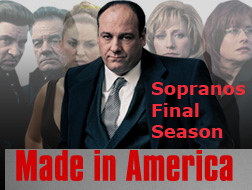 I put up a Sopranos open thread before the start of Sunday night's finale as I have every week the past two seasons. I was too angry after the show to add my thoughts. I waited until I slept on it and watched it again. My final reaction: Count me among those who are livid.
Like many viewers I've watched every episode of the show. Unlike the most obsessed viewers, I cannot recall all the players in all the episodes in all the seasons. I just enjoyed the show as I watched. It was entertainment. I never saw any greater message in the show, never cross-checked the minor characters with their real actor names to see if they re-appeared in future episodes and didn't analyze the dialog or action searching for clues.
But, at the end of each show I wondered what would happen next. I never expected that the final episode would be one in which nothing happened.
More...
Usually I watch the Sopranos alone. Last night that was not the case. I spent the weekend at Hunter Thompson's Owl Farm in Woody Creek, Colorado, outside of Aspen, as a guest of his wife Anita.
The occasion was a NORML legal seminar, where mostly veteran criminal defense lawyers lecture to mostly younger criminal defense lawyers on various topics related to defending drug cases.
For the second year since Hunter's death, Anita opened up Owl Farm to us for a Sunday afternoon party, with live music by Jimmy Ibbotson (formerly of the Nitty Gritty Dirt Band and a Woody Creek neighbor) and other musicians and a massive spread of fresh food, barbecue and libations. As you might imagine, no one mentioned the Sopranos. Except me.
Anita had invited me to spend the weekend at Owl Farm as opposed to the Gant where the seminar was being held and the other attendees were staying. As soon as could possibly be considered polite after my arrival on Friday evening, I asked her if she had HBO and told her I was conflicted because I couldn't miss the Sopranos and there was no way I could both spend the afternoon at the party and make it back to Denver in time for the finale at 7:00 pm.
Ever the gracious hostess and even though she doesn't watch the show, Anita called her cable provider and ordered HBO so I could see the show.
The party was outstanding. It was like stepping into a different world for the day, one populated by people who embrace life, can put world issues and politics aside for an afternoon to enjoy beautiful mountain scenery, open space, fresh air, freedom, barbecue, an open bar and the comraderie of 150 kindred spirits.
Around 6:00 pm the party was just winding down. Stragglers remained, wanting to see more of Hunter's home which remains exactly the same as the day he died and not wanting the experience to end.
By 6:45, I was planted on the couch in front of the humongous television in the famous Hunter kitchen, shoo-ing everyone out and shush-ing up those who remained. At 7:00 the show started. I was like a jail warden. No one was allowed to speak. The finale of all finales was about to begin.
The young interns at Owl Farm stayed to watch, curious about why I was so fanatical about the show. Travis, a local kid who had worked the barbecue all afternoon for the party-goers and had read about the finale in the news, came in to watch and see what the fuss was about. Not being Sopranos watchers, the interns soon left out of boredom while Travis had a million questions, each of which I replied to with "Shush."
Anita, also not a Soprano's watcher, came in about half-way through and tried to get engaged in it. Shelby, Hunter's long-time book editor who has seen many episodes of the show joined us.
I started worrying about having made such a big deal about the show after A.J. didn't get blown up in either the SUV or the BMW. I realized then nothing was going to happen. Every scene seemed like a filler to me -- Tony and Janice, Janice and Junior, Tony and Junior, Tony and Carmela with the prospective in-laws, even Tony and Paulie. The only satisfying scenes were Phil getting whacked and the FBI agent having an affair with a fellow agent and giving Tony secret information obtained by wiretap.
When the screen went blank at the end, like everyone else watching, I thought the cable system had failed. But, by then, I honestly didn't care. I didn't try changing the channels to test the system, I just didn't care any more.
When the credits rolled up after the 11 second black-out, everyone was silent. I broke the silence with "Oh, my G-d. They just totally f-ked us over. I am so embarrassed and so sorry I made such a big deal out of this. I made you get HBO, I shooed everyone out of the room, I shushed up those who stayed to watch and it was the biggest nothing ever. I'm so sorry."
Of course, they told me it wasn't my fault. But it was. Even knowing all along the show and its characters were fiction, I believed this would be a quintessential moment in television history. I was wrong. The ending was the ultimate cop-out. We were left just where we began, with a dysfunctional family for whom life goes on, despite the tragedies that befall them, the weaknesses that threaten to be their undoing and the occasional celebratory milestone like a birth, wedding or graduation that brings them together.
It's not that I wanted (although I expected) A.J. to kill himself, Tony to be wiped out or perhaps worse, indicted and sitting in jail without bond pending trial. I didn't want to see the middle-easterners Tony fingered really be terrorists. I wasn't looking for tragedy. I was looking for triumph.
I wanted David Chase and the show's writers to come up with something unpredictable, fresh and definitive. Something satisfying that made us say, "What a great 8 year run."
Instead, Tony Soprano and his family became human and ordinary. To watch ordinary, I don't need to make a date with the television every week.
Instead of a ride on the elevator of entertainment, we got the shaft. The banality of it all. I honestly didn't see it coming.