Rudy Giuliani and the Monsignor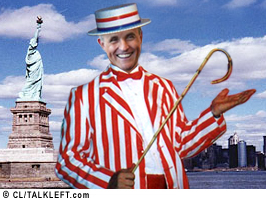 The Next Hurrah is on the Rudy Giuliani - Alan Placa relationship.
Placa and Giuliani became friends when they were 13-14, when they began High School, and remained close friends through College. Post college Placa went to the Seminary, and Giuliani off to Law School. After he was ordained, Placa went off to Law School too. Eventually he became a Monsignor in the Diocese of Rockville Center, Long Island NY, and as we know Giuliani went to DC to Reagan's DOJ. When Giuliani needed an Annulment of his first marriage, Placa did the job.

But Monsignor Placa got into considerable trouble in the late 1990's and early 2000 era, when he not only was accused of abuse of two minors, who could not sue him or the diocese because the five year statute of limitations was long past, but when the whole huge story broke, first in Boston, and then across the country, Monsignor Placa comes up in several parts of it. While serving on Long Island, he had developed a legal strategy for dealing with abuse complaints that involved having an "intervention team" that met with family members and the abused, without revealing that Placa was indeed the Diocese Lawyer on such matters. Placa took great pride that in cases that if litigated might cost the Diocese Millions, he could frequently manipulate the situation, and get out for a few thousand. Of course the Monsignor was flying a false flag -- he was not a spiritual counsel, he was the Bishop's Lawyer. He traveled the country teaching Bishops the technique -- apparently 200 cases where he was successful outside his own diocese.
Where is the national media on this? Sara at Next Hurrah says, "To read all the bloody details, what you do is google the two names, Alan Placa and Rudy Giuliani, and you can read about it for hours, should you have a taste for Priestly Pedophilia and the investigations of recent years thereof.