Giuliani: Not Sure Waterboarding is Torture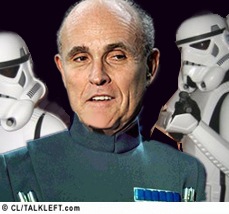 Rudy Giuliani joins his pal Michael Mukasey in declaring that he isn't sure waterboarding is torture. Speaking last night in New York City,
Well, I'm not sure it is either. I'm not sure it is either. It depends on how it's done. It depends on the circumstances. It depends on who does it. I think the way it's been defined in the media, it shouldn't be done. The way in which they have described it, particularly in the liberal media. So I would say, if that's the description of it, then I can agree, that it shouldn't be done. But I have to see what the real description of it is. Because I've learned something being in public life as long as I have. And I hate to shock anybody with this, but the newspapers don't always describe it accurately."
Rudy also left no doubt where he stands on wiretapping: In bragging about the thousands of people he put in jail, particularly mob guys in the U.S. and in Italy, he said:
More...