Tag: James Ujaama
The jury in the New York trial of Muslim cleric Mostafa Kamel Mostafa, better known as Abu Hamza al Masri, has convicted him of all 11 terror-related charges.
Abu Hamza testified for four days in his defense. The jury did not believe him. His defense says the jury placed too much emphasis on the "terror camp that wasn't" in Bly, Oregon.
James Ujaama, originally a follower of Abu Hamza, testified against him, as did another former ally turned informant, who testified via videotape from London.
Ujaama also testified a few years ago at the trial of Oussama Kassir, a Swede who was also involved in the Oregon pseudo-camp. Kassir was convicted and got a life sentence.
Hamza is also likely to get a life sentence, possibly at Supermax in Florence, unless they can't accommodate his medical condition (he has no hands and is blind in one eye.) [More...]
(299 words in story) There's More :: Permalink :: Comments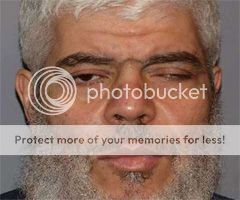 Jury selection began this morning in the trial of Mustafa Kamel Mustafa, aka Abu Hamza al-Masri.
The 55-year-old Mustafa also will face a life sentence if he is convicted of conspiring to support al-Qaida by trying in 1999 to set up a terrorist training camp in Bly, Ore., by arranging for others to attend an al-Qaida training camp in Afghanistan and by ensuring there was satellite phone service for hostage-takers in Yemen in 1998 who abducted two American tourists and 14 others. Four hostages were killed.
Jurors were questioned about Abu Hamza's physical appearance. He has no hands and only one eye: [More....]
(1318 words in story) There's More :: Permalink :: Comments
Cleric Abu Hamza, aka Mustafa Kamel Mustafa, aka Abu Hamza al-Masri, made his first court appearance in New York today, following his extradition yesterday from the UK.
Manhattan U.S. Attorney Preet Bharara's press release is here. The 2006 Second Superseding Indictment is here.
Along with Abu Hamza, four other alleged terrorists were flown to the U.S. Two will be tried in Connecticut, and three in New York. The other four are Khaled al-Fawwaz, Babar Ahmad, Adel Abdul Bary and Syed Talha Ahsan.
In exchange for allowing the extradition, the U.K. obtained a promise from the U.S. that all five would be tried in civilian courts and not face the death penalty.
The charges against Abu Hamza include conspiring to set up a training camp in Bly, Oregon. His co-defendant Oussama Kassir, from Sweden, was convicted at trial in 2009 and received life in prison, which he is serving at Supermax in Colorado. Kassir's conviction was upheld on appeal in 2011.[More....]
(730 words in story) There's More :: Permalink :: Comments
James Ujaama was one of the early terrorism suspects who took a deal to avoid a big jail sentence. I followed his case extensively at the time because he was arrested in Denver.
The Government initially alleged he scouted for terror camp locations in Bly, Oregon. He ended up pleading guilty only to providing cash, computers and fighters to the Taliban, in exchange for his cooperation against others. He was sentenced to two years, about one of which had been served in pre-trial detention. He's been on supervised release since 2004.
The Government was counting on Ujaama to testify at the trial of London cleric Abu Hamza al-Masri.
Ujaama, it seems, got cold feet and split to Belize using a fake Mexican passport.
On Friday, the Judge in Seattle where he pleaded guilty in 2003 revoked his plea deal. Today, in federal court in Manhattan, he pleaded guilty to the original terrorism charges lodged against him and now faces up to 30 years when sentenced.
On a related note, I still think that Condi Rice confused Ghost detainee Khaled el-Masri (also spelled al-Masri, a German shoe salesman) with the London Cleric and only ordered his release after the cleric al-Masri was arrested. By then, el-Masri had been in jail for five months.
Among the more curious details of the mix-up, if there was one: al-Masri the cleric, has one eye and a hook for hands. You would think someone would have noticed the difference between him and Khaled el-Masri before five months went by.
(2 comments) Permalink :: Comments