Tag: James Ujaama
Long time terror defendant James Ujaama was finally sentenced yesterday. For his cooperation, he received a sentence of time served.
I've been writing about him since his arrest in 2002. He was initially arrested in Denver as a material witness in a case in Virginia, and then charged in federal court in Washington with trying to set up an al Qaida traing camp in Bly, Oregon. (The terror camp that never was.) After being detained in Seattle, he agreed to cooperate and pleaded guilty in exchange for a 2 year sentence. But he fled to Belize before sentencing, probably to avoid having to testify against Abu Hamza, the AQ Sheikh with one eye and hooks for hands, or as he later testified in 2009, because he was no longer trusted and didn't fit in. [More...]
(659 words in story) There's More :: Permalink :: Comments
The U.S. just can't let the terrorist training camp in Bly, Oregon die, even though it never existed.
Since 2002, the U.S. has been charging and imprisoning people for acts related to the Bly camp that were committed in 1999. (New York Times article from 2002 here.) Its last conquest was Abu Hamza al Masri, the one eyed Sheikh with no hands but a hook (photo here), also extradited from the U.K.
Today, yet another suspect, mentally ill Haroon Aswat, arrived in the U.S. . He pleaded not guilty to terror charges concerning the camp. He has been in a mental hospital in the U.K. since 2008. The U.S. assured the U.K. it would provide treatment for him, and although in 2013, the European Court of Human Rights blocked his extradition, the U.K. courts approved it after receiving the U.S. assurances. [More...]
(2 comments, 1121 words in story) There's More :: Permalink :: Comments
The jury in the New York trial of Muslim cleric Mostafa Kamel Mostafa, better known as Abu Hamza al Masri, has convicted him of all 11 terror-related charges.
Abu Hamza testified for four days in his defense. The jury did not believe him. His defense says the jury placed too much emphasis on the "terror camp that wasn't" in Bly, Oregon.
James Ujaama, originally a follower of Abu Hamza, testified against him, as did another former ally turned informant, who testified via videotape from London.
Ujaama also testified a few years ago at the trial of Oussama Kassir, a Swede who was also involved in the Oregon pseudo-camp. Kassir was convicted and got a life sentence.
Hamza is also likely to get a life sentence, possibly at Supermax in Florence, unless they can't accommodate his medical condition (he has no hands and is blind in one eye.) [More...]
(299 words in story) There's More :: Permalink :: Comments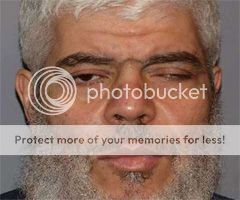 Jury selection began this morning in the trial of Mustafa Kamel Mustafa, aka Abu Hamza al-Masri.
The 55-year-old Mustafa also will face a life sentence if he is convicted of conspiring to support al-Qaida by trying in 1999 to set up a terrorist training camp in Bly, Ore., by arranging for others to attend an al-Qaida training camp in Afghanistan and by ensuring there was satellite phone service for hostage-takers in Yemen in 1998 who abducted two American tourists and 14 others. Four hostages were killed.
Jurors were questioned about Abu Hamza's physical appearance. He has no hands and only one eye: [More....]
(1320 words in story) There's More :: Permalink :: Comments
Cleric Abu Hamza, aka Mustafa Kamel Mustafa, aka Abu Hamza al-Masri, made his first court appearance in New York today, following his extradition yesterday from the UK.
Manhattan U.S. Attorney Preet Bharara's press release is here. The 2006 Second Superseding Indictment is here.
Along with Abu Hamza, four other alleged terrorists were flown to the U.S. Two will be tried in Connecticut, and three in New York. The other four are Khaled al-Fawwaz, Babar Ahmad, Adel Abdul Bary and Syed Talha Ahsan.
In exchange for allowing the extradition, the U.K. obtained a promise from the U.S. that all five would be tried in civilian courts and not face the death penalty.
The charges against Abu Hamza include conspiring to set up a training camp in Bly, Oregon. His co-defendant Oussama Kassir, from Sweden, was convicted at trial in 2009 and received life in prison, which he is serving at Supermax in Colorado. Kassir's conviction was upheld on appeal in 2011.[More....]
(730 words in story) There's More :: Permalink :: Comments
James Ujaama was one of the early terrorism suspects who took a deal to avoid a big jail sentence. I followed his case extensively at the time because he was arrested in Denver.
The Government initially alleged he scouted for terror camp locations in Bly, Oregon. He ended up pleading guilty only to providing cash, computers and fighters to the Taliban, in exchange for his cooperation against others. He was sentenced to two years, about one of which had been served in pre-trial detention. He's been on supervised release since 2004.
The Government was counting on Ujaama to testify at the trial of London cleric Abu Hamza al-Masri.
Ujaama, it seems, got cold feet and split to Belize using a fake Mexican passport.
On Friday, the Judge in Seattle where he pleaded guilty in 2003 revoked his plea deal. Today, in federal court in Manhattan, he pleaded guilty to the original terrorism charges lodged against him and now faces up to 30 years when sentenced.
On a related note, I still think that Condi Rice confused Ghost detainee Khaled el-Masri (also spelled al-Masri, a German shoe salesman) with the London Cleric and only ordered his release after the cleric al-Masri was arrested. By then, el-Masri had been in jail for five months.
Among the more curious details of the mix-up, if there was one: al-Masri the cleric, has one eye and a hook for hands. You would think someone would have noticed the difference between him and Khaled el-Masri before five months went by.
(2 comments) Permalink :: Comments
What are we to make of James Ujaama, the Seattle man charged with providing material support to Al Qaeda who was denied bail this week? The New York Times calls him a "riddle" and asks whether he is a terrorist or a hustler.
"Unlike John Walker Lindh or the men arrested near Buffalo, Mr. Ujaama has support from a cross-section of prominent people here. "I can't see anything in his past that would indicate he would ever be involved with violent terrorists," said Eddie Rye Jr., regional vice president of the Black Chamber of Commerce. Mr. Rye has known Mr. Ujaama for more than 20 years. Like other longtime acquaintances, Mr. Rye suggests the activities that the government says are part of a plot can by explained by Mr. Ujaama's lifetime of making deals."
"James Ujaama first and foremost is an entrepreneur," Mr. Rye said. "He had prepared himself since an early age for success."
"As a child, Mr. Ujaama worked at food banks and social service centers in Seattle, helping his mother, Peggy Thompson. As a young man, he established a computer business, sold pamphlets encouraging young blacks to stay off drugs and succeed through the American dream, and was a motivational speaker. A state legislator, Jesse Wineberry, once issued a citation declaring a statewide day of recognition for Mr. Ujaama."
In denying bail for Mr. Ujaama this week, the Judge said, "His background is exemplary. But people change. And the record suggests some drastic and tragic changes for Mr. Ujaama."
Mr. Ujaama has a felony conviction for check fraud and several misdemeanor convictions including one for theft. His friends say he became disillusioned when he couldn't sell a screenplay based on his life, and at his brother's suggestion, moved to London.
In London, federal officials claim Ujaama "fell under the influence of Sheik Masri, the Muslim cleric whose followers included Richard C. Reid, the so-called shoe bomber, and Zacarias Moussaoui, who is accused of being the would-be 20th hijacker in the Sept. 11 attacks. Sheik Masri, who is wanted in Yemen on terrorism charges, remains free in London."
The Indictment against him charges he took a loyalty oath to the Sheik and set up a website for him called "StopAmerica.Org." Not mentioned in the Indictment is the Government's belief that Ujaama attended an Al Qaeda training camp, using a reference letter from the Sheik to gain acceptance.
The Indictment also charges that Ujaama sent a fax to the Sheik in 1999 extolling the virtues of a ranch in Oregon as a place to "store and conceal guns, bunkers and ammunition."
Ujaama's family acknowledges that he became a militant follower of Islam but argue that all of his actions have innocent explanations.
"Bayat, the Arabic word for the loyalty oath, means religious fealty more than personal loyalty, said Mustafa Ujaama. The Web site, he said, was a fount for free speech. "My brother was trying to stop America from going to war," Mustafa Ujaama said."
"The training camp and the trips to Afghanistan, James Ujaama's supporters say, can be explained by Mr. Ujaama's business instincts, suggesting that he was trying to sell Sheik Masri and his followers land and computer equipment."
Ujaama's lawyers and the prosecutors agree on one thing: Ujaama's real use would be in as a witness against Sheik Masri.
Apparently, Ujaama isn't willing to make that deal--yet.
The Justice Department reaches a new low today in the case of James Ujaama. Arrested in Denver as a material witness in the 9/11 investigation. Ujaama allegedly sold laptops to the Taliban before Sept. 11 and maintained a website with Anti-American sentiment. He had a secret hearing in Denver after which he was moved to Alexandria, VA.
His family couldn't find him after the move. Why? The Justice Department is holding him under another name. Charlie Brennan of Denver's Rocky Mountain News writes about it today in Security lid clamped tight on Ujaama case.