Tag: Anonymous (page 2)
The Department of Justice is tweeting its response to the attacks on its website by Anonymous.
The DOJ web server hosting http://justice.gov is experiencing a significant increase in activity, resulting in a degradation in service.

The department is working to ensure the website is available while we investigate the origins of this activity... ...which is being treated as a malicious act until we can fully identify the root cause of the disruption.
These are the first tweets by DOJ in over 10 days. [More...]
(6 comments, 177 words in story) There's More :: Permalink :: Comments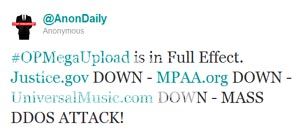 Unbelievable. The Department of Justice website has been attacked and is now down. So is Universal Music. Anonymous has taken credit, saying it's payback for the MegaUpload Indictment today.
Here's the text of the press release DOJ issued announcing the MegaUpload Indictments.
More here. You can follow along on Twitter, at #OpMegaUpload, #MegaUpload, #Anonymous and @anondaily
One tweet says the FBI's website is next. YourAnonNews says "Incoming Database Dump. Get Ready "
Internet anarchy has arrived. No one should underestimate the abilities of Anonymous. [More...]
(18 comments, 296 words in story) There's More :: Permalink :: Comments
On December 14, the Suffolk District Attorney issued a subpoena to Twitter for information related to Occupy Boston and some members of Anonymous. The ACLU moved to quash on First Amendment grounds. Today, the judge upheld the subpoena.
Twitter released the subpoena to the account holders of those named, @p0isAn0n @OccupyBoston #BostonPD #d0xcak3, who in turn posted it online. You can read it here. The subpoena also sought "IP address logs for account creation and for the period December 8, 2011 to December 13, 2011."
In this pastebin press release, an Anonymous member or supporter posted the reasons the subpoena was invalid.
More here.
It's good that Twitter provided the subpoena to the affected account holders. It's bad that a judge has upheld a subpoena for a hashtag. The ACLU has said it may appeal.
(2 comments) Permalink :: Comments
AntiSec members of Anonymous have struck again, this time hitting the credit card database of a law enforcement and military supply store, Special Forces.com. They say they obtained 14,000 email passwords and 8,000 credit card records fron the site months ago. From #AntiSec's press release on Pastebin, which I'm not linking to because it contains some data (although the release is readily available on Twitter, just search #AntiSec or #lulzxmas or #Anonymous.)
[T]he online piggie supply store SpecialForces.com. Their customer base is comprised primarily of military and law enforcement affiliated individuals, who have for too long enjoyed purchasing tactical combat equipment from their slick and "professional" looking website. What's that, officer? You get a kick out of pepper-spraying peaceful protesters in public parks? You like to recreationally taser kids? You have a fetish for putting people in plastic zip ties?
[More...]
(4 comments, 415 words in story) There's More :: Permalink :: Comments
Anonymous has changed course again and now its plan to release names of supporters of the Zetas cartel is back on. The Atlantic interviewed Barrett Brown, speaking for the group, who said:
After it was cancelled we got to talking about it, and the video got a whole lot of views. [Members of Anonymous] had a vote amongst themselves and decided to go ahead."
The group will release about 60 names on Nov. 5, including that of a District Attorney in the United States. [More...]
(14 comments, 315 words in story) There's More :: Permalink :: Comments
The FBI explains the 40 search warrants it executed yesterday pertaining to "Anonymous", a group of hackers that engaged in Denial of Service (DDOS)attacks on MasterCard, Visa, Paypal and Amazon as retaliation for cutting off Wikileaks.
No one was arrested in the U.S. but the offenses, if charged, carry up to ten years in prison. The FBI says:
The FBI also is reminding the public that facilitating or conducting a DDoS attack is illegal, punishable by up to 10 years in prison, as well as exposing participants to significant civil liability.
The five people arrested in the U.K. after warrants were executed there have been released on bail. Anonymous issued this letter in response to the U.K. arrests, calling them a "Declaration of War." [More...]
(23 comments, 302 words in story) There's More :: Permalink :: Comments