Can We Call It Torture Now?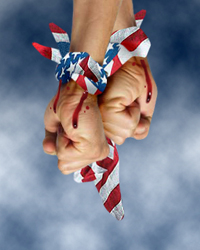 The House Intelligence Committee's 6,300 page report remains classified, but the Washington Post has details.
1. The CIA lied to Congress
2. More "enhanced interrogation techniques" were used than previously disclosed
3. The torture techniques did not result in valuable information
Via NY Magazine:
One previously undisclosed technique involved the the CIA dunking detainees in tubs of ice water in a method similar to waterboarding. Khalid Sheik Mohammed's nephew, Ali Abdul Aziz Ali [aka Ammar al-Baluchi] was subjected to it at a CIA black site near Kabul in 2003. According to the Post, "CIA interrogators forcibly kept his head under the water while he struggled to breathe and beat him repeatedly, hitting him with a truncheon-like object and smashing his head against a wall, officials said." He is still in Guantanamo Bay.
[More...]