Dick Cheney Angry Over Bush's Refusal to Pardon Libby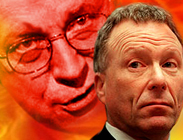 The New York Daily News reports that aides to Dick Cheney are saying he's really angry that Bush wouldn't give Scooter Libby a full pardon and kept the pressure on Bush until the last minute.
After repeatedly telling Cheney his mind was made up, Bush became so exasperated with Cheney's persistence he told aides he didn't want to discuss the matter any further. The unsuccessful full-court press left Cheney bitter. "He's furious with Bush," a Cheney source told The News. "He's really angry about it and decided he's going to say what he believes."
[More...]