The CIA's Black Torture Hole In Poland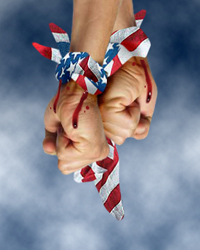 Meet Deuce Martinez. Career narcotics agent turned Five-Star CIA interrogator. Credited with getting Khalid Sheikh Mohammed, Abu Zubaydah and Ramzi Binalshibh to talk.
Waterboarding, belly slaps, sleep deprivation and more. Martinez didn't like getting his hands dirty with the physical abuse, he waited in the wings while others did it and then conducted the interrogations. If the detainee stopped cooperating, it was back to the torture, then back to Martinez. Ultimately, they talked. The value of their information? The CIA says huge, even accounting for the misinformation they were fed. Of course, there's no way to test that theory.
Where did this all occur? Inside the CIA's black hole of choice -- in Poland. [More...]