Final Media Walk-Through for Denver Convention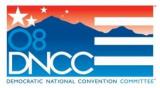 This just in from the DNCC for media and bloggers planning to attend the Denver Convention in August: The final media walk-through is June 19. Details below:
DENVER - The Democratic National Convention Committee (DNCC) will host a media walk-through for national, local and online media outlets, including bloggers, interested in covering the 2008 Democratic National Convention on Thursday, June 19, 2008 at the Pepsi Center in Denver. Registration and a continental breakfast will be available beginning at 8:00 AM MST, and the program will begin at 9:00 AM with remarks from Colorado Governor Bill Ritter. A more detailed itinerary will be distributed to registered outlets closer to the event.

Working members of the news media interested in attending should register via email at MediaRSVP@demconvention.com and provide attendee name(s), name of news organization and complete contact information. The deadline to register for the walk-through is June 5, 2008. Registration is required to attend.
More...