Pennsylvania Primary Results: Live Blog Two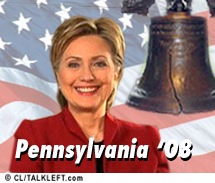 New live thread here. This one's closing.
Fox and NBC call Pennsylvania for Hillary Clinton.
Our first live blog is filled with comments. We're starting our second, it's below the fold so that it can be a bit wider than the front page allows. Just click on the "There's More" button or bookmark the permalink to go directly to it.
If you experience scrolling issues, toggle the scroll button at the bottom of your screen.
Comment as with any other thread, in the space below.