Pennsylvania Primary Results: Live Blog One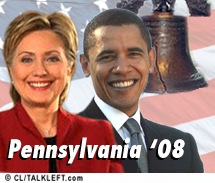 Big Tent Democrat and I will live blog the election results. We'll begin when the polls close and start new threads when comments reach 200 or so.
The live blog stays below the fold so that it can be a bit wider than the front page allows. Just click on the "There's More" button or bookmark the permalink to go directly to it.
If you experience scrolling issues, toggle the scroll button at the bottom of your screen.
Comment as with any other thread, in the space below.