Live-Blog: South Carolina Democratic Primary Results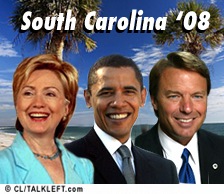 Beginning now, Big Tent Democrat and I are live-blogging the South Carolina Primary results and the media coverage of them. I'll be concentrating on the results and the demographics and electoral storylines. Big Tent will focus on the media coverage.
We're using a new platform, I described it here, and to make it wider, I've put it below the fold. Just click on the "there's more" link and join us. If you want to come back to it, here's the permalink for you to bookmark.
Here we go. [More...]