Sopranos Final Season: Episode 85, "The Blue Comet"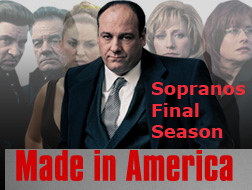 The second to last episode of the Sopranos, Number 85 is tonight: "The Blue Comet." Could they be any more cryptic?
This week, the allegiance of those closest to Tony is put to the test. Meanwhile, a case of mistaken identity has serious ramifications
Update:
and Spoiler Alert:
The series is going out with a gang war. Only Paulie and some schlubs from Tony's family are left. Bye to Bobby and Syl. The family's in hiding. Tony's therapist fires him as a patient.
So the big question is, does Tony get killed or busted next week in the finale? Does his family survive? If they all survive, does he leave the business?
He's wanted out all season. Remember when he said "I get it" after his peyote visions? Somehow I just don't think he'll be killed next week. But he could be the lone survivor. Question: Will Malfi return or was tonight her finale?