Court Reissues PlameGate Opinion Adding Karl Rove's Name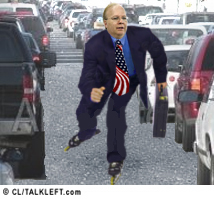 How close did Karl Rove come to getting indicted in PlameGate? As they say, "this close." Check out today's re-issued opinion (pdf) in the Judith Miller - Matthew Cooper D.C. Circuit Court of Appeals subpoena case containing new un-redactions: the name of Karl Rove.
Now unredacted:
"Regarding Cooper, the special counsel has demonstrated that his testimony is essential to charging decisions regarding White House adviser Karl Rove."
Then on page 39:
"Thus, given the compelling showing of need and exhaustion, plus the sharply tilted balance between harm and news value, the special counsel may overcome the reporters' qualified privilege, even if his only purpose—at least at this stage of his investigation—is to shore up perjury charges against leading suspects such as Libby and Rove."
The unredaction there is the last two words: "and Rove."
There's more goodies, including those about Armitage, Libby and Cheney. The pdf is searchable, type in your favorite name. The unredactions are in italics.
[Hat tip to TL reader and diarist Scribe.]