Dick Cheney On Trial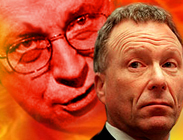 David Corn has a new article in The Nation, "Cheney on Trial."
Using testimony from the Scooter Libby trial, Corn shows:
....beyond resolving whether Libby had mounted a criminal cover-up to hide his--and perhaps Cheney's--involvement in the leak episode, the trial exposed the inner world of Cheney's crew. The proceedings also proved, beyond a reasonable doubt, that the Bush White House was neck-deep in the Valerie Wilson leak (even if Novak's original source was then-Deputy Secretary of State Richard Armitage) and that the White House lied when it claimed otherwise.
While Cheney wasn't on trial, he was often front and center.
More...