Rove Under the Microscope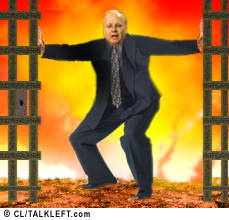 Karl Rove has emerged unscathed in the justice system so far. But the New York Times puts out its claws today and draws blood.
I can't remember a time during PlameGate, the closest Karl Rove came to being indicted, that the New York Times so lambasted Rove.
Whatever the immediate objective, Mr. Rove seems focused on one overarching goal: creating a permanent Republican majority, even if that means politicizing every aspect of the White House and subverting the governmental functions of the executive branch.

....This was, perhaps, the inevitable result of taking the chief operative of a presidential campaign, one famous for his scorched-earth style, and ensconcing him in the White House — not in a political role, but as a key player in the formation of policy. Mr. Rove never had to submit to Senate confirmation hearings. Yet, from the very start, photographs of cabinet meetings showed him in the background, keeping an enforcer's eye on the proceedings. After his re-election in 2004, President Bush formally put Mr. Rove in charge of all domestic policy.
The Times says Congress shouldn't let Rove skate on testifying under oath at hearings on the fired U.S. Attorneys.
The investigation of the firings of the United States attorneys seems to be closing in on Attorney General Alberto Gonzales, who should have been fired weeks ago. But Congress should bring equal scrutiny to the more powerful Mr. Rove. If it does, especially by forcing him to testify in public, it will find that he has been at the vortex of many of the biggest issues they are now investigating.
I think Karl Rove's bigger problem is that Bush is now a lame duck and the media figures his lieutenants are now fair game.
The whole bunch of them are about to see their power dwindle.
It's up to us in 2008 to ensure we get a regime change, not just a name change.