NORML Returns to Aspen in June, With Tommy Chong and Tony Serra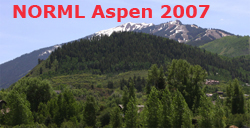 Criminal defense lawyers take note. This year's NORML Aspen legal conference (June 9 - 10th) promises to be outstanding. Tommy Chong, Tony Serra (just released from federal prison on a tax misdemeanor and back practicing law) will be featured, and we will again be spending an afternoon at Hunter Thompson's Owl farm.
[NORML}will be holding another NORML legal seminar in Aspen, CO in early June. Among the many terrific speakers on the Aspen program, we are delighted to announce that Tommy Chong, of the famous duo Cheech and Chong, will be our featured luncheon speaker.

Tommy, as you may recall, was selectively prosecuted by the federal government a couple of years ago for selling pipes on the Internet, for which he ended up serving nine months in prison. His topic for the seminar is titled Why Pot Is Still Illegal and Why Dave Is Still Not Here. This experience has clearly left Tommy feeling a renewed sense of urgency for the need to legalize marijuana and stop arresting responsible marijuana smokers.
More....