NORML Returns to Aspen in June, With Tommy Chong and Tony Serra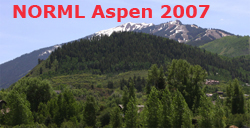 Criminal defense lawyers take note. This year's NORML Aspen legal conference (June 9 - 10th) promises to be outstanding. Tommy Chong, Tony Serra (just released from federal prison on a tax misdemeanor and back practicing law) will be featured, and we will again be spending an afternoon at Hunter Thompson's Owl farm.
[NORML}will be holding another NORML legal seminar in Aspen, CO in early June. Among the many terrific speakers on the Aspen program, we are delighted to announce that Tommy Chong, of the famous duo Cheech and Chong, will be our featured luncheon speaker.

Tommy, as you may recall, was selectively prosecuted by the federal government a couple of years ago for selling pipes on the Internet, for which he ended up serving nine months in prison. His topic for the seminar is titled Why Pot Is Still Illegal and Why Dave Is Still Not Here. This experience has clearly left Tommy feeling a renewed sense of urgency for the need to legalize marijuana and stop arresting responsible marijuana smokers.
More....
We also are pleased to have famed San Francisco criminal defense lawyer Tony Serra speaking at Aspen, fresh from his 10 months in federal prison for failing to file federal tax returns for many years, a action Tony took to make a political statement. Tony is back at work, where his first action was to file suit against the federal prison system for using federal prisoners as slave labor. Tony's talk is entitled Surviving A Federal Prosecution.

The Aspen program will be a two-day seminar on Saturday, June 9 and Sunday, June 10 with social events starting with an opening reception on the evening of Friday, June 8. The Aspen Legal Seminar is held before the tourists have returned in big numbers, so I encourage you to come out and enjoy the beautiful mountain setting without the crowds. It's a wonderful time to be in the Aspen valley.

As always, we have a first class line-up of speakers and topics for this CLE seminar, including some of the leading criminal defense attorneys in the country, along with some new speakers who have been receiving great reviews at other seminars.

In addition to the opening reception at the Gant on Friday night, when folks first arrive, we have a NORML benefit dinner at the lovely Aspen home of Chris and Gerry Goldstein on the evening of Saturday, June 9. This dinner will again this year be catered by our own favorite chef, Chef Chris Lanter, the chef and co-owner of Cache Cache, the popular Aspen restaurant. This was a special evening last year, and it will be again this year.

Finally, at the end of the seminar on Sunday afternoon, our friend Anita Thompson, Hunter Thompson's widow, has again invited the conference attendees out to the fabled Owl Farm, Hunter's legendary home outside Woody Creek, CO, for an afternoon cookout and the opportunity to see Hunter's home maintained precisely as it was when Hunter was alive. We'll provide hot dogs and hamburgers and spend the afternoon enjoying the beautiful mountain ranch and breathtaking scenery where Hunter lived and worked most of his life.
I'll be speaking again on advanced legal internet research, but adding law blogging to the talk.
Check out my my videos of last year's Aspen conference and our day at Owl Farm.
Disclosure: I serve (unpaid) on the planning committee for the NORML legal conferences.