Double Trouble, Boil and Bubble: Rove in the Soup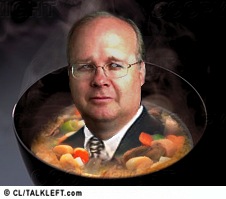 It's not only Alberto Gonzales who's in trouble, Karl Rove has some explaining to do as well. As Shakespeare wrote,
Double, double toil and trouble;
Fire burn, and caldron bubble.
Dan Froomkin, writing in Friday's Washington Post, The Politics of Distraction, warns us not to miss the forest for the trees. Whether Alberto Gonzales stays or goes, there's more to the story of the U.S. Attorney firings, and Karl Rove is in the midst of the soup.
More....