Marwan Jabour Describes Life in CIA Black Sites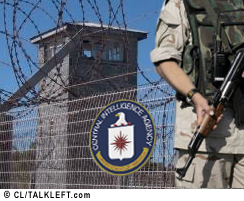 Yesterday I wrote about the new Human Rights Watch report on the missing CIA prisoners who were whisked off to secret prisons on Ghost Air.
Today, the Washington Post publishes its series of interviews with Marwan Jabour, a prisoner seized in 2004 who was released in 2006.
First note: Jabour, HRW and intelligence officials say the number of secret prisoners far exceed the 14 President Bush said were transferred to Guantanamo. HRW has 38 unaccounted for, an intelligence official says more than 60 were held.
On to Jabour's account of his detention and torture. First, there's the "villa at Islamabad."