Libby: The Jurors Wore Jeans Today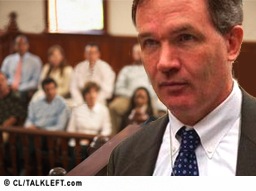 Some new details on the Scooter Libby jury deliberation process:
The jurors wore jeans today. Certainly a sign they knew they weren't going to finish today...otherwise they would have dressed up.
Ted Wells is buying courtroom sketches of himself from the sketch artists. His advice: "Always buy your sketches before the verdict."
Libby's wife, lawyer Harriet Grant and Libby attorney Bill Jeffress hit the park across from the courthouse during the wait to grab a smoke.
Both sides have waiting rooms in the courthouse. The Government's is bigger.
More...